Landscape, Online Exclusive Feature / 2022
FAP 2022 Juror Project Highlight: Carbon-sequestering landscapes by Kotchakorn Voraakhom
January 12, 2022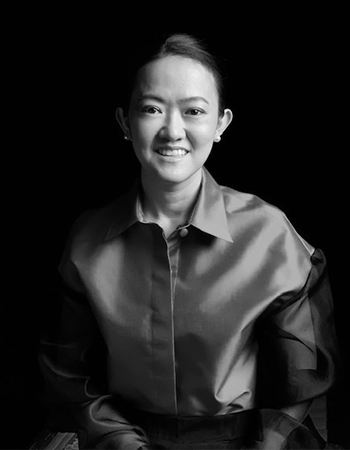 Climate change warrior and landscape architect, FuturArc Prize (FAP) 2022 juror Kotchakorn Voraakhom channels her impact on the environment by building productive Green public spaces that tackle climate change in dense urban areas and climate-vulnerable communities. The recipient of countless accolades and awards, such as the 2020 UN Global Climate Awards, she is CEO and Founder of LANDPROCESS and Porous City Network based in Thailand, as well as the Chairwoman of Climate Change Working Group of the International Federation of Landscape Architects (IFLA) World.
Her projects at LANDPROCESS closely integrate ecological functions into existing urban infrastructure at a variety of scales. They have retained and expanded carbon-sequestering landscapes such as green roofs, water-efficient systems, urban farming, urban forests, wetlands and grasslands, which help bring down carbon dioxide levels, all while using sustainable materials and construction practices. Read more about her projects below!
---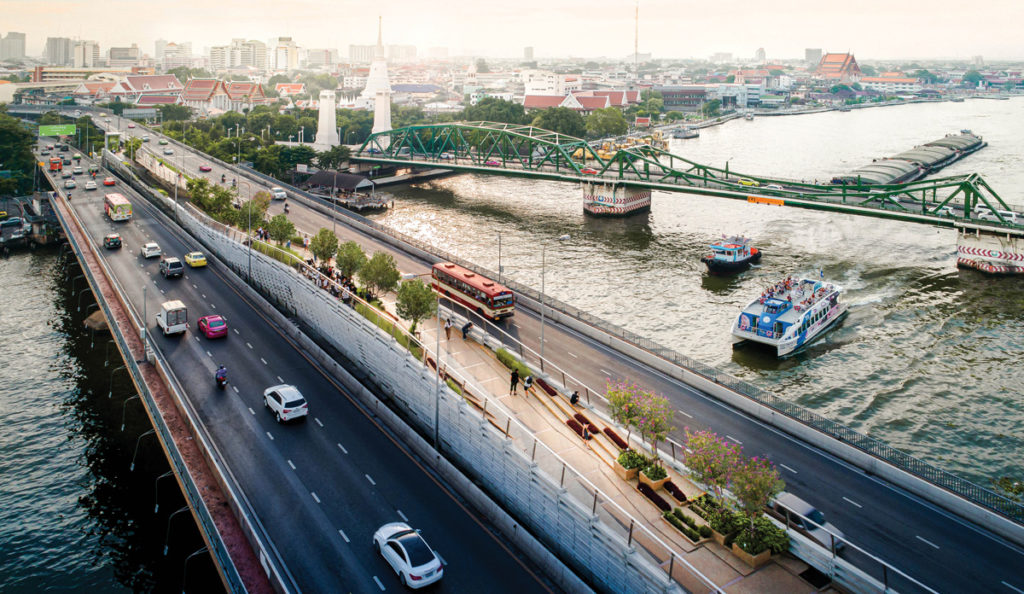 A portion of an abandoned electric train track has been transformed into an elevated green pedestrian bridge overlooking the Chao Phraya River. For 30 years, the unfinished structure between Phra Pok Klao Bridge withstood the elements and served as a reminder of the old Lavalin Skytrain project, which was abandoned in 1992. Today the concrete beams and pillars have been given a new lease on life as they become the support structures of the Chao Phraya Skypark, dubbed the world's first garden bridge.
With a price tag of 122 million baht, the sky park costs less than the proposed 7.8 billion baht ($250 million) Garden Bridge project over the River Thames in London. The green pedestrian bridge connects the existing park on both sides—King Prajadhipok Park, at the Phra Nakhon side of the river, with the Chaloem Phrakiat Forest Park in Thon Buri. The elevated section of the sky park is 8.5 metres wide and 280 metres long. It straddles the traffic lanes on the Phra Pok Klao Bridge. The park showcases how abandoned infrastructure in the city can be upcycled to benefit the residents and create a positive impact on the environment.
[This is an excerpt from FuturArc 2Q 2021 issue. Subscribe to the digital edition or hardcopy to read the complete article!]
PROJECT DATA
Location: Bangkok, Thailand
Project Owners: Bangkok Metropolitan Administration – Department of City Planning and Urban Development in collaboration with Department of Rural Roads
Landscape Architect: LANDPROCESS
Architectural Design: N7A Architects Urban Designer
Urban Designer : Urban Design and Development Center (UddC)
Community Participation: Kadi Chin Community Cultural Conservation Group Photos: BMA; LANDPROCESS; Panoramic Studio
---
As the largest urban green roof in Asia—measuring 22,000 square metres—the farm features cascading layers of planters and terraces, alongside massive retention ponds that beautifully hug its existing building. It seeks to provide an adaptation prototype and an all-in-one solution across Thailand and Southeast Asia to mitigate the effects of climate change and extreme urbanisation such as flooding, food shortage and shrinking farmable, fertile land.
The form of the building, developed from the H-shaped floor plan, gave the green roof its mountain form with a massive farming/garden space (7,000 square metres) covering the upper part. Mimicking the traditional rice terraces of the land, the green roof's cascading farm levels form a detention lawn that slows down run-off and absorbs rainwater—both for up to 20 times more than a normal concrete rooftop—and stores it while using it to grow food.
The plants hold the soil together, and any run-off is filtered through each layer of soil and later stored in the four retention ponds that can collect up to 11,718 cubic metres of water for rooftop irrigation and future use. The green roof's vegetable terraces also filter rainwater through several layers of plants and soil before it leaves the site and reaches residential water sources and marine ecosystems.
[This is an excerpt from FuturArc 2Q 2021 issue. Subscribe to the digital edition or hardcopy to read the complete article!]
PROJECT DATA
Location: Thammasat University, Rangsit Campus, Bangkok, Thailand
Completion Date: 10 December 2019
Site Area: 7,000 square metres (urban farming); 3,565 square metres (solar roof); 7,000 square metres (public space); 4,435 square metres (service and utility); 60,000 square metres (building area)
Client/Owner: Thammasat University
Landscape and Green Roof Designer: LANDPROCESS
Architecture Firm: Arsom Slip Institute of the Arts
Structural Engineer: Degree System
System Engineer: TPM Consultants
Contractor: CM49
Images/Photos: LANDPROCESS
---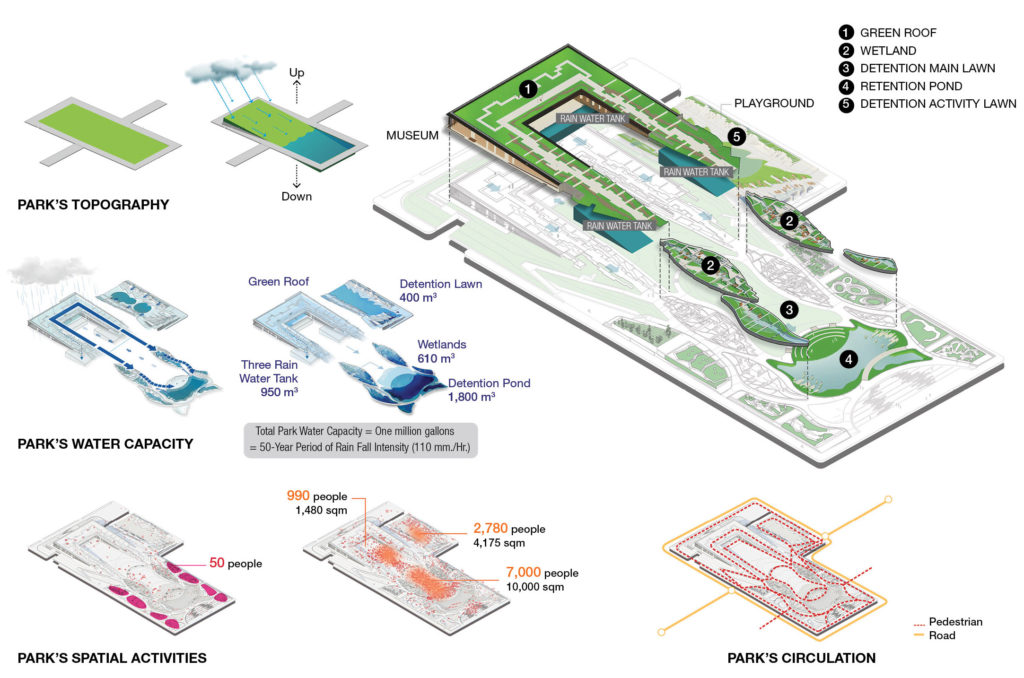 For the first time in 30 years of rapid urban development, an invaluable property at the heart of Bangkok—11 acres of land and 1.3 kilometres of avenue—was not turned into another commercial use. Instead, it has been transformed into a public park. Opened in 2017, Chulalongkorn Centenary Park is the first critical piece of Green infrastructure in Bangkok to mitigate detrimental ecological issues and reduce urban flood risk.
The 1.3-kilometre road running perpendicular to the park was revamped to shift priority from cars to foot and bicycles. By reducing four-vehicle lanes into two and enlarging them each from 12 to 30 metres, the once heavily-congested street now seamlessly connects pedestrians and cyclists directly to surrounding neighbourhoods and roadways that are linked to the city's major residential, entertainment and retail facilities.
[This is an excerpt from FuturArc 2Q 2021 issue. Subscribe to the digital edition or hardcopy to read the complete article!]
PROJECT DATA
Location: Chulalongkorn University, Bangkok, Thailand
Landscape Architect: LANDPROCESS
Architectural Design: N7A Architects
Structural Engineering: Civil And Structural Engineers (CASE)
MEP Engineering: EEC Engineering Network
Main Contractor: Syntec Construction PCL
Construction Manager: Consulting & Management 49 (CM49)
Softscape Contractor: CORDIA
Photos/Images: LANDPROCESS; Panoramic Studio; Property Management of Chulalongkorn University; VARP Studio
---


RELATED: The FuturArc Interview: Kotchakorn Voraakhom
Previously Published Projects