Construction, Online Exclusive Feature / 2023
Veneti-An Tea House: Made from pasta and coffee waste
May 26, 2023
Japanese-Italian fusion goes beyond food and into building materials in this contemporary teahouse prototype called Veneti-An. The prototype is part of Time Space Existence, a European Cultural Center exhibition held in parallel with the Venice Biennale of Architecture 2023. Its design explores sustainability through materials and connection to the local context.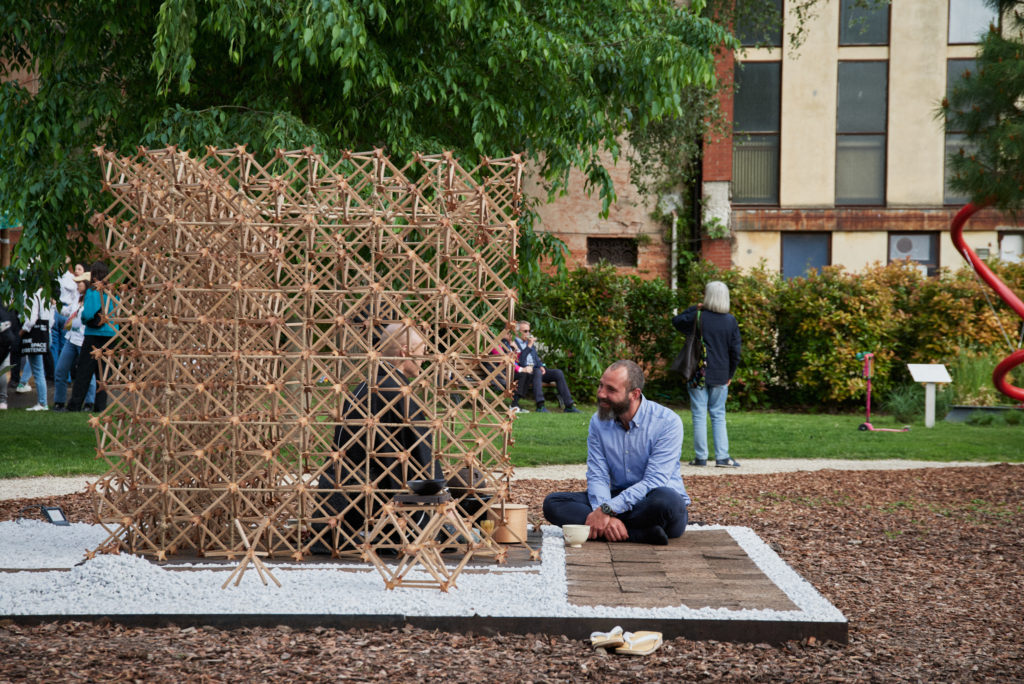 Around the world, tea offers an opportunity for people to communicate and connect. Veneti-An symbolises intercultural connection through its name, a play on the word Venetian and the Japanese word an, which means "simple hut" and is often incorporated into the names of tea houses.
---
Embodying locality
The design is conceived to be reproduced anywhere in the world, yet embodying the particularity of each installation site. This is achieved through adjusting the angles to match the latitude of each site where the teahouse is constructed, calculated to let in an optimal amount of sunlight. As the latitude of Venice is about 45 degrees, the joint angles used for this prototype is 45 degrees.

Through subsequent research and communication with local people while constructing the tea house on-site, the built prototype has been modified from its original design to be more compact and having a larger exterior space for interaction. "The Venetian people's style of enjoying tea is to drink casually [like espresso] while standing, so we did not want the visitors to be locked in a tiny space inside," said the architects. "There is a possibility that the shape may be changed again depending on the season and the way it is used."
Local food waste can be used to manufacture the components of the teahouse. The joints and floor are produced using a 'food concrete' technology that transforms food waste into biodegradable and edible cement—some types of waste, for example cabbage leaves, have even been tested to have 4 times the bending strength of concrete. To befit the context of Italy, Veneti-An uses pasta and coffee grounds, which are two characteristic food items as well as major waste products in the nation.

---
Circular materials
Building the entire structure using only food concrete would make it heavy and difficult to transport. Paper and cork, both of which are recyclable repeatedly, are also incorporated to reduce the weight of the entire structure.
The components were carefully weighed, packed in paper tube packages and transported in suitcases to the site together with the architects. The paper tube packages will also be used to transport furniture after the exhibition period. Hence, carbon emissions from travel can be minimised by transporting the components alongside the architects.

The joints and recycled paper tubes for the structure were waterproofed using a liquid that has been specifically formulated to react chemically with the hydroxyl groups (OH-) of each component. The liquid is made from a silicon found in nature, and the technology ensures that each component can eventually decompose. After the exhibit ends, the components can be disassembled and reused in shelves, tables, chairs, or other furniture.
Veneti-An Tea House is exhibited at Giardini Marinaressa Gardens from 20 May–26 November 2023.
---
PROJECT DATA
Project Name
Veneti-An Tea House
Completion Date
May 2023
Design and Construction
Takaaki Fuji (Mitsubishi Jisho Design and tyfa / Takaaki Fuji + Yuko Fuji Architecture);
Hiroya Inage (Mitsubishi Jisho Design);
De Yuan Kang (Mitsubishi Jisho Design Asia)
Collaborators
Kota Machida (fabula): Manufacturing of food waste components;
Mitsuru Muroshima (Muroshima Seiko): Manufacturing of molds for food waste components;
Nippon Kako-Kizai: Manufacturing of recycled paper tubes;
Osamu Oide (SilicaGen): Waterproofing treatment;
Shuji Nakano (IWS): Manufacturing of cork flooring materials
Photography
Shohei Yokoyama (Japan); Yuta Sawamura (Venice)
---
Read more stories below:

Bay Window Tower House | FuturArc
Two things would immediately catch one's attention upon seeing this project. Its unusual form—at least for a residence—and its façade material. The owners—who are also the architects—wanted the architecture to last beyond its current use and even occupants. "We designed our own residence and office…
Pavilions that build upon 'waste' materials

Pavilions that build upon 'waste' materials | FuturArc
Architectural events and Expos—which have started to cautiously reopen around the world within the past months—are avenues for the exchange of ideas, and a primary part of these events are pavilions. These structures, which represent and articulate messages, are opportunities to test-bed novel archi…
Bio-based construction: What can be done for now?

Bio-based construction: What can be done for now?
28 JUNE 2022 – It is a well-known statistic that the construction sector contributes to almost 40 per cent of all carbon emissions, and at least 11 per cent of emissions is attributed to the use of materials. One of the ways to decarbonise the industry is developing products with low embodied carbon, including bio-based […]
Previously Published Projects