Construction, Online Exclusive Feature / 2021
Pavilions that build upon 'waste' materials
December 3, 2021
Architectural events and Expos—which have started to cautiously reopen around the world within the past months—are avenues for the exchange of ideas, and a primary part of these events are pavilions. These structures, which represent and articulate messages, are opportunities to test-bed novel architecture and building techniques.
Such events need to be conscious of their impact on the environment. Some of the most prominent exhibitions have highlighted themes of circularity—a system of production and consumption where resources are reused in a loop for as long as possible—in order to amplify its necessity in the public awareness.
The temporary nature of pavilions makes them an ideal chance to see how the built structures can be taken apart after their use, and furthermore what we can do with the parts. Here, we present a few examples of pavilions that use 'waste' materials in innovative ways.
---
The Italian Pavilion at Expo 2020 Dubai
Topped by boats—which represent Italy's seafaring history with the Expo's host country—this pavilion dangles an intriguing object all around its façade: nautical ropes that have been produced from almost 2 million bottles of recycled plastic. This vertical meshwork stretches 27 metres upwards and totals up to 70 kilometres in length, helping filter sunlight and allow breeze into the space to achieve natural cooling. At the close of the Expo in March 2022, there are already plans for these boats and ropes to be reused.
An installation inside the pavilion further shows luminescent ropes that are made from recycled biomedical waste—a type of waste that has significantly accumulated during the current health crisis. Beyond being an objet d'art, these ropes hold the liquid for algal cultures. Algae is used in the pavilion for air purification through a process of biofixation that captures the carbon dioxide emitted by Expo's thousands of visitors and in the production of natural fertilisers for the pavilion's green areas.
The pavilion also exemplifies how food waste can be reused as a construction material. Coffee grounds, alongside dried and powdered orange peel, have been used for the finish of suspended walkways. The natural colours of these materials create a contrasting pattern that guide visitors along the exhibition space.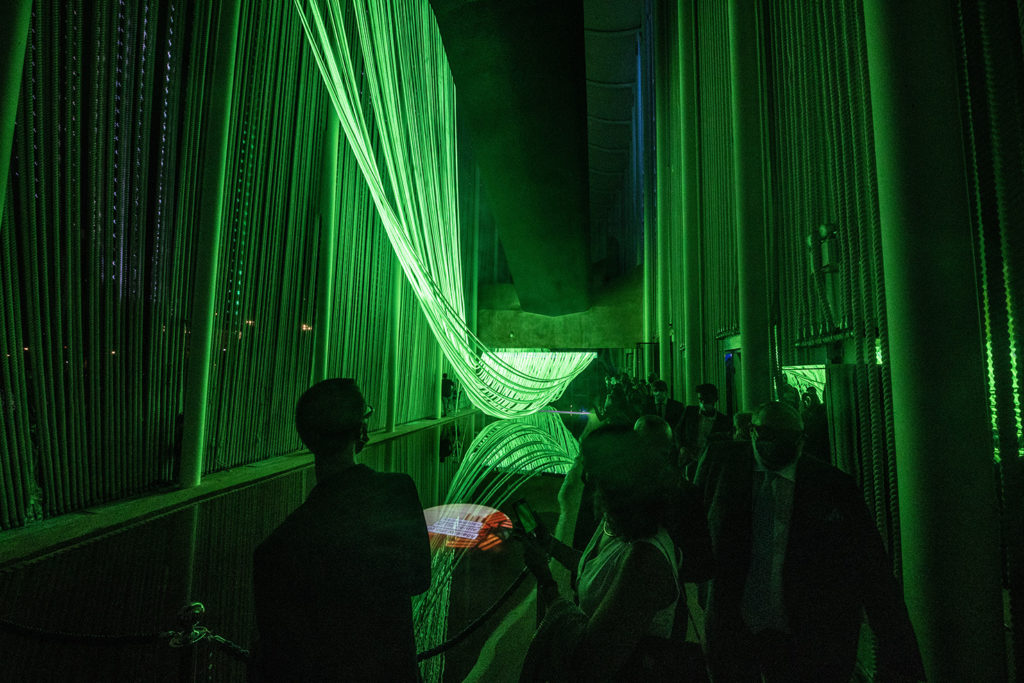 PROJECT DATA
Project Name: The Italian Pavilion at Expo 2020 Dubai
Pavilion Design: Carlo Ratti; Italo Rota; Matteo Gatto; F&M Ingegneria
Concept Design: Rampello & Partners
Site Area: 3,500 square metres
---
Serpentine Pavilion 2021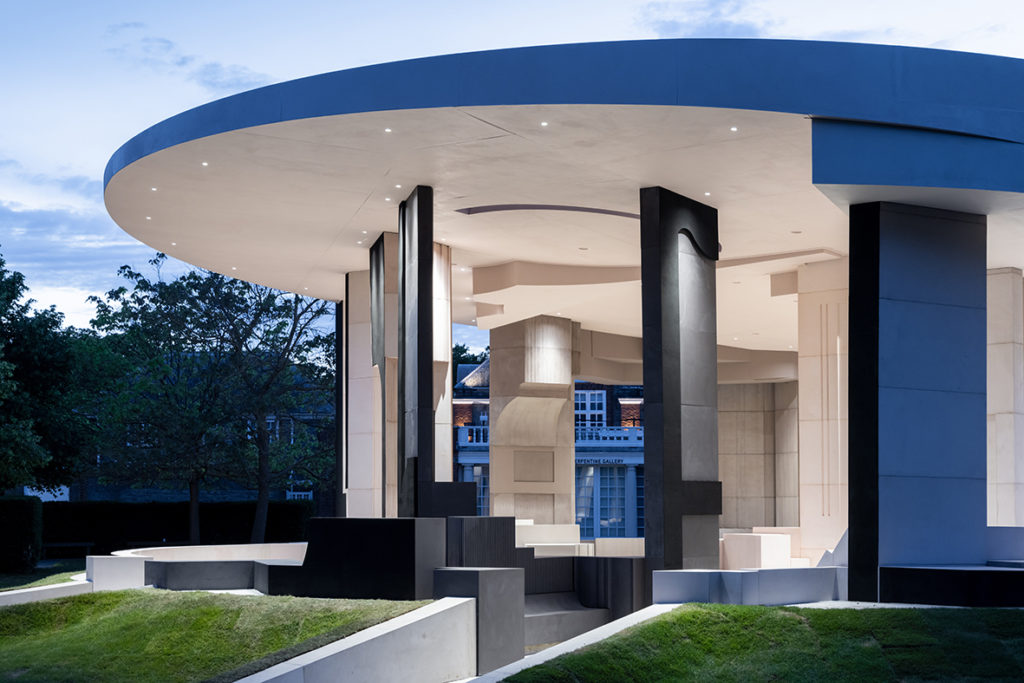 Envisioned as an assembly of fragmented parts, this pavilion is based on the idea of migration, meeting, organising and belonging in London. Parts of the pavilion were designed to be detached and distributed to several parts of the city to be used for community events, then returned to the original site at Kensington Gardens. Like past Serpentine pavilions, it will also be repurposed after the duration of the event.
"The pavilion's primary structure is made entirely from steelwork salvaged from other projects," wrote the engineer. "Already in storage at [the contractor's] yard, where all elements of the pavilion have been prefabricated off-site, this minimised the embodied carbon of the structure both in the material production and in its transportation. Furthermore, carbon-negative cork produced as a by-product from the wine industry; micro-cement derived from lime; and waste from marble production are used in the structure's cladding."
Originally, the designers and engineers experimented with unfired bricks made from reclaimed construction waste and biologically-derived materials such as mycelium, but these were not yet possible to carry out due to time constraints and complexity of the pavilion. However, they believe such materials have great potential for use in the construction industry.
PROJECT DATA
Project Name: Serpentine Pavilion 2021
Pavilion Architect: Counterspace
Technical Advisor: AECOM
Construction: Stage One Creative Services
Building Footprint: 350 square metres
---
Japan Pavilion at the Venice Biennale 2021
Considering that Japan has among the highest rates of population decline in the world, the country faces a situation where there is an abundance of empty houses—outliving their usefulness, the houses have been slated for demolition. Highlighting this issue, the pavilion curators have salvaged one house to be shipped to Venice: "Takamizawa House did not arrive in Venice intact. To fit it into the shipping containers we had to dismantle it, a process that entailed the loss of many of its parts."
Titled Co-ownership of Action, this pavilion presents the 'dissected' house that has been reconfigured on-site by architects and local Venetian artisans, stitching the lost parts with locally-sourced materials and elements. "Your actions are not yours alone," wrote the curators, highlighting how architecture is the product of a chain of diverse yet collaborative actions—set forth in the past and lasting towards the future.
PROJECT DATA
Project Name: The Japan Pavilion at Venice Architecture Biennale 2021 – Co-ownership of Action: Trajectories of Elements
Curator: Kozo Kadowaki
Exhibition Design: Schemata Architects; Studio IWASE; sunayama studio + Toshikatsu Kiuchi Architect; DDAA
Exhibitors: Jo Nagasaka; Ryoko Iwase; Toshikatsu Kiuchi; Taichi Sunayama; Daisuke Motogi; Rikako Nagashima
Photography: Jan Vranovský
---
The Straw (Ashui Pavilion 2021)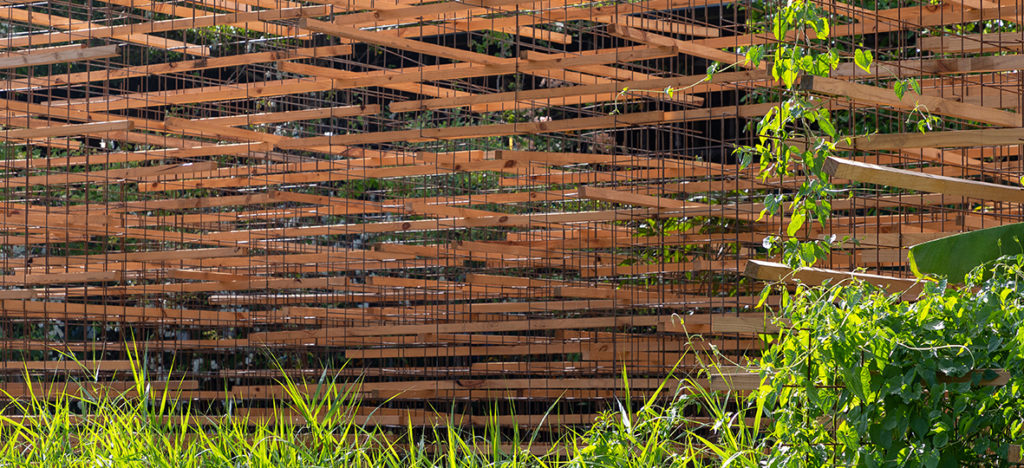 This pavilion amidst a garden was used to host an architectural award event. To minimally disrupt the natural site, the designers envisioned a structure that was as light and porous as possible, allowing it to blend with the landscape.
Using leftover materials that were available at the wasteland of a nearby carpentry workshop, the designers collected excess natural wood and steel fence—cleaning, trimming and reassembling them into a structure that was inspired by a pile of straw as "an image of memory, one that belongs to the Vietnamese countryside."
The wooden slats that make up the pavilion are lightly placed on top of each other without any fixed rigid links. The wire mesh frame, despite appearing fragile, has been two-way linked together, creating a strong structure. This pavilion's gentle construction avoided the need for a deep, fixed foundation, thus would not leave a trace when it is dismantled and repurposed at the end of its life.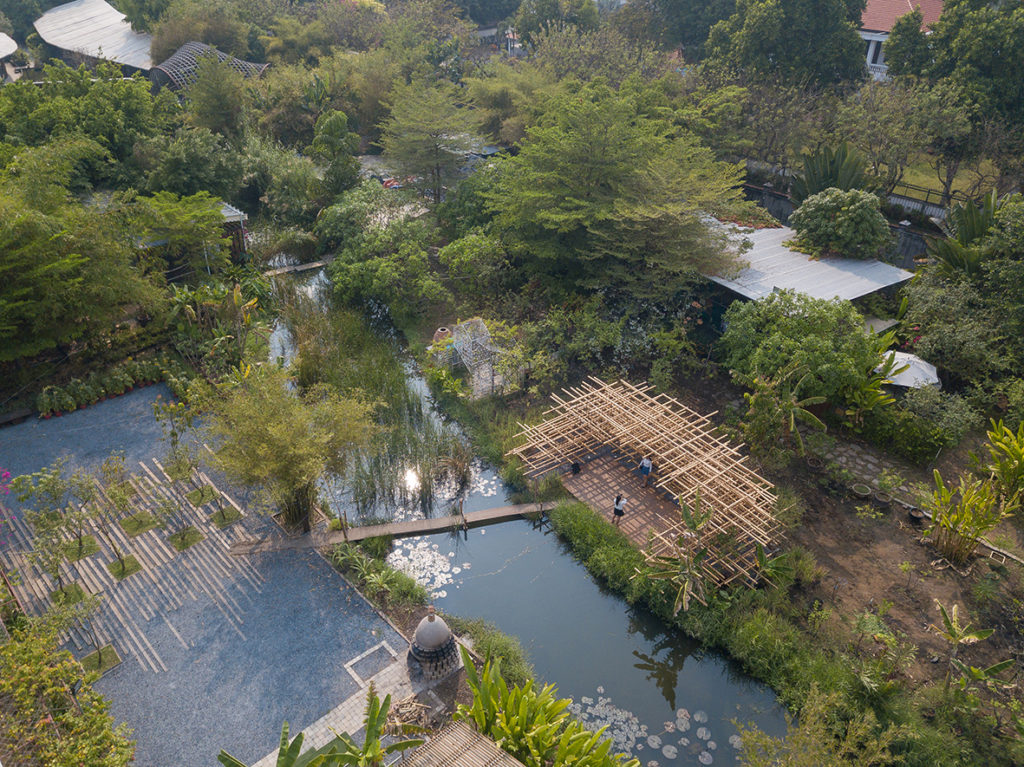 PROJECT DATA
Project Name: The Straw
Location: Thu Duc, Ho Chi Minh City
Architecture Firm: MIA Design Studio
Principal Architect: Nguyen Hoang Manh
Concept Design: Truong Nguyen Quoc Trung; Le Thanh Thuong
Technical Design & Construction: Landscape Architecture Association
Floor Area: 72 square metres
Photography: Trieu Chien
---
Previously Published Projects