Online Exclusive Feature, Residential / 2023
The Falls by Akitephile: Recreating a natural marvel
May 5, 2023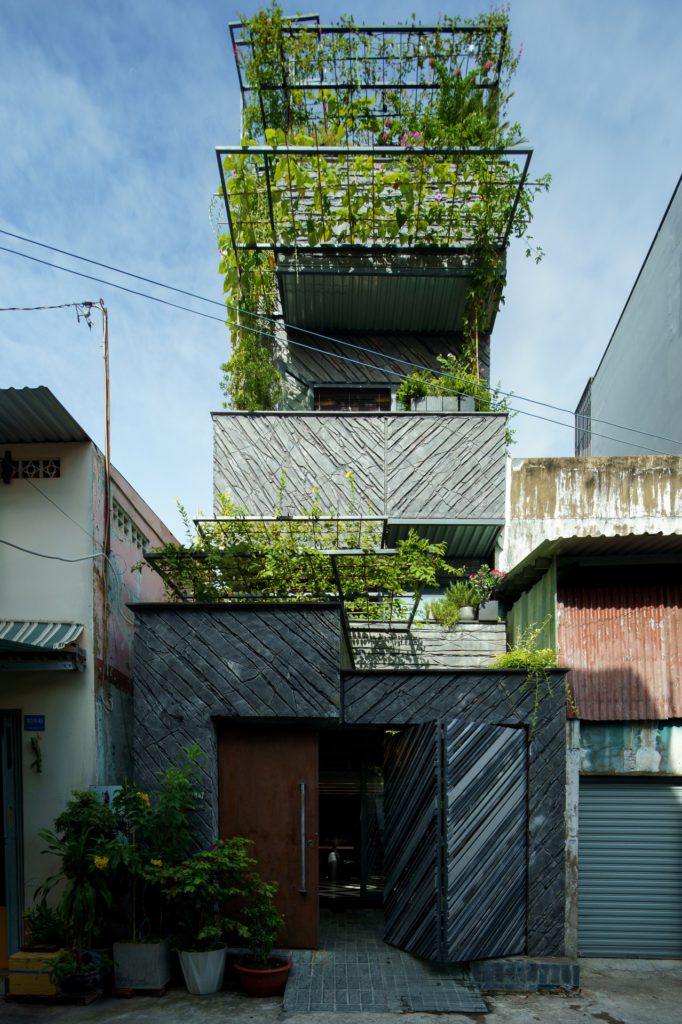 The name of this house refers to the majestic Pongour Falls in Vietnam, a naturally stepped waterfall with terraced cliffs, interspersed by a landscape of wild-growing shrubs and trees. During dry seasons, visitors can climb up the cliffs to marvel at its rocky expanse.
"If Pongour represents a natural landscape that looks like an artificial 'creature', we are proposing an artificial building that looks like a natural scenery", wrote the architects.
The Falls was created as a home for a pair of siblings and their respective families on a narrow site measuring around 4 metres wide and 15 metres long. To house the two families, the mass is split into front and back sections, marked by a stairwell in the middle with a skylight and continuous glass windows.
This three-storey arrangement comfortably contains four bedrooms, a library/playroom, a dining area and four balcony/roof spaces with hanging gardens, as well as front and back patios.
---
A rocky look and feel
Be it for the exterior or interior, the design aimed to evoke the striated stone cliffs of Pongour. This idea was initially met with budget challenges as natural stone materials are scarce and expensive. Thus, the façade and walls used cement mortar instead, artfully imprinting it with diagonal patterns that mimic the appearance of stone. A matching striped pattern was also created using iron bars of different widths for the front gate.

Inside, walls are painted mottled grey, with a textured finish applied at some areas to give the feeling of being in a cave. The soft colours are further paired with indirect artificial lighting and also indirect daylight to help prevent eye strain for the occupants. The stairs have also been finished with ground stone to be less slippery as it is more suitable for children and the elderly.

---
Breezy and shielded
Southern Vietnam's weather is warm year-round, normally ranging from 25 to 35 degrees Celsius. In response to this tropical climate, the architects focused on optimising natural ventilation in the house.
An air 'column' was crafted, making use of convection by way of pressure differentiation within the building. The glass roof on top of the stairwell will heat the air just beneath it, allowing air to flow upwards and escape through the ventilation slot. This difference in pressure draws in air from the lower floors, thereby constantly circulating fresh air inside the house.

Aside from that, the openings (windows and doors) are provided at a moderate ratio of one-eighth of the floor area for bedrooms and one-fifth of the floor area for public rooms. This helps attenuate the amount of light entering the rooms, avoiding excess solar radiation for indoor spaces.
A hanging garden is further placed on all the balconies to reduce solar radiation. As large trees' roots would affect the structure, vines that required minimum upkeep were chosen to create shade within the limited space.
---
Energy and cost-saving
Normally, the homeowner's electricity bill fluctuates around VND2 million, but after moving to this house, their electricity bill has been halved to around VND1 million. According to feedback from the homeowner, the air-conditioning system is mainly only used in the hottest season from June to August. For the rest of the year, the occupants are content with using the ceiling fan or even no fan at all. This is possible thanks to the natural design ventilation, shielding from solar radiation with green vines, and application of daylighting.
Watch the video: The Falls House by Akitephile



---
PROJECT DATA
Project Name
The Falls
Location
Binh Thoi, District 11, Ho Chi Minh City, Vietnam
Status
Completed
Completion Date
2021
Site Area
60 square metres
Gross Floor Area
264 square metres
Number of Rooms
7
Building Height
13.6 metres
Client/Owner
Dung Truong; Ha Hien
Architecture Firm
Akitephile Co.,Ltd
Principal Architect
Luu Quoc Thinh
Main Contractor
Truong Long An
Interior Contractor
Uphouse
Photos
Dung Huynh (DH Studio)
---
Read more Green residential projects below:
Multi-functional basics: Binh Thuan House by MIA Design Studio

Multi-functional basics: Binh Thuan House by MIA Design Studio | FuturArc
This home for a young family of four exemplifies how "basic is best", focusing on necessities when faced with constraints. Designed with a limited budget, and constructed remotely during the pandemic with local builders, the architects concentrated on key elements of residential buildings. "The basi…
Ascension Paysagère: Housing for a variety of income levels

Ascension Paysagère: Housing for a variety of income levels | FuturArc
This complex provides 138 homes in a variety of sizes and price ranges to suit different income levels—including 37 units of social housing.
Joined at the 'wing': Smoothly merging a box and an A-frame

Joined at the 'wing': Smoothly merging a box and an A-frame | FuturArc
The Wing, a two-storey private residence and rentable villa, is located among neighbouring paddy fields in Bali. In the tropical climate, there is abundant sunlight that can be used to light up the interior spaces. At the same time, the sun's heat cannot excessively permeate into the rooms. This is…
Previously Published Projects