Online Exclusive Feature, Residential / 2022
Ascension Paysagère: Housing for a variety of income levels
November 24, 2022
In line with our ongoing design competition FuturArc Prize (FAP) 2023: Cross-Generational Architecture, we are highlighting projects along the theme for your inspiration. Click here to learn more about the brief!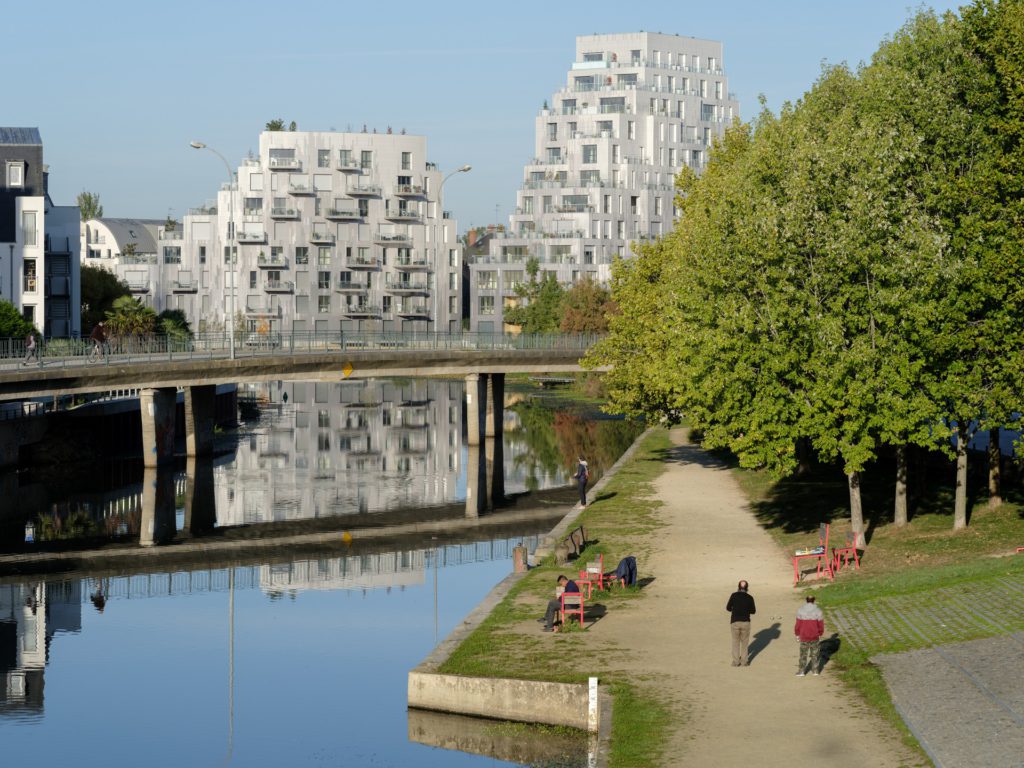 The hilly city of Rennes in France is known for its universities. Students and young adults make up a majority of its population—60 per cent of its 710,000 citizens are below 40 years old. Located 1,5 hours by train from Paris, Rennes recorded the second-fastest metropolitan area growth in France. Thanks to a balanced mixture of activities and spaces, it has been named the most liveable city in France by various polls.
At the confluence of two rivers in the west of Rennes sits the residential complex of Ascension Paysagère. It occupies a transitional space between Rennes' city centre and its outer reaches. The 12-storey, 10,550-square-metre complex offers density in the context of the city's outward growth, providing 138 homes in a variety of sizes and price ranges—including 37 units of social housing. The complex also provides commercial spaces and new public spaces in a waterside environment.
---
Height matters
Ascension Paysagère takes inspiration from geological formations. The façade reinforces the connection to geology, with grey ceramic panels arranged into stratified layers.
The project comprises two curving buildings, one large and one small, with gradually receding slopes. By the river, and at points where the project approaches its neighbours, the buildings are low-rise to acknowledge its expansive context.
Elsewhere, the design gradually steps up into three peaks, reaching the maximum 12-storey height at the centre of the site. The terraces created by these gradual step-backs are decked with green gardens, extending the natural spaces of the riverbank upwards to the apartments.
---
Greenery for all
Every apartment in the complex is provided with an outdoor space, either a terrace, balcony or loggia. Each comes with custom plant pots fitted with automatic irrigation and a dedicated water tap to help residents care for their piece of the landscape. The spatial configuration creates a village-like atmosphere that allows residents to greet neighbours above and below.

At the ground level, the buildings' curves define a series of public spaces, with a green pedestrian street between the two blocks and a plaza at the water's edge. The activity and cultural spaces include a restaurant and theatre, generous meeting spaces, a garden and a former renovated tax office—making the public square a mix of three architectural periods.
---
Densifying responsibly
The project uses a variety of approaches to ensure sustainability and social responsibility. Densifying an urban area reduces the city's need to expand into the surrounding landscape, and the parking garages include a total of 210 square metres for bicycle parking, including dedicated spaces for cargo bicycles and electric charging stations to encourage more sustainable transport options.
The 34 apartments in the smaller building are completed to Passivhaus standards, with the aim of needing far less energy than the typical apartment. Many of the apartments are equipped with windows on multiple sides, allowing cross ventilation and natural lighting. A diverse range of apartment types is spread throughout the building, including 37 homes for social rent and 42 for sale as affordable housing. The communal spaces feature high-standard finishes and are open to all residents, treating every occupant equally. This makes Ascension Paysagère poised to add to the liveability of Rennes, and can serve as a demonstration of how the city can meet its current housing demand.
---
PROJECT DATA
Project Name
Ascension Paysagère
Location
Rennes, France
Completion Date
2022
Size
10,550 square metres
Programme
Residential (138 homes including 37 social housing, 42 affordable housing, 59 market rate)
Commercial spaces
Client
Groupe Giboire
Architect
MVRDV
Co-architect
ALL
Environmental Advisor
Franck Boutté
Structural Engineer
SERTCO
MEP
ICOFLUIDES
Contractor
Sogea
Project Coordination
OBI INGENIERIE
Cost Calculation
CDLP
Photography
Ossip van Duivenbode
---
Related projects:
How a food kitchen reframes senior care in Singapore: GoodLife! Makan

How a food kitchen reframes senior care in Singapore: GoodLife! Makan | FuturArc
Goodlife! Makan brings a twist to the traditional senior activity centre. Seniors take part in food preparation, cooking and washing dishes.
Na Khoang School: Built by and for the community

Na Khoang School: Built by and for the community | FuturArc
Na Khoang School aims to foster a sense of belonging and care from its construction. Local people joined hands to carry pebbles…
Enabling Village: An inclusive environment for integration

Enabling Village: An inclusive environment for integration | FuturArc
In line with our ongoing design competition FuturArc Prize (FAP) 2023: Cross-Generational Architecture, we are highlighting projects along the theme for your inspiration. Click here to learn more about the brief! Disability is defined as anything that impairs—or rather, differentiates—a person's abi…

Previously Published Projects