Institutional, Online Exclusive Feature / 2022
How a food kitchen reframes senior care in Singapore: GoodLife! Makan
November 18, 2022
In line with our ongoing design competition FuturArc Prize (FAP) 2023: Cross-Generational Architecture, we are highlighting projects along the theme for your inspiration. Click here to learn more about the brief!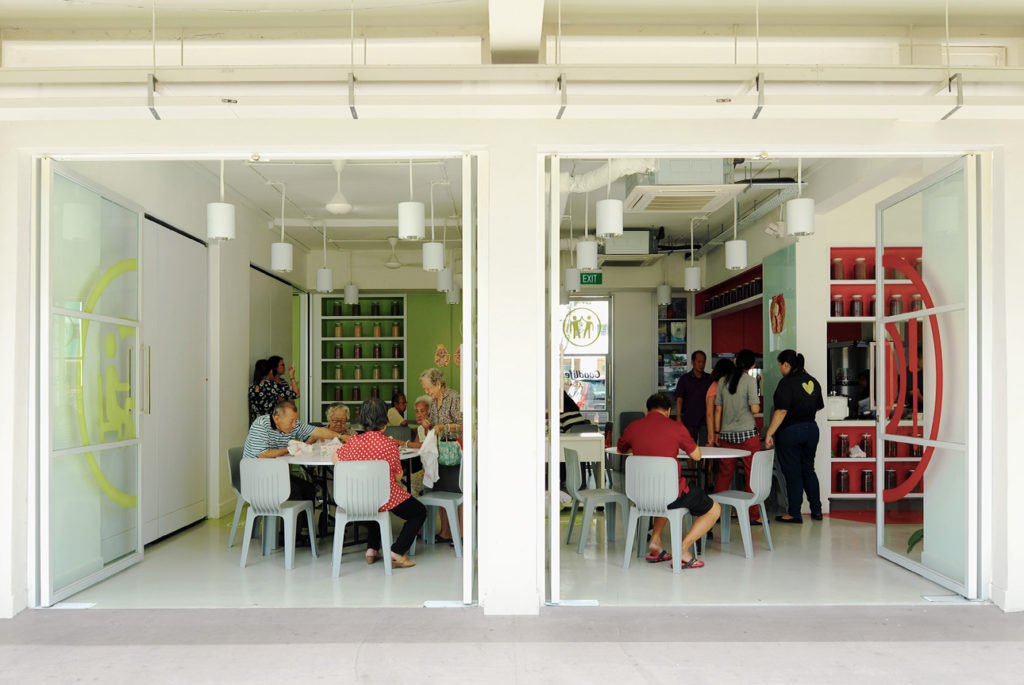 Eating together brings everyone closer—and this proved to be a cherished social activity for stay-alone elderly residents in Singapore.
The project Goodlife! Makan brings a twist to the traditional senior activity centre (SAC). Designed in 15 Marine Terrace, a public housing (HDB) block built in the 1970s, it transformed the void deck into a community kitchen geared for the elderly. Seniors were encouraged to take part in food preparation, cooking and washing dishes, engaging with the community at large.
The space was also designed as a 'living room' to form social bonds and create programmes that cater to each other's needs. This is a departure from the conventional care model, where meal deliveries and other such services are provided to seniors at their doorstep.
---
Food as a common language
Different coloured zones act as visual markers to help seniors from different language and ethnic backgrounds communicate with one another. Full-height open glass doors welcome the community in, accommodating up to 60 people.
The porous compound allows for cross-ventilation, blurring its boundaries with the void deck corridor. The interior's vibrant colours add a sense of energy, while the displays of familiar heritage foods stimulate the minds of persons with dementia.


---
Reframing perception
Among the awards GoodLife! Makan has received are Singapore Institute of Architects (SIA) Architectural Design Awards 2016 and Design of the Year, President*s Design Award (P*DA) 2020. The jury of P*DA 2020 commended it for being "a successful prototype to purposefully reintegrate stay-alone elderly back into the community and enliven the idea of ageing-in-place. The project is a delightful remake of the SAC and the conventional meal delivery service for seniors."

Since its establishment in 2016, the space has been enhanced with new equipment and surfaces, a café and more greenery. There is also a dedicated space for day nursing care in partnership with the Singapore General Hospital. It has fostered an ecosystem of community-based care, and the architects are seeking to integrate related spaces such as an elderly gym and family welfare centre through design.
By empowering seniors to be active stewards of their own community, GoodLife! Makan shows that such neighbourhood support network can complement top-down social support services that are currently in place.
---
PROJECT DATA
Project Name
Goodlife! Makan
Project Location
15 Marine Terrace, Block 15, Singapore
Completion Year
2016
Area
360 square metres
Architecture Firm
DP Architects Pte Ltd
Principal Architect
Seah Chee Huang
Client
Montfort Care
Mechanical & Electrical Engineer
Bescon Consulting Engineers Pte
Main Contractor
Stancel Construction Pte Ltd
Photos/Images
DP Architects Pte Ltd

---
References:
https://pda.designsingapore.org/presidents-design-award/award-recipients/2020/goodlife-makan.html
https://www.dpa.com.sg/projects/goodlifemakan/
https://www.dpa.com.sg/news/goodlife-makan-wins-two-prestigious-sia-architectural-design-awards/
https://www.dpa.com.sg/news/in-the-media/goodlifemakan-pda-2020/
Previously Published Projects