Online Exclusive Feature, Residential / 2022
MeyerHouse by WOHA: Louvres as design motif
August 29, 2022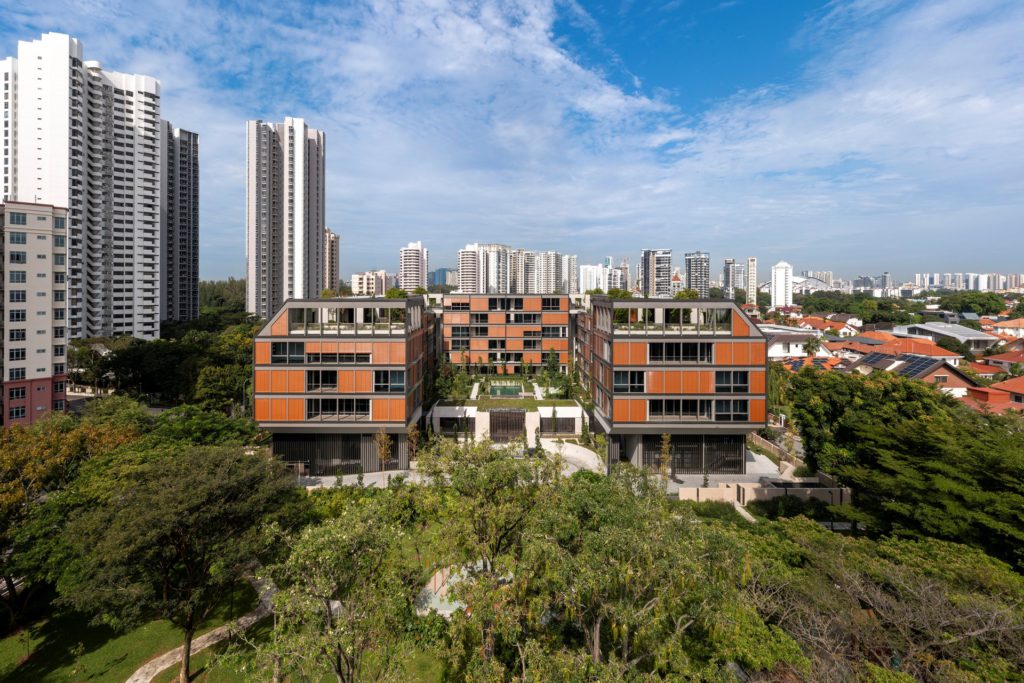 Louvres are a time-honoured element of architecture in the tropics, performing several functions related to light and optics. They filter out sun glare while allowing in natural daylight to reduce a space's cooling load, and could allow cross-ventilation through the breathable gaps. Depending on their angle, louvres can also shield the interior against outside eyes.
MeyerHouse—a five-storey condominium in Singapore that is situated adjacent to low-rise housing and connects to an adjacent 1-hectare forested park—applies louvres as its design motif across elements. On the exterior façade, bespoke louvres made out of glass fibre reinforced concrete (GFRC) as an abstracted expression, alongside panelling details that span its height.


These GFRC louvres serve to secure privacy for units from the street level while allowing air to filter into the spaces and balconies. In this C-shaped apartment configuration, foldable timber screens that recall classic wooden jalousies also serve as sunshading for units facing the pool and the neighbouring park.


Air, light and water are important elements in the design. The collonaded arrival walkway is adorned with a reflective pool that helps achieve a cool micro-climate. Above it, a terraced garden cascades down to the subterranean lobby, opening up the space to receive natural daylight, ventilation and greenery. This additional sun-lit level allows communal amenities to be doubled.

The project won Design of the Year at the Singapore Institute of Architects (SIA) Architectural Design Awards 2022, with the jury commending the architect's "single-mindedness in the systemisation of components and configuration in plans and elevation, culminating in a well-resolved five-storey bungalow apartments-in-the-sky development."
---
PROJECT DATA
Project Name  
MeyerHouse
Location           
128 Meyer Road, Singapore
Status 
Completed
Completion Date
March 2022
Gross Floor Area           
15,684.74 square metres
Client/Owner  
Secure Venture Development (No.1) Pte Ltd
Architecture Firm         
WOHA Architects Pte Ltd
Landscape
Ramboll Studio Dreiseitl
Interior Design
Yabu Pushelberg
Images/Photos
Patrick Bingham-Hall; Darren Soh
---
Read more projects on FuturArc:
Jervois Mansion: A contemporary take on the black-and-white bungalow

Jervois Mansion | FuturArc
There is a quote by Singapore's founding father, Lee Kuan Yew: "Housing was and is a most important public policy, one with profound influence on the lives of our people." After nearly a century of successfully providing public housing for over 80 per cent of the population, the Singapore Government…
Avenue South Residence: World's tallest PPVC residential building

Avenue South Residence: World's tallest PPVC residential building | FuturArc
Among the challenges faced by Singapore's architecture, engineering and construction (AEC) industry are its limited land and shortage of manpower. To optimise resources—as well as to reach carbon targets—there is a need to expedite construction times, streamline the work, reduce waste and minimise c…
Previously Published Projects