Institutional, Online Exclusive Feature / 2023
Sydney Modern Project by SANAA
June 21, 2023
Above the Sydney Harbour in Australia, a 34-hectare parkland called the Domain sprawls out on the eastern fringe of the city's central business district. In 1958, the construction of a freeway through the Domain separated two long-standing establishments: the city's Royal Botanic Garden (built in the 1810s) and the adjacent Art Gallery of New South Wales (built since the 1870s). Later in the late 1990s, a land bridge was erected that partly reunited the two.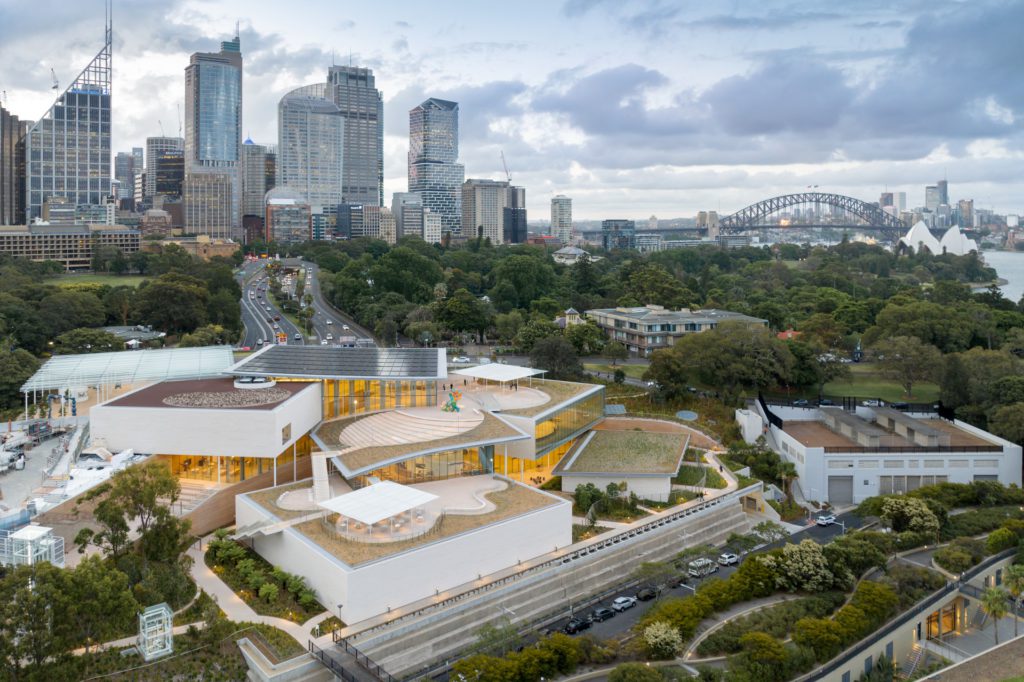 Since envisioned in late 2015, the Sydney Modern Project seeks to further enhance the art museum complex and its surrounding district, transforming the land bridge into an art garden and civic gathering place while connecting new and existing gallery buildings through the landscape. A significant state asset on the site, a decommissioned underground World War II naval fuel tank, was also repurposed into a 2,200-square-metre art space. Such elements have been retained and revitalised to tell the story of modernisation in Sydney.
---
Materiality
A 250-metre-long rammed earth wall cuts a curve through the building, traversing two storeys. The new construction used soil from the local Sydney area and New South Wales, lending an organic form that echoes the original topography of the site. More than 50,000 pieces of hand-cut and hand-laid limestone bricks were used for the façade of the art pavilions.
A bio-resin installation produced from surfboard material fabricated in Sydney forms the walls of the gallery shop in the new building. The colour gradation references the striated geology of sandstone in the Sydney basin.

---
Landscape
The project aims to increase biodiversity with the addition of 70 per cent more trees on site. The landscape design significantly uses endemic Sydney sandstone woodland planting, reinstating historic species associated with the area to keep with the site's original flora pre-European settlement. More than 8,000 square metres of green roof and landscaped areas are planted with close to 50,000 native species.
New open green spaces include the outdoor public art garden and welcome plaza, including more than 3,400 square metres of accessible roof 'art terraces' and courtyards. Artist-designed reflecting pools, along with additional planting, seating, shading and amenities, comprise the new civic plaza.

---
Sustainability
Approximately 70 per cent of the new gallery has been constructed above existing structures, optimising the available infrastructure. The building's energy needs are completely powered by renewable energy, with 10 per cent of it generated by solar panels on the entrance pavilion roof. In addition, rainwater capture and harvesting features allow reuse for irrigation and cooling towers. With all these measures in place, the project has become the first public art museum in Australia to achieve a 6-star Green Star design rating.
---
PROJECT DATA
Project Name
Sydney Modern Project
Location
Sydney, New South Wales, Australia
Completion Date
December 2022
Building Area
40,000 square metres (Art Gallery after expansion)
16,000 square metres (Exhibition spaces after expansion)
Architecture Firm
Kazuyo Sejima + Ryue Nishizawa / SANAA
Executive Architect
Architectus
Builder
Richard Crookes Constructions
Delivery Authority
Infrastructure NSW
Structural Engineer
Arup
Landscape Architects
McGregor Coxall; Gustafson Guthrie Nichol
Photos
Iwan Baan; Art Gallery of New South Wales; Jenni Carter
---
Read more stories on FuturArc:
A Greener Future for September 23 Park

A Greener Future for September 23 Park | FuturArc
The lack of green spaces and parks has become a common lament amongst most city dwellers in Ho Chi Minh City (HCMC), Vietnam. The area of trees per capita (square metre per person) is lower in the country's largest city—home to more than 8 million people—than in its capital, and even lower when comp…

Bat Trang Pottery Museum | FuturArc
From as far back as the 11th century, the village of Bat Trang has been famous as a producer of ceramic and pottery crafts. There is even a specific style of porcelain associated with the village, using decorative techniques and glazes that have been developed by generations of local artisans. To th…
Hangzhou Oil Refinery Factory Park: From 'fossils' to renewable energy

Hangzhou Oil Refinery Factory Park: From 'fossils' to renewable energy | FuturArc
China's Grand Canal—the world's longest and one of the oldest artificial waterways—played a key role in strengthening connections between the country's south and north areas. Positioned at the canal's southern extent is the city of Hangzhou, with an 18-hectare site formerly occupied by an oil refine…
Previously Published Projects