Infrastructure, Landscape / 1st Quarter 2023
A Greener Future for September 23 Park
March 21, 2023
The lack of green spaces and parks has become a common lament amongst most city dwellers in Ho Chi Minh City (HCMC), Vietnam. The area of trees per capita (square metre per person) is lower in the country's largest city—home to more than 8 million people—than in its capital, and even lower when compared to other major cities in the world.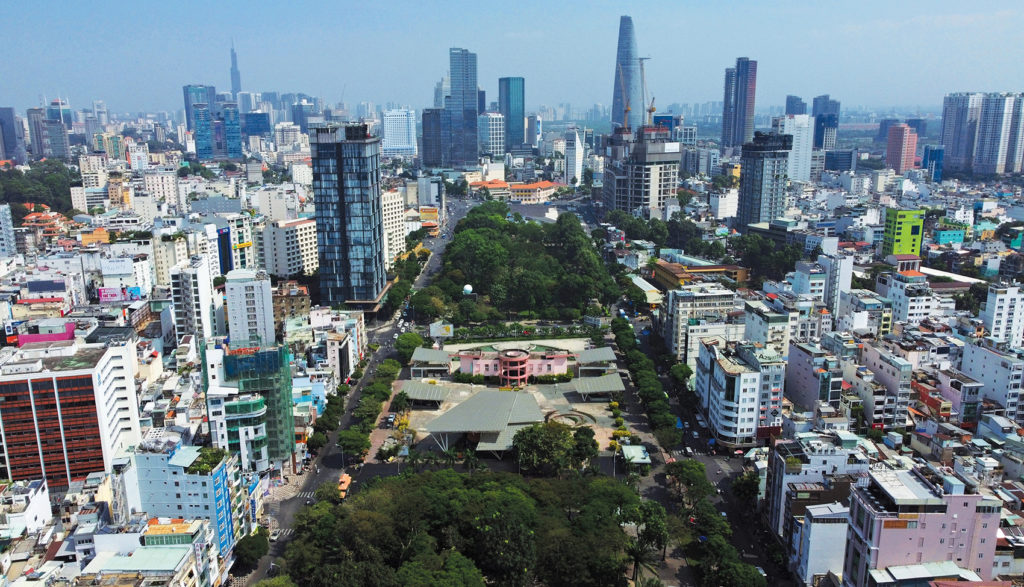 Thus, when it came time to renew an existing key urban asset in HCMC to increase green coverage, revitalise social spaces and improve the current transportation infrastructure in environmentally sensitive ways, the importance cannot be understated.
September 23 Park is one of the city's most important green spaces. It was built on the site of the city's old central railway station and connects commercial neighbourhoods in the district. However, the park has limited actual green coverage as most of its space is being occupied by a bus station, an underground mall, shops, cafés, etc.
The authorities planned to incorporate a multifunctional scheme that includes linking transportation nodes and networks in the park project that will enliven the area with Nature and other blue-green infrastructures. An international competition was held in 2019 by the city and here are the winning proposals.
---
LAVA AND ASPECT STUDIOS' DESIGN

Curved pedestrian walkways that are gently elevated are patterned on 19th century railway tracks built by the French, a reminder to visitors of the old urban fabric. They 'weave' alongside sunken gardens, playgrounds and trees to provide directional paths, maximise the park's existing greenery, increase access to diverse functional areas and articulate zones of activity.
The walkways delineate a mix of active and passive spaces. The gardens provide performance and play spaces, connecting to an underground shopping area linking to the new Ben Thanh Metro Station. A highlight of the proposal is the incorporation of futuristic artificial 'trees' alongside real ones for shelter and harvesting water and energy. Water purification trees collect rainwater to be recycled and used for watering, drinking fountains and fire hydrants. Ventilation trees reduce heat and create fresh air. Solar trees feature solar panels angled to optimise radiation and store power, and info screens, charging docks, Wi-Fi routers.
Chris Bosse, director of LAVA, said, "The site has always been about transportation. It was the first train station in Southeast Asia, it's currently a bus terminal and in the near future it will be Vietnam's first metro station. Our design references this history and future mobility."
[This is an excerpt. Subscribe to the digital edition or hardcopy to read the complete article.]
---
PROJECT DATA
Status
Competition winner 2019
Site Area
16.07 hectares
Architecture Firm
LAVA: Chris Bosse; Tobias Wallisser; Alexander Rieck
Design team
Dong Viet Ngoc Bao; Nguyen Xuan Man; Vu Ngoc Anh; Do Thi Duong Thi; Nguyen Phuc Anh Thu; Pham Duy Bao Long; Nguyen Truong Ngan; Cao Trung Nguyen; Trinh Tien Vinh; Le Thuy Ngan; Trinh Duc Tri, Bui Quang Khanh; Pham Thi Ngoc Hanh; Nguyen Le Yen Oanh; Nguyen Quang Minh Triet; Riccardo Allegri; Kylie Pan; Stefanie Sellan
Design support team
Tran Minh Huy; Bui Khac Rin; Pham Thach Anh Quoc; Dinh Dang Khoa; Tran Minh Thanh; Tang Quan Kiet; Nguyen Quoc Doan; Tran Pham Bao Ngoc; Dang Hoang Minh
Partner
ASPECT Studios: Stephen Buckle (Design Principal/Director); Sissy Chen; Jo Ren
Images/Photos
LAVA
---
MARTIN DUPLANTIER ARCHITECTES' DESIGN

The proposal seeks to regenerate the longitudinal green space of September 23 Park and consolidate the existing neighbouring parks and planted avenues, as well as activate social spaces and reinvent the idea of a hub from a train station to a multimodal commercial centre.
The design leverages the existing natural landscape to create blue-green connections and micro-climates to address environmental issues, as well as to reduce urban heat, polluted air and humidity. Existing trees are conserved and multiplied—new trees and species will complement existing ones. Water becomes a new link between different sequences in the project, flowing along the southern façade, for purposes of flood mitigation and to create different settings throughout the park for different activities.
The design team posited that the park will play a central role in HCMC's future:
• As a major hub of mobilities, linking three subway lines and the central bus station
• As a major green space and a dense central urban fabric; as a reservoir for biodiversity; as an air cleaner through specific strategies; as a water buffer against chronic flooding
• As a major public place for multiple uses including recreation, sports and cultural activities
[This is an excerpt. Subscribe to the digital edition or hardcopy to read the complete article.]
---
PROJECT DATA
Status
Competition co-winner 2019
Site Area
Park: 10 hectares
Gross Floor Area
Multimodal Hub: 65,000 square metres
Building Height
Above ground: 12 metres; underground: 23 metres
Architecture Firm
Martin Duplantier Architectes
Principal Architect
Martin Duplantier
Main Contractor
People's Committee of Ho Chi Minh City
Mechanical & Electrical Engineer
Franck Boutté Consultants (France)
Civil & Structural Engineer
Artelia Vietnam
Images/Photos
Martin Duplantier Architectes
---
Related stories:
Streetscaping of JM Road by Oasis

Streetscaping of JM Road by Oasis | FuturArc
Oasis Design Inc. were asked to redesign Jangali Maharaj Road, better known as JM Road, which is named after Sadguru Jangali Maharaj. The road has a right of way of 36 metres and is an important arterial road in Pune. It is primarily a commercial street with many high-end shops lining the property e…
MRT Kota Station: Catalysing a Historic Node

MRT Kota Station: Catalysing a Historic Node | FuturArc
One of the much-anticipated transportation projects in Jakarta is the mass rapid transit (MRT) expansion. First opened to the public in March 2019 after six years of construction, the railway's first phase spans 13 stations across South and Central Jakarta, passing through the metropolis's largest b…

Previously Published Projects