Commercial / 2nd Quarter 2023
The Old Alley's Way of Life: Architecture Office in Hao Sy Phuong, Vietnam
June 19, 2023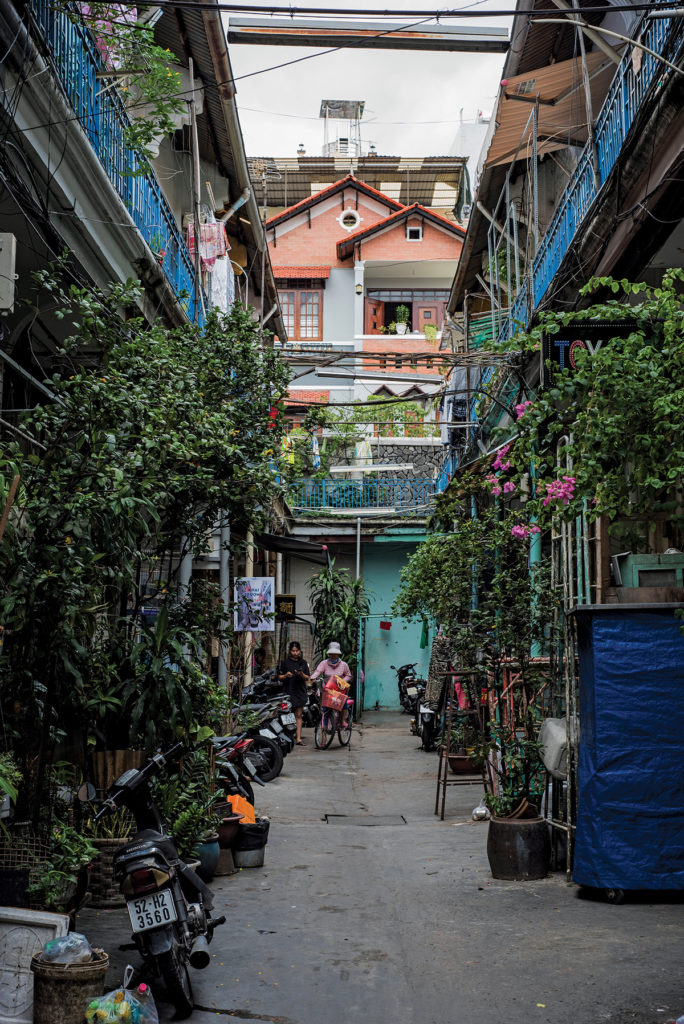 Called hutong in Beijing, lilong in Shanghai, soi in Bangkok, roji in Tokyo, golmok in Seoul and gang in Jakarta—alleyways are ubiquitous across Asian urban landscapes, each with their own spatial morphology and sociocultural composition.
Urban researchers have noted that alleys/lanes are important sites of daily activity, shaped by various forces to present a mix of the historic and contemporary vernacular. However, many such neighbourhoods face the spectre of large-scale city development, threatening to erode the spatial character and displace the residents.
In Vietnam, alleys are called ngõ and ngách in Hanoi, and hẻm in Ho Chi Minh City. One popular hẻm is Hao Sy Phuong, which dates back to 1910 in the Chinatown area of Cho Lon.
For more than a century, this alley has consisted of over 60 'tube house' units in a two-storey configuration. Many Hoa Chinese features/ornaments—such as trellised windows and iron doors, double-flap shutters, amulets, tablets and altars near doorways—have remained for multiple generations.
Since the alley has never been gazetted as a protected heritage building despite its old age, its preservation till this day, with minimal changes to the structure, is a testament to how it is well suited to and beloved by residents—as well as visitors. The old alley's charm has drawn flocks of spectators over the years, from hundreds of daily tourists to movie crews and couples doing pre-wedding photoshoots.
So high was the attraction that Hao Sy Phuong residents limited entry to strangers during the height of the pandemic. The number of visitors has since mellowed down to 10–30 per day, and residents welcome visitors with a plea to not disturb their privacy or litter in the area.
---
SHARED SPACES
Tucked away from the bustle of the main street, life in the alley has been described as peaceful yet vibrant at the same time. It hosts a mix of people across ages and cultures: long-time residents have stayed there all their lives, with newcomers moving in since the past decade. While most of the units are used as residences, a handful of home businesses such as mini-cafés, drink kiosks and noodle shops support the neighbourhood's livelihood and become places for gathering.

The two-storey buildings are oriented around a shared courtyard to catch wind and light. Notably, the lower and upper units are not connected through an internal staircase, but rather by shared stairwells leading to a continuous balcony on the upper floor. This balcony is also a place where residents grow potted plants, from bougainvillea to pomelo trees.
An open-air atrium connects between floors. This serves as main ventilation and daylighting 'chimney' for the long and narrow units. These conjoined features in the neighbourhood and house modules reflect togetherness as the community's way of life.
---
OLD BONES, NEW FUNCTIONS
The main challenge was to limit the construction impact on the structure, considering its old age. Therefore, the renovation retained the existing walls and only erected a new wall in the mezzanine area with lightweight materials to reduce the load.
The front part, which faces the connecting balcony and courtyard, maintains harmony with the old neighbourhood. The architects then inserted a second roof under the tin roof, reusing old tiles that they kept from the previous renovation.
[This is an excerpt. Subscribe to the digital edition or hardcopy to read the complete article.]
---
PROJECT DATA
Project Name
AD+ Office
Location
Hao Sy Phuong, Ho Chi Minh City, Vietnam
Completion Date
2022
Site Area
67 square metres
Gross Floor Area
96 square metres
Number of Rooms
4 (Living room; working space; meeting room; back of house)
Building Height
7.2 metres
Client/Owner
AD+studio
Architecture Firm
AD+studio
Principal Architect
Nguyễn Đặng Anh Dũng
Main Contractor
Local builders
Mechanical & Electrical Engineer
Local builders
Civil & Structural Engineer
Local builders
Images/Photos
AD+studio; Dung Huynh
---
Related stories:
Pioneers of Tropical Living: Singapore's 'Middle-aged' Condos

Pioneers of Tropical Living: Singapore's 'Middle-aged' Condos | FuturArc
Over my nearly 20 years of living in Singapore, the city has changed almost beyond recognition. I moved here as a teenager, when Sentosa had a few ramshackle beach bars and Orchard Road had a huge green space where ION now sits. Of course, change is the only constant in Singapore and other Southeast…
Reimagining Heritage: Architectural Regeneration in Rural China

Reimagining Heritage: Architectural Regeneration in Rural China | FuturArc
As of 2021, China's countryside houses about 36 per cent of its population. The process of rural-urban migration as a result of economic reform since the late 1970s has seen a drastic decline of the agricultural livelihood that once fostered Chinese civilisation. While urbanisation has brought vast…
In Conversation with Gurmeet S. Rai

In Conversation with Gurmeet S. Rai | FuturArc
Gurmeet S. Rai is a conservation architect who can be credited with the conservation of some of the most famous built heritage projects in India. There, she started the Cultural Resource Conservation Initiative in 1996, a conservation consultancy firm that works on cultural heritage conservation and…
Read more stories from FuturArc 2Q 2023: Old is Gold!

References:
Eds. Marie Gibert-Flutre, Heide Imai. Asian Alleyways: An Urban Vernacular in Times of Globalization, Amsterdam University Press, November 2020
Hào Sĩ Phường – Chinese Condominium Exists for More Than 100 Years In Saigon (https://trulyvietnam.net/hao-si-phuong-chinese-condominium-exists-for-more-than-100-years-insaigon-49.html)
Exploring 100-year-old alley in Saigon's Chinatown (https://e.vnexpress.net/news/video/exploring-100-year-old-alley-in-saigon-s-chinatown-3949783.html)
Icons of Old Saigon – Shophouse Architecture (https://www.historicvietnam.com/shophouse-architecture/)
A Tour of Saigon's 100-Year-Old Hẻm, Hao Si Phuong (https://saigoneer.com/society/12457-video-a-tour-of-saigon-s-100-year-old-h%E1%BA%BBm,-hao-si-phuong)
Enough is enough: Saigon's century-old alley says no to picture-snapping tourists (https://tuoitrenews.vn/news/ttnewsstyle/20200918/enough-is-enough-saigons-centuryold-alley-saysno-to-picturesnapping-tourists/56814.html)
Hao Si Phuong, Saigon's Century-Old Hẻm, Says No to Photography (https://saigoneer.com/saigon-news/19201-hao-si-phuong,-saigon-s-century-old-h%E1%BA%BBm,-says-no-tophotography)
Hao Si Phuong Alley, Ho Chi Minh City (https://scootersaigontour.com/hao-si-phuong-alley-ho-chi-minh-city/)
https://kenh14.vn/cuoc-song-yen-binh-sau-tam-bang-xin-dung-quay-phim-chup-anh-o-hao-siphuong-khong-co-ai-lam-kho-de-gi-dau-con-20221109001900985.chn
Previously Published Projects