Commercial, Online Exclusive Feature / 2023
Recreating lost heritage at Chengdu's Jiaozi Courtyard Towers by MVRDV
September 1, 2023
Rapid development in an urban context often removes the traditional features that belonged to the area. In order to honour the village structures that once stood on its site, the Chengdu Jiaozi Courtyard Towers will have a modern interpretation of traditional architecture at the heart of the mixed-use development.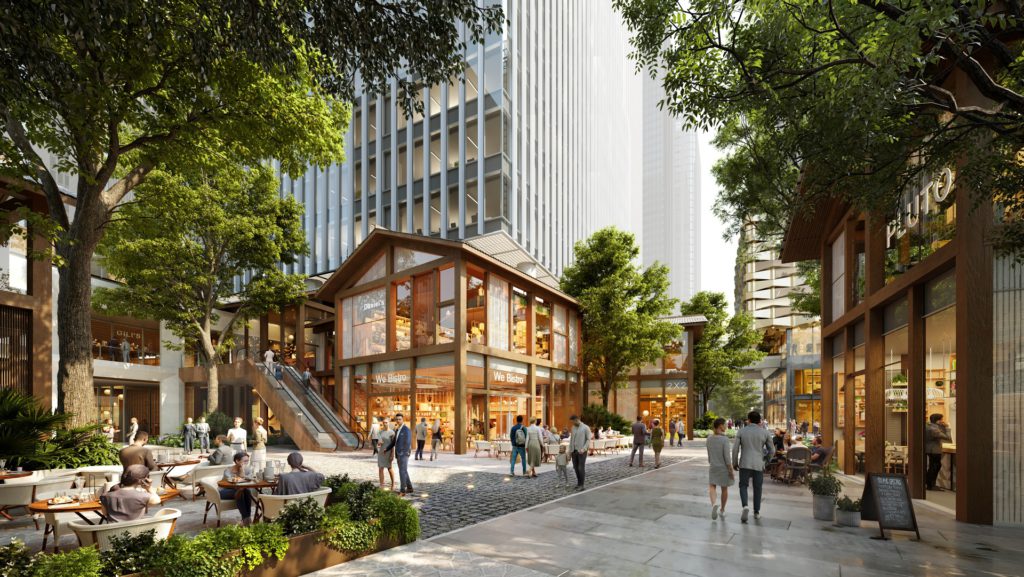 Located at the last empty site in Chengdu's Jiaozi Park financial and business district, construction work for Jiaozi Courtyard Towers has begun in the first half of 2023. It will comprise three office towers and a conference centre at each corner of the site, with cantilever and façade details inspired by bamboo weaving. At the centre will be a 'retail village' of shops, cafés and restaurants that recalls the traditional structures.
The assortment of one- and two-storey buildings are recreations—in their original sizes and positions—of village buildings that have been demolished by the mid-2000s. Where possible, these small structures are proposed to be constructed from wood and recycled materials to reduce embodied carbon.
This retail village is designed inside a circular courtyard, with a ring-shaped plinth that steps down to the street level, creating visual connections that welcome people. Additional access to the courtyard will be provided by three more passages that cut through the plinth.

The complex is set to achieve LEED-Gold certification and a three-star rating in the Chinese "three-star" sustainability system. On the roofs and façades of the towers, approximately 3,600 square metres of photovoltaic panels are used to generate energy, along with other sustainability strategies such as implementing green roofs on the plinth, landscaping using native vegetation, and water retention and reuse.
---
PROJECT DATA
Project Name
Chengdu Jiaozi Courtyard Towers
Location
Chengdu, China
Status
Under construction
Gross Floor Area
154,700 square metres
Programme
Offices; retail; conference centre
Client
Chengdu Jiaozi Park Financial and Business Zone Investment & Development Co., Ltd.
Architecture Firm
MVRDV
Design Team (MVRDV)
Jacob van Rijs; Wenchian Shi; Tadeu Batista; Cai Zheli; Guang Ruey Tan; Albert Parfonov; Lucien Glass; Chi Zhang; Andrius Ribikauskas; Meng Yang; Ming Kong; Ruochen Zhang; Seunghan Yeum; Kevin Zhao; Jiameng Li; Bertrand Tan; Daniele Dalbosco; Ruoxi Wang; Amanda Galiana Ortega
Co-architect
China SouthWest Architectural design and Research Institute Corp Ltd.
Structural Engineer
China SouthWest Architectural design and Research Institute Corp Ltd.; ARUP
Mechanical & Electrical Engineer
China SouthWest Architectural design and Research Institute Corp Ltd
Façade Consultant
RFR
Images
Atchain; Tiptop
---
Read more stories on FuturArc:
Waterworks: An industrial heritage complex as community catalyst

Waterworks: An industrial heritage complex as community catalyst | FuturArc
Waterworks is a mixed-use development in downtown Toronto that rehabilitates, conserves and expands an industrial heritage site by integrating diverse programmes—not only supporting and intensifying the life of its residents, but also the urban experience of the greater community. The programmes inc…
Shenzhen Construction Industry Ecological & Intelligent Valley Headquarters

Shenzhen Construction Industry Ecological & Intelligent Valley Headquarters | FuturArc
In view of carbon reduction targets, new industrial complexes need to focus on sustainability and efficiency. This is the spirit that underlies the design of Shenzhen Construction Industry Ecological & Intelligent Valley Headquarters, with a winning proposal by the joint team from Aedas, Shenzhen Ca…
Cakra Selaras Wahana (CSW): Articulating a Lost Roundabout

Cakra Selaras Wahana (CSW): Articulating a Lost Roundabout | FuturArc
Jakarta may be known for its modern cityscape, but it is in fact one of Southeast Asia's oldest capital cities at 495 years old—perhaps 'buried' under rapid development. Its historic past is only legible to those who know how to 'read' the urban fabric. However, those who visit the area of Kebayoran…
Previously Published Projects