Residential / 4th Quarter 2022
Veil House
December 7, 2022
The architecture of Veil House seeks to have a larger social impact or, at least, the ambition to provide an alternative to closed-off gated developments.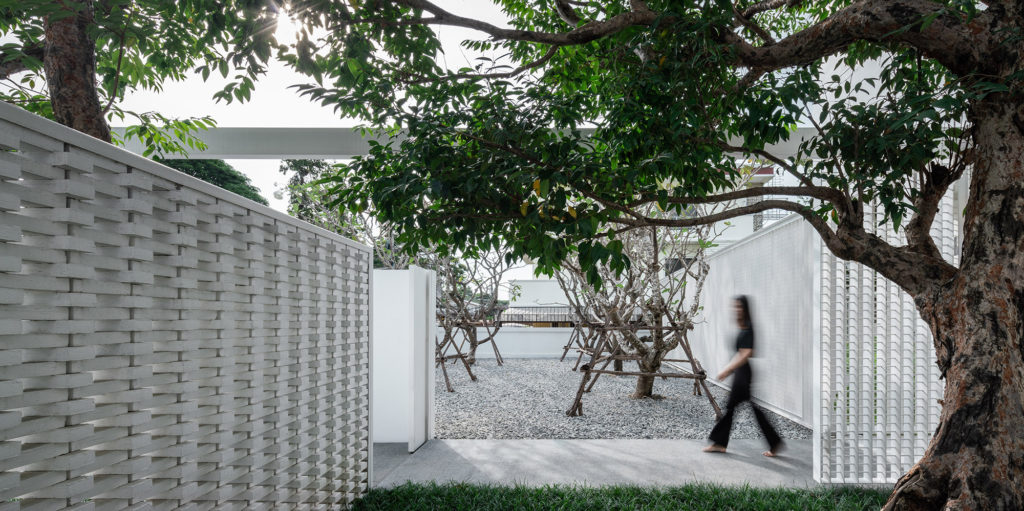 Ayutt and Associates design, the architects behind Veil House, revealed that the house was "designed not as a unicentric project that adds little value to the community, [but rather] a house that responds not only to one family, but also considers the surrounding families within the neighbourhood."
Such a spirit of neighbourliness by way of extending one's property is not commonly found—who would allocate space from one's private abode for neighbours or passers-by? While this does not mean free rein to the house, the approach in opening the space to public access is considered novel.
The two-storey house follows a standard L-shaped plan, which—instead of arranging the house along the site's perimeter around a central court, and thus shunning the surroundings—it is encapsulated with gardens, which are not hidden away but shared.
Preserving privacy while allowing a 'dialogue' with the neighbours, the house is 'veiled' under layers of carefully considered, designed and positioned screens, so that the gardens are shared with the community—either indirectly through views or direct use—according to their relationship with the owner. As such, the house engages with the surroundings in a precise and controlled manner.
[This is an excerpt. Subscribe to the digital edition or hardcopy to read the complete article.]
---
PROJECT DATA
Project Name
Veil House
Location
Sukhumvit 101 Road, Bangkok, Thailand
Completion
2022
Lead Designer
Ayutt Mahasom
Architecture Firm
Ayutt and Associates design (AAd)
Interior Designer
Ayutt and Associates design (AAd)
Landscape Designer
Ayutt and Associates design (AAd)
Lighting Designer
Ayutt and Associates design (AAd)
Site Area
1,000 square metres
Construction Area
950 square metres
Images
Ayutt and Associates design; Chalermwat Wongchompoo (Sofography)
---
Related story:

Private Houses, Public Good? | FuturArc
How does the architect balance larger responsibilities as stewards of the built environment with house clients' personal goals?

Previously Published Projects