Commercial, Online Exclusive Feature / 2023
A market with a view: Tainan Market, Taiwan by MVRDV
March 1, 2023
Markets are usually housed in simple kiosks or sheds. But what if the typology is combined with a public green space?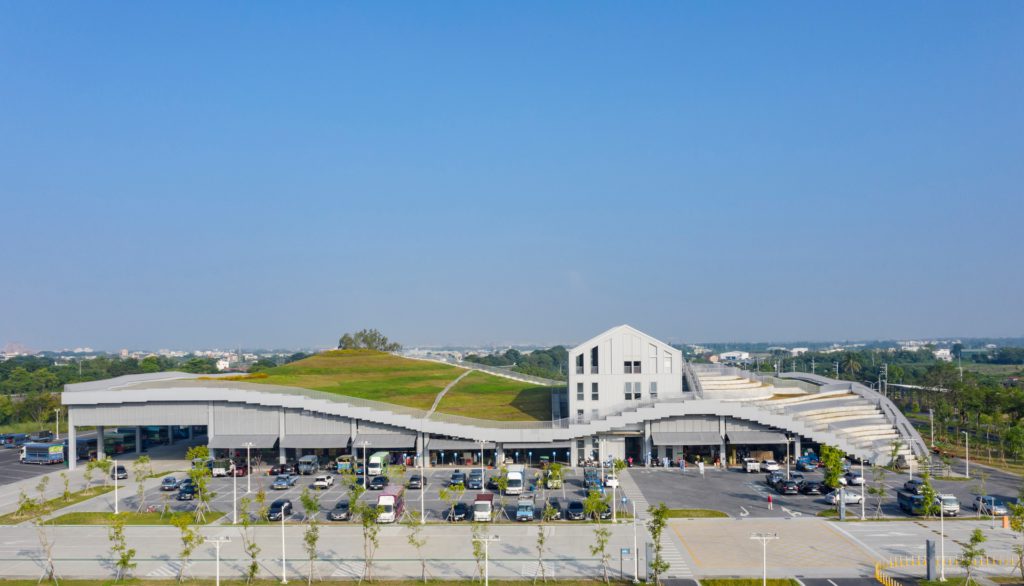 This wholesale market for fruits and vegetables was constructed in East Tainan as an important hub for the city's food supply chain. Located near a highway with public transport links, it is easily accessible from the surrounding farmlands and urban areas.
The design comprises an open-air structure with a green roof. Forming a series of rolling hills, this roof is a continuation of the surrounding landscape. Terrace steps allow visitors to access the roof, next to a four-storey structure that contains offices and an exhibition area. This area will be used to display the region's agricultural products.

Currently, the roof's landscape features grass and patches of flowers. The original design proposed to grow crops of fruit and vegetables on the roof, and the architects are hopeful that this feature could be developed in the future. The roof can then serve as an educational farm, where visitors can learn first-hand about how food is grown and understand the supply chain that delivers it to their plates.
Below the roof, the market space is kept simple and functional. The structure is open on all sides with high ceilings that allow for ample cross-ventilation. The green roof further helps to passively cool the space, making it comfortable in Taiwan's warm summers. These energy-efficient features has led the market to be awarded with EEWH–BC (Ecological, Energy Saving, Waste Reduction, Health–Basic Category) Silver certification.

---
PROJECT DATA
Project Name
Tainan Xinhua Fruit and Vegetable Market
Location
Tainan City, Taiwan
Completion Year
2022
Client
Tainan City Government Agricultural Bureau
Area
12,331 square metres (wholesale market)
Architecture Firm
MVRDV
Co-architect
LLJ Architects
Contractors
Yuh-Tong Construction Co., LTD.; Jiuyang Electric And Plumbing Engineering Co. Ltd.
Landscape Architect
The Urbanists Collaborative
Structural Engineer
Columbus Engineering Consultants Inc.
MEP
Frontier Tech Institute Co., Ltd
Soil and Water
Kuo Soil and Water Technicians
Green Building
Green Building Technology Consultants
Photography
Shephotoerd
---
Related stories:
Examining Taiwan's agricultural landscapes

Examining Taiwan's agricultural landscapes | FuturArc
24 FEBRUARY 2023 – For the entirety of civilisation, people have been shaping their building forms using the available knowledge and technologies with the aim to 'tame' the environment. What does the dialogue between the synthetic and real ground look like, and what can we learn from natural environ…
Closing the Loop of Food Waste: A Hawker Centre Generates Energy and Bio-fertiliser

Closing the Loop of Food Waste: A Hawker Centre Generates Energy and Bio-fertiliser | FuturArc
17 November 2021: The hawker centre East Coast Lagoon Food Village is piloting an anaerobic digestion system for food waste treatment. This aims to reduce the incineration of food waste—which would release the highest amount of CO2 emissions to the atmosphere—and instead use it to generate electrici…
Agropolis: Achieving Food Resiliency Through Urban Agriculture

Agropolis: Achieving Food Resiliency Through Urban Agriculture | FAP 2022 Merit | FuturArc
Food is a cherished element in Singaporean culture. But due to limited land—with only 1 per cent available for production1—the city-state currently imports almost 90 per cent of its food. To improve food security and resiliency, Singapore has an ambitious goal to locally produce 30 per cent of its n…
Previously Published Projects