Residential / 4th Quarter 2022
Status Quo: Tropical Chalet & The Terrace Mansion
December 7, 2022
It is already common for the single-house residential prototype to be sensitive to local climate and site in their designs, deploying suitably eco-friendly strategies that make sense to do so. For instance, the Tropical Chalet in Da Nang, Vietnam, is defined by its porous design—in form, massing and use of local bricks—that brings in the natural surroundings visually and elementally by daylighting and cross ventilation.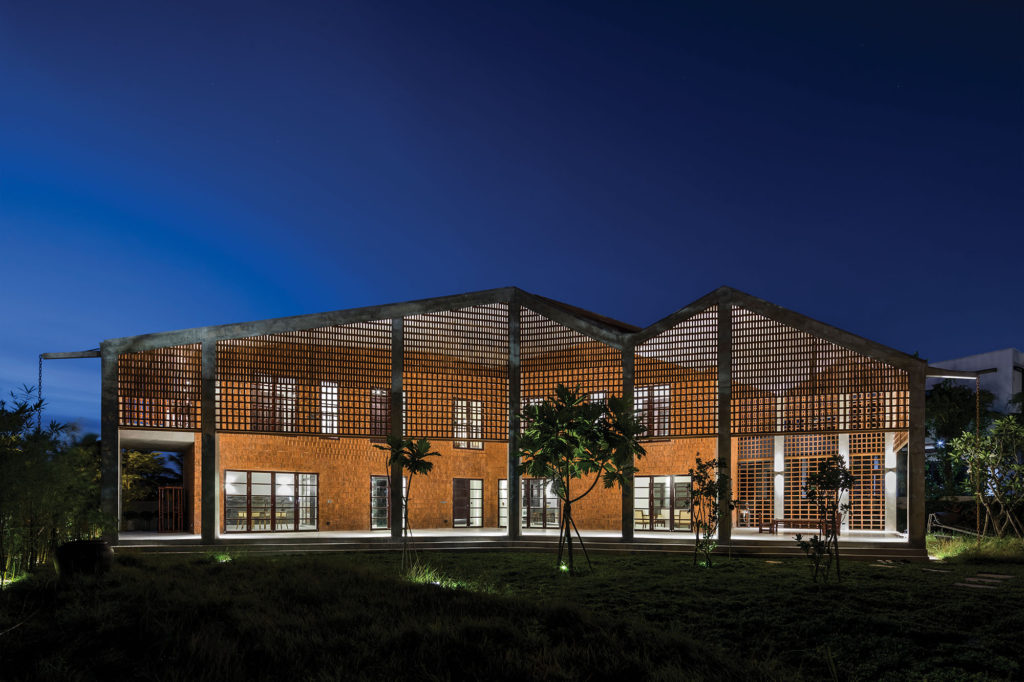 ⠀
⠀
⠀
⠀

PROJECT DATA
Project Name
Tropical Chalet
Location
Da Nang, Vietnam
Completion Date
2020
Site Area
2,050 square metres
Gross Floor Area
385 square metres
Number of Rooms
4 bedrooms
Building Height
9 metres
Architecture Firm
G8A Architecture & Urban Planning Co., Ltd.
Principal Architect
Manuel Der Hagopian
Main Contractor
Meico
Images/Photos
G8A Architecture & Urban Planning Co., Ltd.; Hiroyuki Oki
---
Another house in Vietnam, set in a rural area near Can Tho City, is a multigenerational home that aims to create a way of living that is in harmony with the indigenous nature of the land. The Terrace Mansion takes into account local factors (sun direction, main wind direction, the existing ecosystems, geological survey, the location of the trees and their species) by site analysis and studies, which contributed to adopting optimal solutions that prioritise climate-sensitive, environmentally friendly approaches and materials.
All trees were left intact on-site; the floor is raised to avoid seasonal flooding typical to the region; fully operable doors and windows to enable natural ventilation throughout the day, so no air-conditioning will be needed. Solar panels will also be installed, covering 10 per cent of the south-facing roof, to leverage the sunny weather to generate enough renewable energy to serve the basic operational needs of the house.

⠀
⠀

PROJECT DATA
Project Name
The Terrace Mansion
Location
Can Tho City, Vietnam
Expected Completion
April 2023
Site Area
2,000 square metres
Gross Floor Area
700 square metres
Number of Rooms
7
Building Height
8 metres
Client/Owner
Vo Thanh Tung
Architecture Firm
717 Architects
Principal Architect
Nguyen Ngo Ngoc Ha
Mechanical & Electrical Engineer
Tran Minh Thang
Civil & Structural Engineer
Nguyen Duc Hoai
Images/Photos
717 Architects
[This is an excerpt. Subscribe to the digital edition or hardcopy to read the complete article.]
---
Related story:

Private Houses, Public Good? | FuturArc
How does the architect balance larger responsibilities as stewards of the built environment with house clients' personal goals?

Previously Published Projects