Online Exclusive Feature, Residential / 2023
Brick House by the River: Pi House
May 24, 2023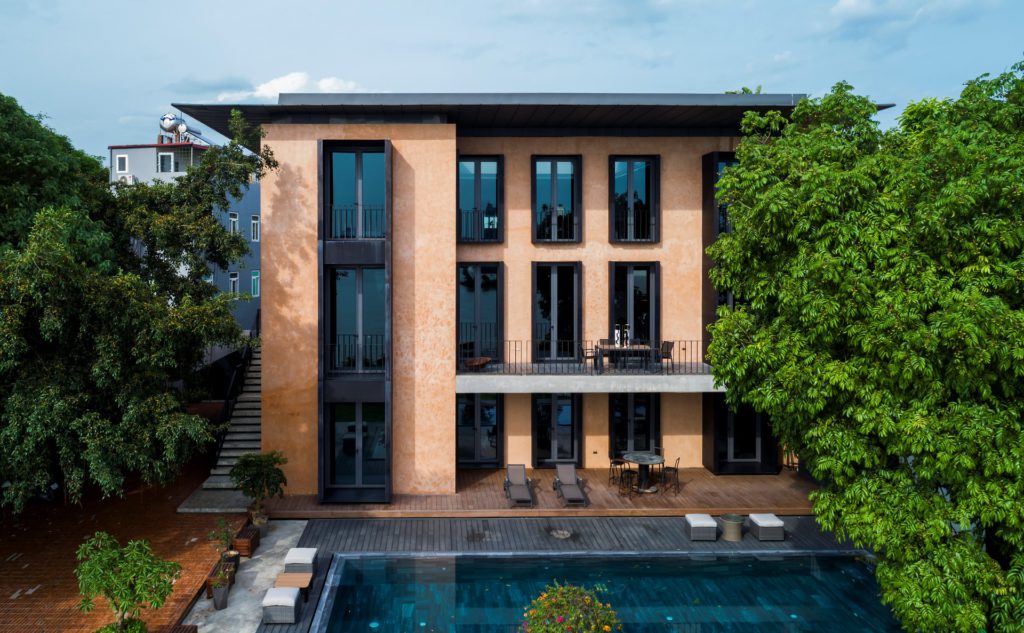 In the northern mountainous provinces of Vietnam, there is a type of vernacular house called the Trinh Tuong, standing for over 100 years with rammed earth walls (a technique now known as pisé). Such walls are completely handmade by compressing earth into even and flat cubes, which allows houses to be constructed without steel reinforcement. This ancient technique helped homes to stay cool in the summer and store warmth during the winter, as well as resulting in a characteristic earthen colour.
Inspired by the pisé walls of old, the architects have named the project Pi House. This symbolises a mixture between French and Vietnamese sensibilities to befit the homeowner. The walls are coloured by hand with plaster in order to render a reddish earth tone. Rustic brick has been arranged in an unusual combination, derived from the Trinh Tuong homes. For the façade, the roof emphasises a π shape that calls back to pagoda architecture as well as the Archimedean constant.

The house is located by the Red River and overlooks Long Bien Bridge—an area with historical and cultural significance in Hanoi. Taking advantage of the prime position, the house has been designed with many large openings and glass windows to bring in natural daylight and fresh air.
The first (ground) floor has been designed to be a relaxing space for the family, further cooling the microclimate with a pool. Above it, the second floor provides spaces for joint activities and guests. The third floor hold private spaces for each family member. A central void connects between the second and third floors, helping air to circulate through the spaces while providing expansive views towards the waterfront.


---
PROJECT DATA
Project Name
Pi (π) House
Location
Ngoc Thuy, Long Bien District, Hanoi, Vietnam
Completion Date
2021
Gross Built Area
640 square metres
Architecture Firms
D&P Associates; France Vietnam Architecture
Lead Architects (D&P Associates)
Romain Duval; Tuan Pham
Principal Architect (France Vietnam Architecture)
Binh Anh Vu
Architecture Team (France Vietnam Architecture)
Thoa Nguyen; Trung Pham; Manh Nguyen; Sinh Duong
Contractor
HTC Luxury
Photography
Hiroyuki Oki
---
Read more: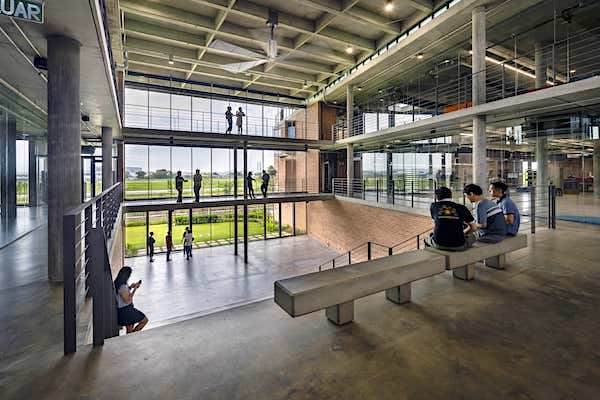 Aemulus at the Runway | FuturArc
Brick fins and perforated brick walls to provide shade from solar heat gain and glare while creating a beautiful internal ambiance with natural light.
A succession of brick craftsmanship

Biophilic Office by andyrahman architect: A succession of brick craftsmanship | FuturArc
In East Java, Indonesia, there are numerous artefacts that tell the story about the ancient kingdom of Majapahit. Some temples (candi) still stand to this day, especially in the area believed to be the old centre, called Trowulan. The brick-based Candi Pari and Candi Sumur can be visited nearby in P…
Previously Published Projects