Commercial, Online Exclusive Feature / 2023
Biophilic Office by andyrahman architect: A succession of brick craftsmanship
April 13, 2023
In East Java, Indonesia, there are numerous artefacts that tell the story about the ancient kingdom of Majapahit. Some temples (candi) still stand to this day, especially in the area believed to be the old centre, called Trowulan. The brick-based Candi Pari and Candi Sumur can be visited nearby in Porong, Sidoarjo, quite close to the location of this architect's practice.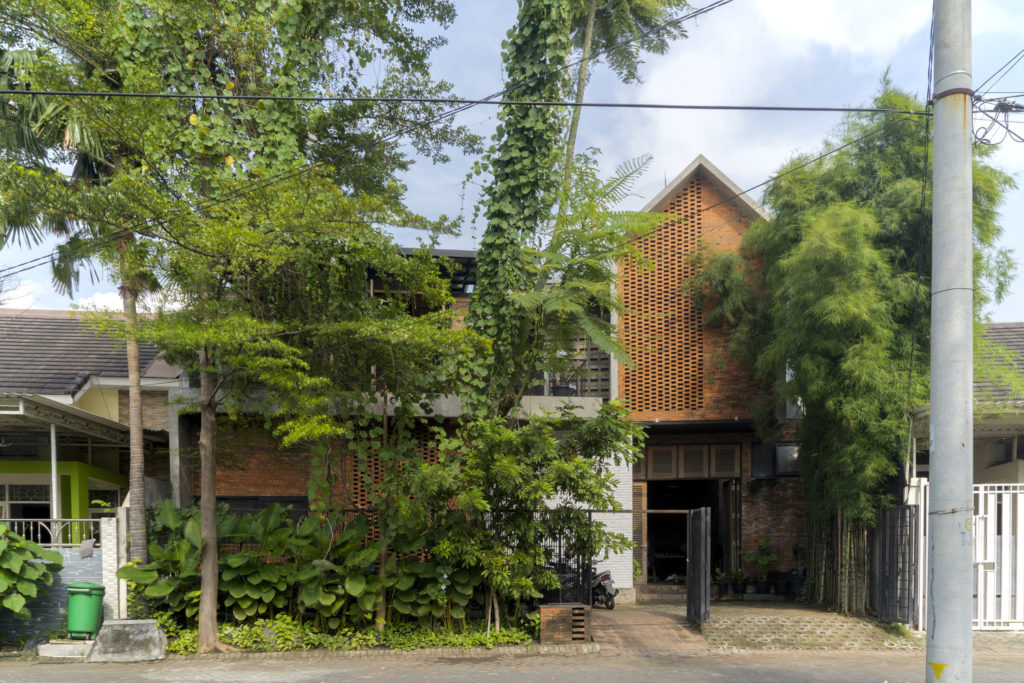 After studying the configuration and characteristic of these ancient brick temples, andyrahman architects were compelled to explore the material in their designs. They especially wanted their own office building to initiate the exploration—to be a 'successor' of brick craftmanship in the contemporary age.
---
A 'home' for architects
First built and completed in 2017, Biophilic Office has been further refreshed in 2021. The design aims to provide the architects with a healthier and happier place to live and work, by using the natural materials and integrating surrounding elements.

The porous brick arrangement on the façade of Biophilic Office is a transformation of bamboo gedheg(vernacular wall panels). Gedheg is a wall material made out of woven bamboo, with gaps to allow light and air to flow inside and outside of the house. At Biophilic Office, the porous arrangement of bricks that can let in air circulation and light. In addition, brick has cooling properties due to being made from earth, while also exuding a homey and comforting appearance.
Aside from the transformation of gedheg, woven bamboo is applied for façade doors and the ceiling of the communal room at the 2nd floor. This usage is combined with minimalist wood and steel to give a contemporary industrial appearance.
---
A brick 'workshop'
The challenge for Biophilic Office was to learn deeper about the character of brick, seeing it with fresh eyes to create details and experiment upon.
"The bricks were cut up, drilled with holes, and scooped out; and from such experiments we were able to understand the character and nature of brick," wrote the architect. "We had trials and errors with many bricks shattering; using up more bricks than usual; our craftsmen struggling to understand DED (detailed engineering drawing) related to bricks; finding out that the structure was not so rigid if bricks were arranged in a certain manner without reinforcement, etc. But from these mistakes we learned about bricks' character and how to communicate [with the craftsmen]."

Some of these experimentations led to bricks being used for flooring and even ceilings, such as in the guest foyer. The architects also discovered how to 'weave' bricks for the façade to disguise the structural beams.
"We wanted to develop further what our ancestors have done by understanding the nature of bricks and explore possibilities of the arrangement and tectonics," said the architects. Because of their long experimental process to arrive at optimal configurations, this project is considered to be a 'workshop' for their other signature brick projects.
---


---
PROJECT DATA
Project Name
Biophilic Office
Location
Grand Royal Regency, Sidoarjo, Indonesia
Status
Built
Completion Date
2021
Site Area
200 square metres
Gross Floor Area
274 square metres
Number of Rooms
15 rooms
Building Height
10.5 metres (2 floors with rooftop)
Client/Owner
Andy Rahman
Architecture Firm
andyrahman architect
Principal Architect
Andy Rahman
Main Contractor
Griya Karya Mandiri
Images/Photos (credit to)
Mansyur Hasan
---
Related story:
Reliving history through craftsmanship

Reliving history through craftsmanship | FuturArc
Making is inseparable from the makers—and those who dig deep into cultural history will be able to make sense of why materials are used the way they are, as well as what to further create with them. This was among the ideas discussed in About Making: Tradition, an online dialogue held on 14 March 20…
Previously Published Projects