Design Idea, Social / 2nd Quarter 2023
Nan'ou Village
by Weili Zhang
June 19, 2023
One of China's most beloved architectural heritages, the Tulou is a type of mud house common in the southern region of Fujian. The most famous ones are circular with soaring walls large enough to shelter an entire clan of people. In 2008, a total of 46 buildings were listed as UNESCO World Heritage sites, which represents a mere 1.5 percent of existing Tulou houses. Most of the remaining houses are bound in an awkward state—neither preserved nor fit for staying in—and the issue of their relevance becomes somewhat contingent.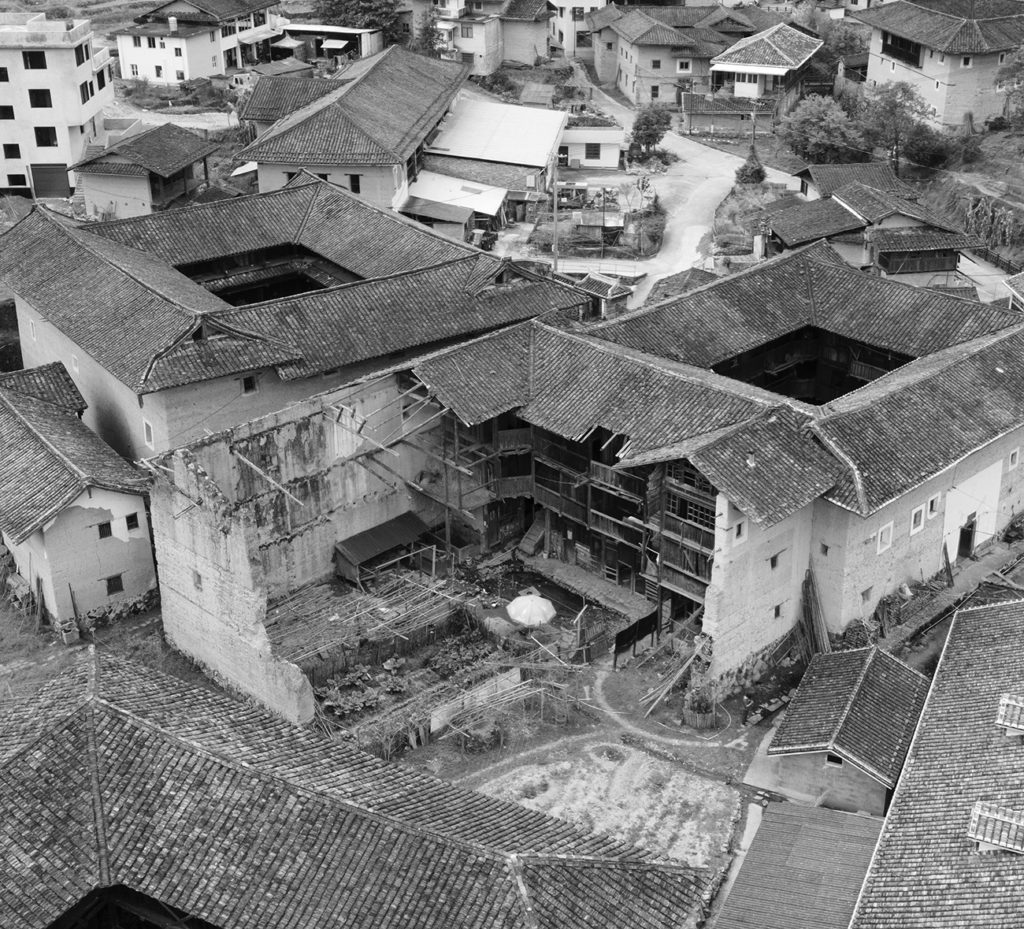 The county government of Nanjing in Fujian decided in 2021 to organise an open competition where 10 Tulou houses from different places were selected to be repurposed. The organisers had set the parameters for each building when it comes to new programmes, and some were already earmarked by potential developers.
---
From decay to renewal
UrbanFabric, a design office based in Hangzhou, entered the competition with the Yupian building in Nan'ou village in mind. Designated as a base for visiting artists, the dilapidated Tulou was in the worst condition among the selected few. According to Xiao Jie, the Design Director of UrbanFabric, "it was the most run-down building, but to us, that presented both a challenge and an opportunity for innovation." The walls on the northern side of the Tulou were severely damaged, exposing its internal wooden structures to the elements and resulting in decay. An imperative is to restore the building framework, which could be done through observing and researching traditional building practices—in other words, the ruin provides a palimpsest and guide for both restoration and alteration.
The unexpected collapse of building walls gave rise to the idea of letting more light into the hallways. Connecting the outer triangle-shaped alleyway with the interior courtyard, the designers try to dissolve the traditional threshold, softening the otherwise fortress-like appearance. More importantly, a welcoming design would encourage people to utilise the Tulou's courtyard as a public space and breathe life into its fossilised structure.
[This is an excerpt. Subscribe to the digital edition or hardcopy to read the complete article.]
---
PROJECT DATA
Project Name
Preservation and Regeneration of a Tulou in Nanjing County
Location
Nan'ou Village, Nanjing County, Fujian Province, China
Status
Unbuilt
Site Area
259.47 square metres (estimated)
Gross Floor Area
742.53 square metres
Programmes
Art and education base; bed & breakfast; village shared space
Building Height
10.1 metres
Client/Owner
Fujian Tulou Tourism Investment Group Co., Ltd.
Architecture Firm
UrbanFabric
Principal Architect
Ouyang Zhixi
Images/Photos
UrbanFabric
---
Related stories:
Reimagining Heritage: Architectural Regeneration in Rural China

Reimagining Heritage: Architectural Regeneration in Rural China | FuturArc
As of 2021, China's countryside houses about 36 per cent of its population. The process of rural-urban migration as a result of economic reform since the late 1970s has seen a drastic decline of the agricultural livelihood that once fostered Chinese civilisation. While urbanisation has brought vast…

Gaodang Village | FuturArc
The Chinese province of Guizhou is known for its scenic landscapes and diverse ethnic cultures. While relatively underdeveloped, the region's mountainous terrains contain numerous settlements with distinct characters. For a period of seven years, Shancun Atelier—a team led by professors from Tsinghu…
Read more stories from FuturArc 2Q 2023: Old is Gold!

Previously Published Projects