Commercial, Online Exclusive Feature / 2021
Maximising nature with out-of-the-box office designs
November 3, 2021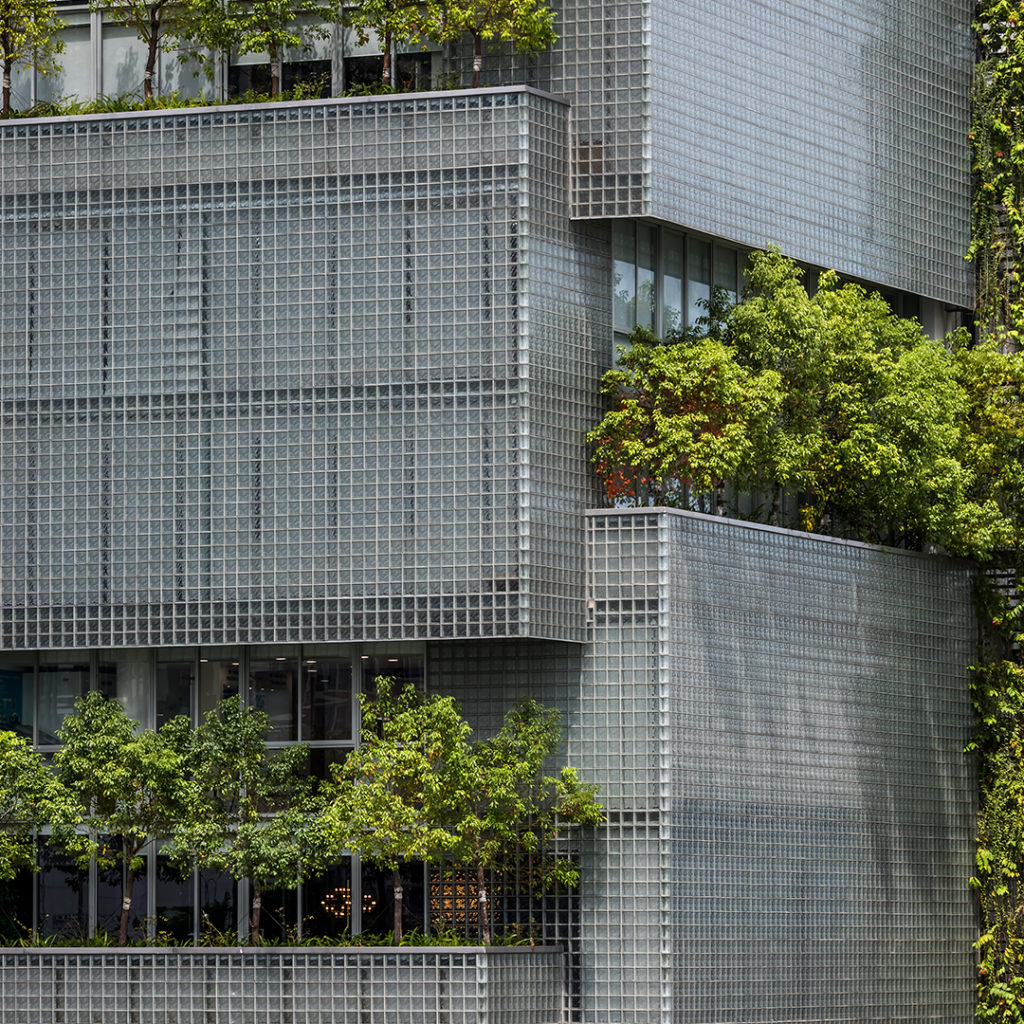 As various places in the world are choosing to move from a fully or partially remote work arrangement to going back to offices, there is a growing desire to not be cooped up in air-conditioned boxes, incorporating more of Nature for fresher and 'cleaner' air. In the wake of lessons learnt from the current health crisis, offices that have cross-ventilated spaces, open-air areas for interaction, indoor or vertical greenery that can reduce dependence on artificial cooling are highly sought. This gives designers the opportunity to apply solutions that go beyond the norm, be it by using alternative materials for façades, strategies to allocate space for greenery, or breaking up the form altogether.
FuturArc had published these biophilic workplaces in Vietnam by VTN Architects when they were at the construction stage. Now, we revisit these Green-suffused projects with an updated look at the built photos.
NANOCO HEAD OFFICE
Located in an emerging quarter in Binh Thanh District, Nanoco Head Office and showroom was formed by alternately stacking glass boxes to create terraces via the shifted edges of each box to accommodate trees. This façade functions as a filter, optimising the microclimate and light conditions.
During the day, it diffuses direct sunlight, maintaining a luminous environment for the interior workspaces, while at night, the exterior poetically resembles lanterns. Thickly glazed glass blocks have been used as an alternative façade material to reduce thermal transmission, reducing energy consumption when compared to typical glazed façades. Taking into account its high-density urban context, the glass blocks act as a blurring and calming barrier to the outside, with trees further providing a tranquil ambiance.
This greenery is also a response to a wider urban context. In the centre of Ho Chi Minh City, the green coverage ratio is only 0.25 per cent, which is remarkably low in comparison to other Asian metropolises. By lining the terraces with trees, it provides valuable open space for the office users, with the vegetation helping to achieve cooler air temperatures and filtering against pollution.
---
VIETTEL OFFSITE STUDIO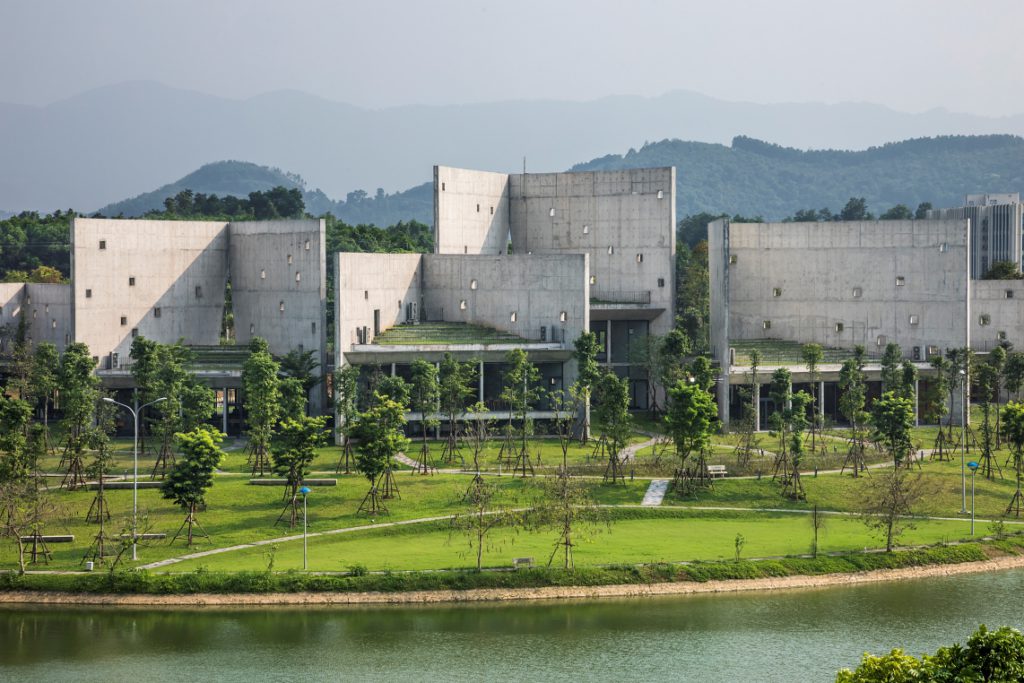 The building complex was designed as an iconic structure to lead and welcome visitors to Viettel Group's training area in the Hoa Lac industrial zone, located 40 minutes away from Hanoi. Built from over 30-metre-high concrete walls that visually contrast against the green background of the forest, the V-corners of the walls open up like giant 'open books' that face the lake ahead.
There are six blocks which are arranged to follow the natural contour of the land, connected by an open corridor. The programme consists of conference and meeting rooms that avoid the norm of being closed spaces dislocated from the outside world. With a desire to break against 'introverted' working conditions, the company wanted to have an open and connected learning space where people can meet, connect, study, exchange or discuss ideas. This led to the architects' idea of having small pockets of space that assimilates with nature for respite.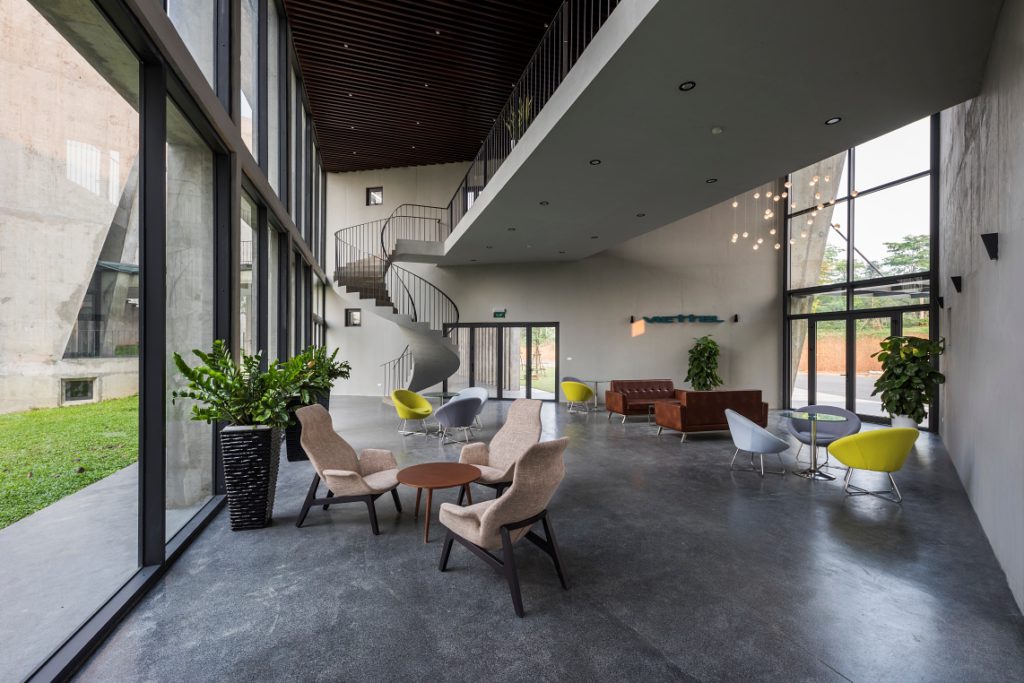 Passive strategies were also incorporated by orienting the building to the north. The high walls reduce harsh sunlight from the east and west, while the zig-zagged mass placements encourage air to flow between buildings. The roof garden, which is used as an outdoor studio space, helps to cool the temperature inside. Small holes on the wall are designed to provide gentle natural daylighting and cross ventilation for the conference spaces.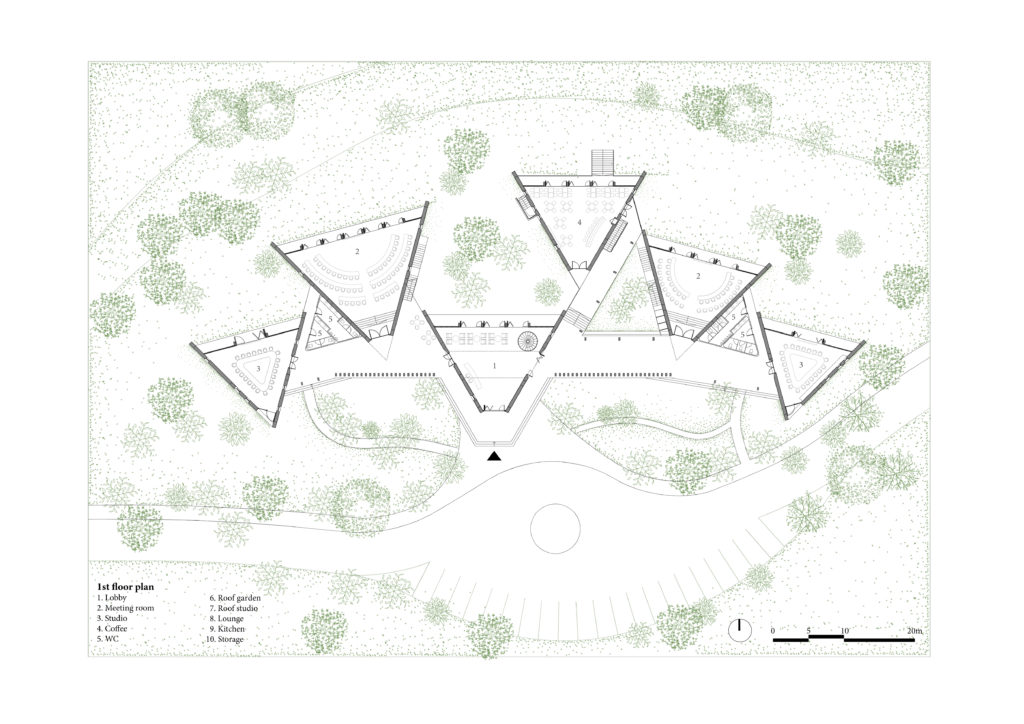 ---
PROJECT DATA
Project Name
Nanoco Head Office
Architecture Firm
VTN Architects
Principal Architects
Vo Trong Nghia; Tran Thi Hang
Design Team
Nobuhiro Inudoh; Tran Vo Kien; Kai Echigo
Contractor
Obayashi Vietnam
Completion Year
2020
Programme
Showroom; Office
Location
Binh Thanh District, Ho Chi Minh City
Site Area
295 square metres
Gross Floor Area
1,990 square metres
Photography
Hiroyuki Oki
Client
Fortune Electric
---
PROJECT DATA
Project Name
Viettel Offsite Studio
Principal Architect
Vo Trong Nghia
Design Team
Marek Obtulovic; Nguyen Van Thu
Contractor
Delta
Supervision
Nguyen Hoang Son; Doan Huu Chinh
Completion Year
2019
Programme
Office Facility
Location
Hoa Lac High-Tech Park, Thach That District, Hanoi
Gross Floor Area
1,400 square metres
Photographer
Hiroyuki Oki
Client
Viettel
Previously Published Projects