Commercial / Mar - Apr 2018
The Biophilic Workplace, Vietnam
March 23, 2018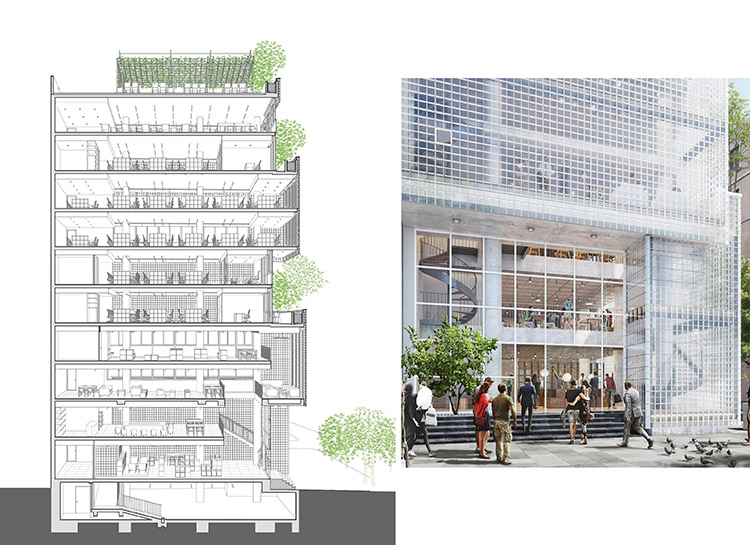 What constitutes wellness in a workplace? Is it having comfortable, safe physical spaces (not too cold or hot; not too dim or glaring; not too dusty or noisy) to do one's job in? Or is it having easy access to natural greenery, light, wind and water; proximity to nature? In today's workplace, it could well mean all these and more—encompassing emotional, psychological and physical well-being. Here, we showcase two office projects by VTN Architects that seek to achieve workplace wellness in different contexts, using different forms but similar strategies.

Nanoco Head Office

Located in a newly developing area in Ho Chi Minh City, this head office and showroom for an electrical corporation has a familiar form, recognisable by now as a VTN Architects' design. Stacked blocks interspersed with greenery. This came about as a response to the wider urban context—the city centre has only a green coverage ratio of 0.25 per cent, significantly lower in comparison to other Asian megacities. The Nanoco Head Office aims to offer a better working environment, one that attempts to alleviate the well-being of the workers by accommodating as much greenery as possible in the building.

Glass boxes, alternately stacked to create terraces in between to accommodate trees, make up the building's form. This façade functions as a filter that optimises climatic and visual conditions, diffusing intense direct sunlight in the daytime to allow for a well-lit interior setting. At night, it turns into a 'beacon', illuminating the neighbourhood. The glass blocks reduce thermal transmission due to their low solar heat gain coefficient, contributing to low energy consumption compared to typical glazed façades. Taking into account the high-density surroundings in the near future, the glass blocks are intended to blur the line between inside and outside, offering views to visually connect with the external environment, while the trees provide a soothing ambience throughout the building.
Viettel Offsite Studio

Like a giant book standing with its pages opened, the Viettel Offsite Studio is a bold-looking concrete complex of studios that offers the company's top brass a space to get together (for meeting, events, activities and meditation), away from the city and surrounded by nature.
Located approximately 30 kilometres on the outskirts of Hanoi, beside a lake and abundant trees, the building comprises six units: a reception area and library; a restaurant and café; as well as four studios. The studios also serve as an off-site short-term workplace for the corporate leaders. There are six V-shaped wall-blocks that are freely arranged following the lay of the land, connected by an open corridor. These blocks form triangular surface spaces; two sides are closed while the other sides open towards the lake and trees. The open-book form allows for easy views from the inside to outside, and a sense that one is outdoors, embraced by the natural elements.
PROJECT DATA
Project Name
Nanoco Head Office
Location
Binh thanh District, Ho Chi Minh City, Vietnam
Status
Under construction
Site Area
295 square meters
Gross Floor Area
1,990 square meters
Building Height
33.8 meters
Client/Owner
Fortune Electric Corporation
Architectural Firm
Vo Trong Nghia; Tran Thi Hang
Main Contractor
Obayashi Vietnam Corporation
Mechanical &Electrical Engineer
RFR Vietnam
Civil &Structural Engineer
RFR Vietnam
Images/Photos
VTN Architects (Vo Trong Nghia Architects)
Previously Published Projects