Commercial, Online Exclusive Feature / 2023
A 'gateway' for clean technologies: JTC Cleantech Three by Architects 61 Pte Ltd
September 5, 2023
Singapore is fostering its clean energy sector as part of its climate action. Among key investments in the country-state's clean technology (cleantech) areas include high-value manufacturing, engineering and biofuels, research and development (R&D) and regional headquarters activities.1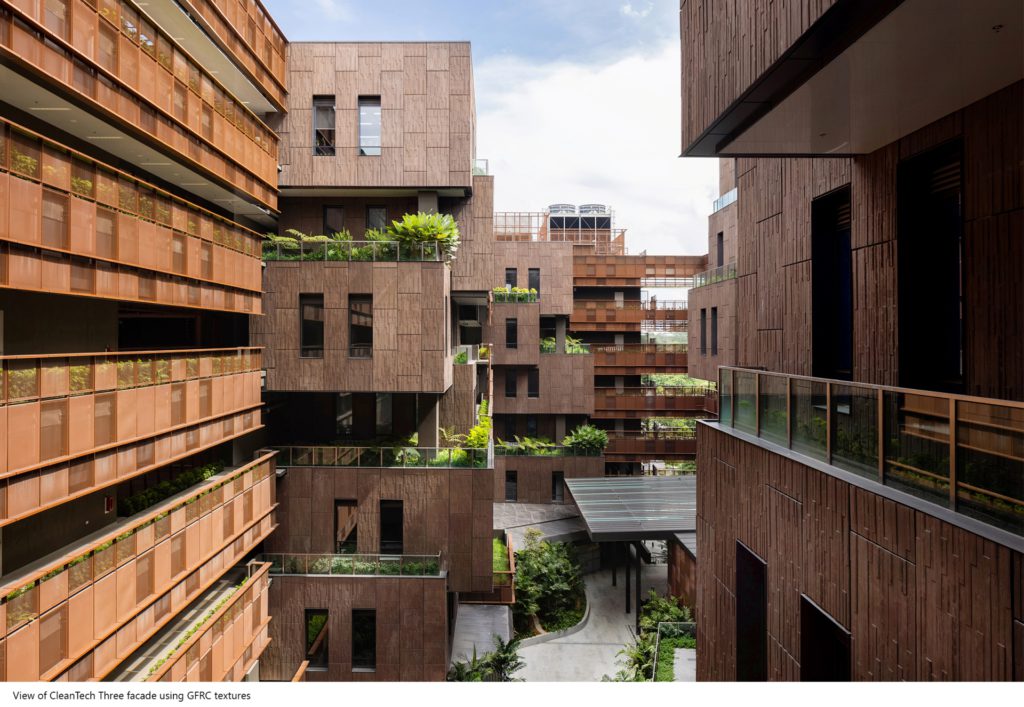 JTC CleanTech Three (CT3) is an example of a multi-tenant development to support the sector. It comprises eight laboratory blocks and one office block for clean technologies, urban solutions and advanced manufacturing industries. Together with two other CleanTech developments in the Jurong Innovation District, it forms the gateway into the CleanTech Park (CTP) master plan.
The urban design concept of CT3 draws its orientation from two key features; the urban edge in the form of CT1 and CT2 and the natural edge in the form of Jurong Eco-Garden. Envisioned to be a 'living lab' in the tropics, it retained the site topography whilst preserving the existing wildlife corridor.

The façade design responded to its context of being located beside the oldest brick-built kiln in Singapore. Inspired by how pots in kilns are engulfed in fire, producing unpredictable colours and textures, CT3 employs three glass fibre reinforced concrete (GFRC) façade textures: stone, terracotta and brick.
The staggered placement of the prototyping labs, start-up offices and bridges invite breezeways and daylight into CT3's naturally ventilated atrium. The porous public ground plane helps typically-isolated labs to become communal hotspots, promoting interaction and informal conversations between the public, researchers and entrepreneurs.
The project was bestowed a Merit award at the Singapore Institute of Architects (SIA) Architectural Design Awards 2023, with the jury panel praising it for "unexpected elements thoughtfully interspersed throughout the space", specifically noting the design that was able to break down the sizeable building mass and enhanced the experience at a human scale. It has also been certified with BCA Green Mark Platinum.
---
PROJECT DATA
Project Name
JTC Cleantech Three
Project Location
Singapore
Status
Completed
Completion Date
2022
Area
72,625 square metres
Client
JTC Corporation
Architecture Firm
Architects 61 Pte Ltd
Project Architect
Un Wai Kay
Architecture Team
Peter John Evans
Photos
Finbarr Fallon
---
1 https://www.nccs.gov.sg/singapores-climate-action/clean-technology/
Previously Published Projects