Two revitalisation projects top the Singapore Institute of Architects' Architectural Design Awards 2023
25 AUGUST 2024 – On Tuesday, 22 August 2023, the Singapore Institute of Architects (SIA) announced recipients of the SIA Architectural Design Awards (ADA) 2023, in recognition of building excellence, innovation and contribution to broadening conversations about architecture within and beyond the discipline.
"Through the awards, we continue to raise the bar for architectural standards and solidify the importance of design as a crucial aspect of architecture and development in the built environment," said Melvin Tan, President of the Singapore Institute of Architects.
A total of eight Design Awards and 13 Merit Awards across six categories were presented, with two of the most outstanding projects being conferred with the Design of the Year award. The recipients of the SIA Architectural Design Awards 2023 are:
---
Design of the Year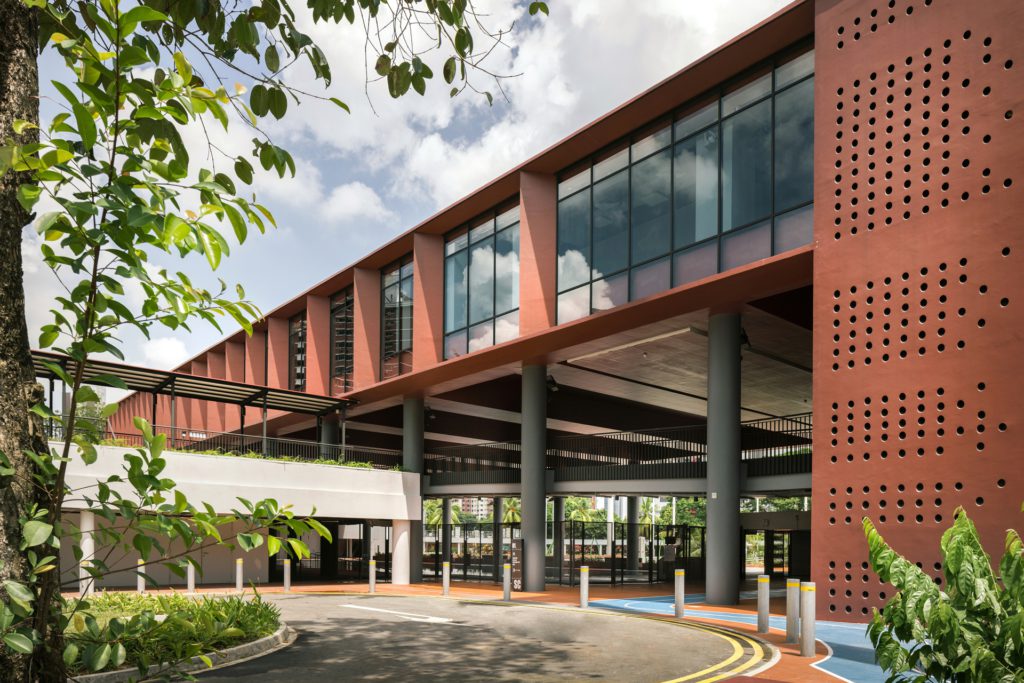 Delta Sport Centre by Red Bean Architects LLP
Through intricate retention of existing structures and small deliberate incisions, the works transform the Delta Sport Centre to improve its presence and connectivity to the diverse neighbourhoods around the vast site, updating it for the current social and physical context. The project is exemplary in the addressing and reutilisation of an existing 44-year-old structure. It embodies the principles of sustainability, historical appreciation and inclusivity, serving as an example to other urban developments seeking to revitalise old places.

Gallop Extension at Singapore Botanic Gardens by Kay Ngee Tan Architects
Gallop Extension successfully balanced conservation efforts with modernization, creating a beautiful and functional public space that incorporates nature, architecture, heritage and conservation. The project is lauded for the team's thorough research of the historical narratives, site context and conserved buildings. Every design intervention was introduced with sensitivity and restraint, and the sparing use of interventions to strengthen the relationships of existing elements was both delightful and practical for reducing carbon footprint.
---
Residential Projects
Design Award:

MAKE House by Park + Associates Pte Ltd
This is a family home designed to embody a playful spirit with volumes, spaces and spiral staircases extruded from the main volume. The architecture aspires to create dynamic and fun living spaces full of life, whimsical movement, and playfulness.
Merit Awards:

37 One Tree Hill by ipli Architects
An introverted house with spatial interest meandering around a sculptural circular staircase with courtyards and patios, allowing rooms to open fully to sheltered outdoor spaces in the seemingly enclosed facade.

Forgetting Time House by Wallflower Architecture + Design
The inherent nature of a central courtyard design is to constantly enmesh each space back to the outdoors again. The hope is that one can pause, and possibly evoke timelessness, through ignited memorabilia again.

House with Verandahs by RT+Q Architects Pte Ltd
The project plays with the tension between mass and porosity, form and void, and light and shade, to move tropical architecture beyond the usual tropes.
---
Commercial Projects
Design Award:
Delta Sport Centre by Red Bean Architects LLP
Merit Awards:

Djitsun Mall at Bedok by Zarch Collaboratives Pte Ltd
The reconstruction of the former twin theatres into a four-story commercial cineplex features a unique articulation of façade hanging planters and a rooftop garden that provides a distinctive lush greenery and visual effect to its surroundings, creating a natural buffer to the transient and busy intersection of Bedok's key transportation hub. The building stands as a testament to successful urban integration and contextually relevant design.

SEEK HQ, Cremorne, Australia by Hassell
Defined by its gabled twin peaks and corium brick exterior, the seven-storey 'contemporary warehouse' unites all spaces around the central natural, light-filled atrium, providing a conducive and environmentally sustainable workspace environment. Referencing the rich, industrial heritage of local makers and manufacturers, the contemporary building sits comfortably within the existing urban and historical context, set back from all its boundaries in a respectful response to residential neighbours to the west and south.
---
Institutional Projects
Design Awards:

Nanyang Technological University Academic Building South by RSP Architects Planners & Engineers (Pte) Ltd and Toyo Ito & Associates, Architects
The six-storey mass engineered timber (MET) building is approximately 220m long, with a simple and efficient modular timber frame system. MET is a highly renewable material and the use of MET contributes positively to environmental sustainability. The design aspiration is to create a world-class large-scale timber building which inspires the human senses and stimulates learning. Read more about the design on FuturArc.

Punggol Soka Centre by Formwerkz Architects LLP
The religious institution is envisioned as an open citadel. Interspersed with a series of courtyards, the seemingly fort-like building is perforated with meaningful spaces that open out to nature. Through designing around a series of courtyards where nature can permeate deeply into the interior spaces, the openness thus provides a comfortable sanctuary that welcomes all to stay and engage in friendly discourses with one another.
Merit Awards:

National University of Singapore School of Computing COM3 by LAUD Architects Pte Ltd
COM3 is a new purpose-built building designed to meet the growth needs of the School of Computing. Sited over a topographical valley, the new six-storey block was conceived as a bridge building that is a physical link as well as a symbolic social connector and designed to be a green and healthy building.

National University of Singapore School of Design and Environment (SDE) 1 and 3 by CPG Consultants Pte Ltd and School of Design and Environment, National University of Singapore
The project is net-zero energy, super-low carbon and adaptive reuse that demonstrate the integration of architectural design, sustainability and decarbonization. The design creates a new identity and interfaces with the context and climate of two conjoined blocks and enwraps them with a performative, deep veil envelope. Read more about the design on FuturArc.

Singtel Waterfront Theatre by Architects 61 Pte Ltd
Crafted to be mindful of the surroundings and respectful of the built environment, the outdoor areas seamlessly connect the interior to the exterior precast and steel spaceframe façade via similar texture and materiality, softening the boundary and extending the waterfront into the building. It also showcases a sophisticated elevational treatment that transforms itself from day to night through successful lighting design.
---
Industrial, Transport & Infrastructure Projects
Design Award:

Of Bricks and Breath by IX Architects Pte Ltd
With the concept of 'embracing nature', the factory located in Surakarta, Indonesia, integrated locally sourced bricks, and passive strategies to give the factory typology a fresh new look. Brick walls in creative conformations, giving an enjoyable aesthetics and texture. Green design, by encouraging natural light and wind, provides a sustainable and enjoyable working environment.
Merit Award:

JTC Cleantech Three (CT3) by Architects 61 Pte Ltd
Nestled within the site's existing topography and augmenting the unique green infrastructure running through the site, CT3 is envisioned to provide opportunities for a sensitive integrated development which respects surrounding developments, as well as embrace a calm and serene Jurong Eco-Garden to produce a unique ambience at Cleantech Park.
---
Special Categories
Design Awards:
Delta Sport Centre by Red Bean Architects LLP (Alterations & Additions)
Gallop Extension at Singapore Botanic Gardens by Kay Ngee Tan Architects (Public Place Making)
Merit Awards:

Garden Pod at Gardens By The Bay by LAUD Architects Pte Ltd (Innovation, Material and Construction Detailing)
Garden Pod is a unique pop-up hotel within Gardens by the Bay with a sculptural form and designed with sustainable principles. The units are constructed from 40-foot repurposed shipping containers with rooftop photovoltaic panels. The distinctive pinwheel layout allows all four rooms to have views of the surrounding gardens without overlooking one another. The central tower housing the lift also serves as a visual marker for guests and park visitors.

National University of Singapore School of Design and Environment (SDE) 1 and 3 by CPG Consultants Pte Ltd and School of Design and Environment, National University of Singapore (Alterations & Additions)
---
Interior Architecture
Design Award:

Le Corbusier: A Travelling Exhibition by RT+Q Architects Pte Ltd (Exhibition Design)
The travelling exhibition features physical models of houses designed by the icon of modernist architecture, Le Corbusier. To address the challenges of a mobile exhibition, collapsible pedestals were built with sustainable materials that were robust, lightweight, and easy to transport and assemble. It can flexibly accommodate the unique spatial requirements of different venues worldwide.
Merit Awards:

Alila Kothaifaru Maldives by Studiogoto
The aim is for the role of architecture to support the focus on the natural beauty of the island. Instead of having massive structures that will overwhelm the existing floral, smaller building forms were planned around the trees. A concept derived from the use of layering landscape terraces was conceived to form spaces underneath them, integrating the architecture seamlessly onto the landscape.

Wanderlust by FARM Architects Pte Ltd
Occupying a conserved building that originally housed a Chinese Clan School, the design takes inspiration from the local mid-20th century classroom and its functional yet well-crafted timber and steel furniture. The rooms revolve around simple, purposeful layouts and clever carpentry which tucks away making full use of space available.