Commercial, Online Exclusive Feature / 2021
Injecting nature into the refurbished PARKROYAL COLLECTION Marina Bay
August 13, 2021
Within the confines of the post-pandemic era, there is an increasing demand to inject greenery into spaces, as they are indicative of cleaner air and better psychological comfort. This demand also sparks the design possibilities for repurposed or refurbished buildings, including the PARKROYAL COLLECTION Marina Bay—formerly the Marina Mandarin Singapore—with its distinctive indoor landscape of greenery set against the hotel's 21-storey atrium. To ensure that the 2,400 indoor plants form a true part of the interior ecosystem, the varieties of flora have been selected for their resilience in indoor conditions.
Soaring above the indoor landscape is an atrium skylight, which has been designed with double-glazed and low-emissivity glass. Aside from allowing natural light into the space, this skylight reduces the ambient temperature by 2 degrees Celsius, which is equivalent to a 2 per cent reduction of the hotel's electricity use. Furthermore, by September 2021, the hotel plans to install 210 rooftop solar panels, which will provide 10,083 kilowatt hours (kWh) of monthly off-grid electricity.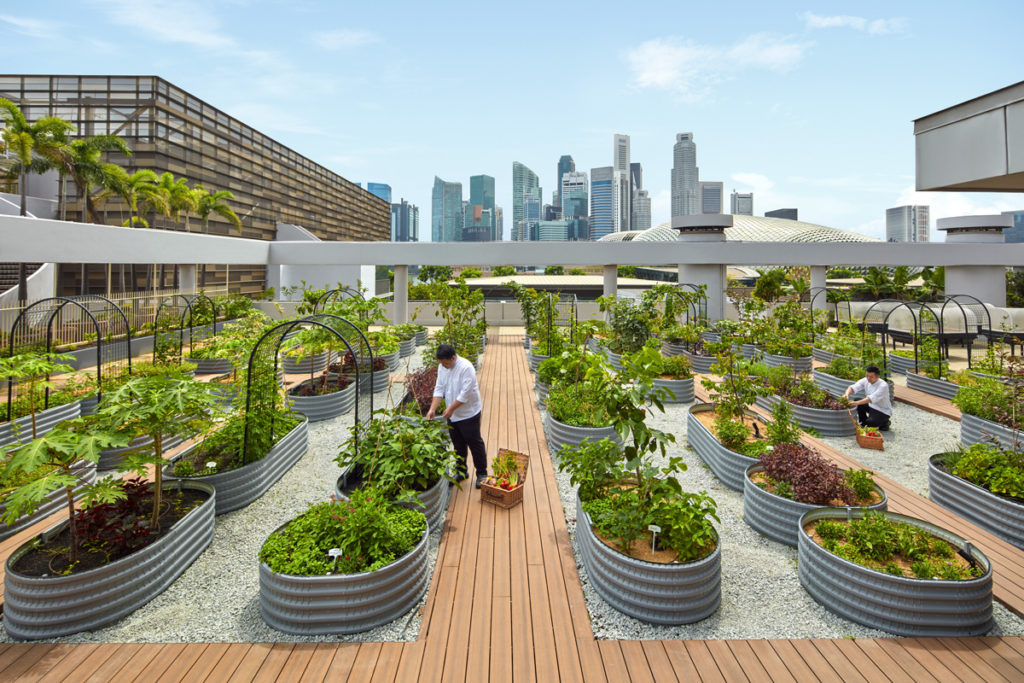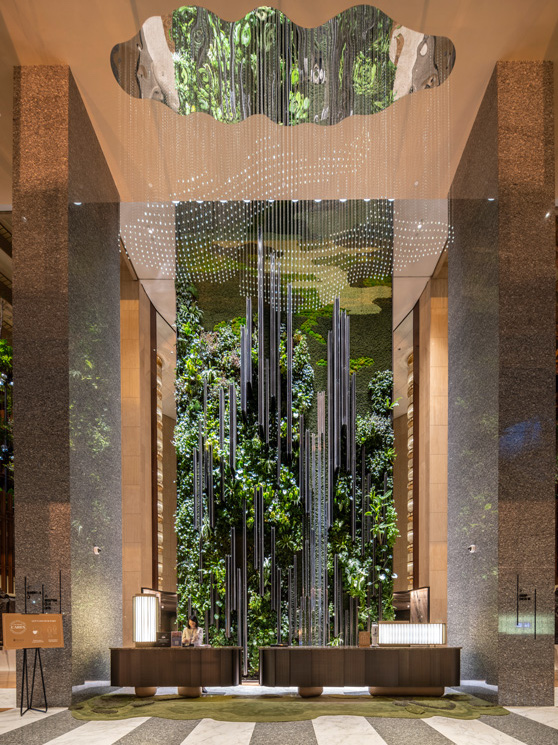 An urban farm on the fourth level of the hotel houses over 60 varieties of fruits, vegetables, herbs and edible flowers, providing the farm-to-table, farm-to-bar and farm-to-spa concept for the hotel's other facilities. This farm uses the hotel's leftover coffee grounds as compost, and also recycles their aluminium coffee capsule waste in an environmentally friendly way. Other common sustainable practices reflected in the hotel experience include providing reusable glass bottles in every guest room; a water filtration system; biodegradable bath amenities; and motion sensors that enable intelligent temperature control and efficient use of energy. All the sustainability considerations have earned this hotel a BCA Green Mark Gold certification.
Almost a decade ago, the PARKROYAL brand defined the 'face' of biophilic architecture with their 'hotel-in-a-garden' concept at Pickering, which is fitted with terraces that host cascading greenery and full-grown trees. To discuss the inward concept of a 'garden-in-a-hotel' that has been applied at the refurbished PARKROYAL COLLECTION Marina Bay, FuturArc talked to Donovan Soon, Director of FDAT and designer of the hotel.
Question: Please elaborate how the PARKROYAL COLLECTION Marina Bay hotel's nature-inspired design strategies and Green technology were applied against the background of preserving the original architecture. What are some of the challenges or risks?
Answer: The complex was originally designed by John Portman, the American architect who single-handedly founded the atria hotel typology—often described as awe-inspiring with its exuberant structures. The decision to retain the building felt right on many fronts—economically as well as ecologically. The engineer Dr [Hossein] Rezai describes the demolition of a typical high-rise as emitting 51,300 tonnes of carbon dioxide, which is equivalent to wiping out 10,000 hectares of forest or 8.7 million trees. That is an area larger than all of Singapore's nature reserves. Our challenge was to craft a new hospitality experience within this framework. It seemed very natural to insert gardens and greenery into this urban-scaled space—in essence, turning our garden city outside in.
The hotel's existing stepping volumes were repurposed into cascading planters and cladded with lightweight screens. The garden pavilions were perched on the edge of these planters, helping to break down the daunting scale of the atrium and providing a sense of enclosure within the otherwise amorphous space. The extensive planting and foliage help to soften hard surfaces and create a bridge to nature within the man-made construction.
Question: How about the maintenance and irrigation of these indoor vertical gardens and the entrance green wall? What are some of the challenges and how were they overcome?
Answer: The auto-irrigation was built in to minimise the work to water the large number of plants. For the green wall, a fertigation system was built in to dispense fertiliser into the irrigation system.
Question: How will PARKROYAL COLLECTION Marina Bay's green indoors help bring about a positive impact on the larger natural environment?
Answer: The extensive amount of planting—2,400 trees, shrubs and plants help to improve air quality—produces oxygen and takes up carbon dioxide. We also believe in its psychological effects—helping to bring people closer to nature and show that large-scale greening is not only possible in new built projects, but also in older repurposed ones.
PROJECT DATA
| | |
| --- | --- |
| Project Name | PARKROYAL COLLECTION Marina Bay |
| Location | Singapore |
| Architecture Firm | FDAT |
| Client | Pan Pacific Hotels Group |
| Images/Photos | Pan Pacific Hotels Group; Darren Soh |
Previously Published Projects