Commercial / 2nd Quarter 2022
Daylight Ducts for High-Rise Offices
by Gregers Reimann
June 15, 2022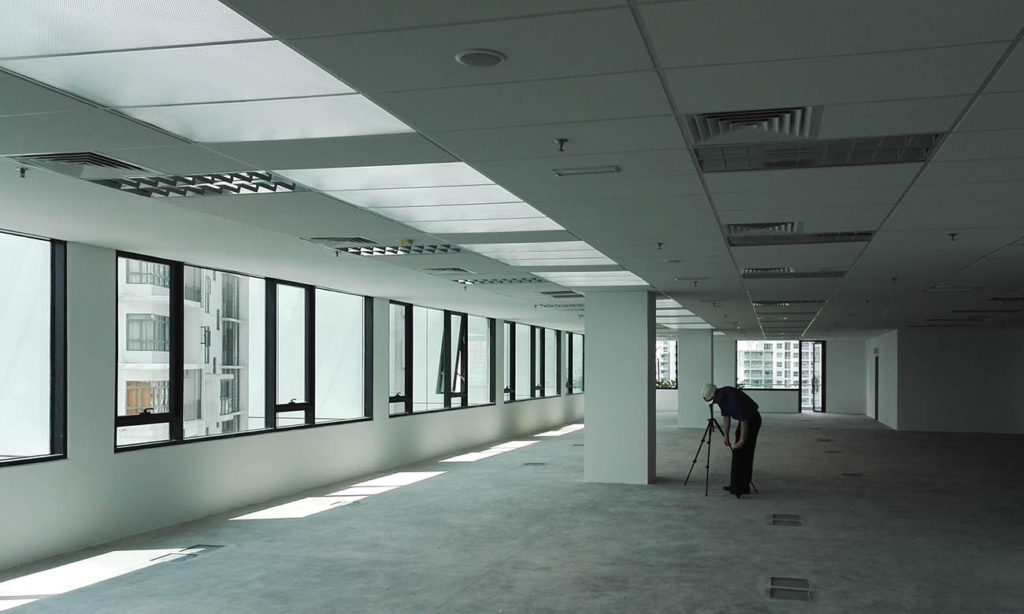 In Asia, most office tower designs have highly glazed façades. Yet, the building occupants hardly get to enjoy the views outside, because the over-sized windows are exposed to excessive tropical daylight and glare, so that the occupants have no choice but to engage manual blinds on a near-permanent basis. However, once the blinds are down, the office spaces become so dark that electric lighting needs to be switched on.
This is the tropical high-rise office design paradox: a highly glazed building that offers neither daylight nor views to its occupants.
A different and innovative approach was taken for the Mercu Mustapha Kamal high-rise office tower in Kuala Lumpur, for which we achieved daylight autonomy for the first 8 metres of the façade perimeter zone, despite the window blinds being down. This was accomplished by focusing our attention on the most overlooked and under-utilised space in office buildings: the suspended ceiling space.

For office buildings, about one quarter of the space is hidden above the suspended ceiling, which typically is 1 metre high. This ceiling space is mostly needed to fit the big air-conditioning duct, whereas the other services such as light fixtures and sprinkler pipes do not need much space.
For the Mercu Mustapha Kamal building, we took advantage of the fact that the air-conditioning ducts gradually become smaller when they branch out from the central air-handling unit. By carefully planning out the ceiling services, it became possible to free up most of the suspended ceiling space along the façade perimeter.
RELATED | Cocoa Craftsman Factory: The building as chocolate melting machine
Crucially, we made sure that the big central duct ran through the centre of the office, and that the smaller branch ducts ran perpendicular to the façade in the façade perimeter zone. The other ceiling services were also carefully coordinated. This allowed us to put daylight ducts with internal mirror reflective surfaces to harvest daylight through a row of 800-millimetre-tall clear glass façade panes placed above the suspended ceiling.
[This is an excerpt. Subscribe to the digital edition or hardcopy to read the complete article.]
---
PROJECT DATA
Project Name
Mercu Mustapha Kamal
Location
Damansara Perdana, Petaling Jaya, Malaysia
Completion Date
2016
Gross Floor Area
61,600 square metres
Building Height
26 storeys; 37 storeys
Client/Owner
EMKAY Group
Architecture Firm
Architects 61
Principal Architect
Jeffrey Ling
Main Contractor
Fairway Terrace Construction Sdn Bhd
Mechanical & Electrical Engineer
Norman Disney & Young Sdn Bhd
Civil & Structural Engineer
JPS Consulting Engineers Sdn Bhd
Images/Photos
Gregers Reimann, IEN Consultants
---
RELATED: Commentary | The Sky as a Source of Cooling

The Sky as a Source of Cooling & Other Tropical Innovations | FuturArc
Do you know that it is possible to produce ice cubes in the tropics (not in the fridge)? Most people are surprised to learn that it is possible by designing with the climate. Last year, our consultancy firm came very close, measuring a temperature below 5 degrees Celsius inside our innovative sky co…

Previously Published Projects