Commercial / 2nd Quarter 2022
Cocoa Craftsman Factory: The building as a chocolate melting machine
June 15, 2022
While the process of repurposing means making use of what is already built or designed—although oftentimes cosmetic or structural—to give a new lease of life to a project, it is not common to leverage a flaw and turn it into an ecological benefit.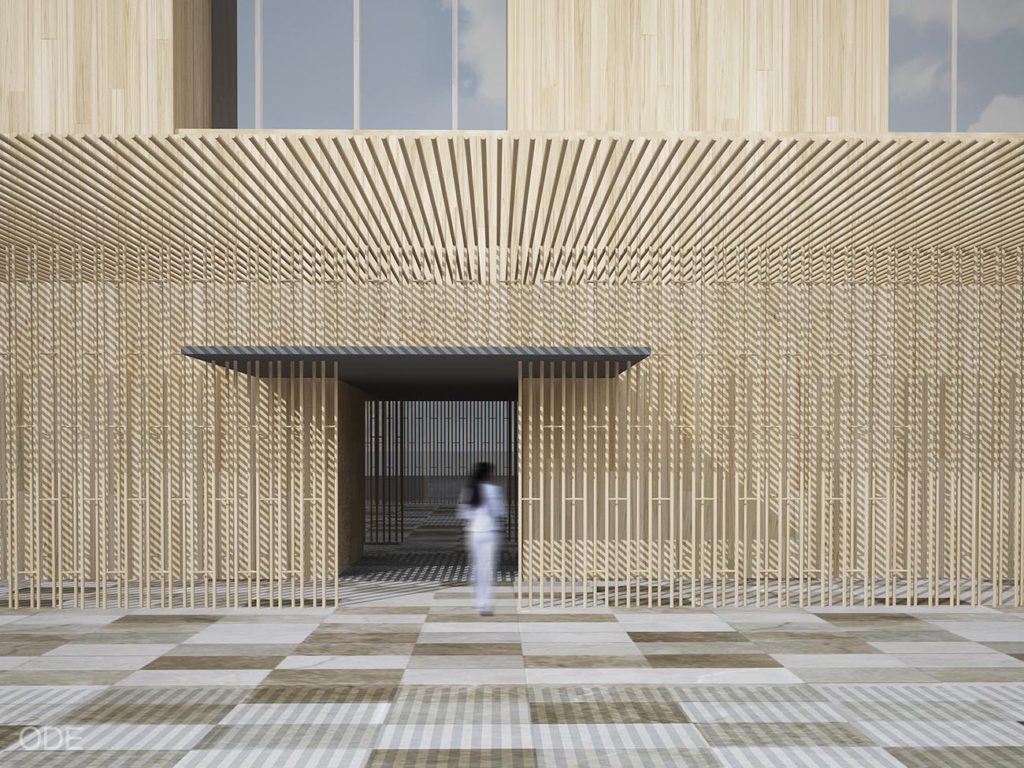 ---
TAPPING FREE HEAT
The crux of this transformation lies in the ingenuity of capturing free heat generated from the metal roof of the poorly insulated existing building, and using it for the industrial process of melting chocolate. This essentially creates a thermally responsive machine—the architecture itself becomes part of the industrial process.
As internal surface temperatures of the building rise throughout the day, excess heat is captured through a colour-changing internal skin. This internal skin traps heat, which is reused as an energy source for the chocolate production process.
When the interstitial temperatures of the building reach 60 degrees Celsius (the optimal temperature needed to melt chocolate), the pipes will change colour from white to pink. This colour-changing process allows the building to 'celebrate' this sustainable chocolate production process with a spatial experience that changes throughout the day.
It also serves to communicate to the workers on the production floor that optimal temperature has been reached and the heat is ready to be used as a free energy source for the chocolate melting process. This method not only enhances the quality of its internal spaces, but also increases the degree of user interaction.

Thermal photos showing rising internal temperatures throughout the day due to the metal roof; the heat can melt up to 7.7 million tonnes of chocolate per year
---
CAPTURING THE HEAT
A 560-square metre area of the roof is used to capture the free solar heat. About 19 per cent of the solar energy hitting the metal sheet roof will be collected by the pipes running below the metal sheet roof. For the 560-square metre heat-collecting roof area, 170,000 kWh of free heat will be obtained annually, which is enough to melt 7.7 tonnes of chocolate from 10 to 60 degrees Celsius. At night, free heat for chocolate melting can also be tapped from heat ejection from the air-conditioning system. Electric heat is used to top up the energy for chocolate melting for periods when the free heat sources are insufficient.
[This is an excerpt. Subscribe to the digital edition or hardcopy to read the complete article.]
---
PROJECT DATA
Project Name
Cocoa Craftsman Factory
Location
Shah Alam, Malaysia
Expected Completion
2023
Site Area
2,030 square metres
Gross Floor Area
1,340 square metres
Number of Rooms
15
Building Height
13.5 metres
Client/Owner
Cocoa Craftsman
Architecture Firm
ODE
Principal Architect
Kody Kato
Mechanical & Electrical Engineer
Ryan Hassan and Associates Sdn Bhd
ESD Consultants
IEN Consultants Sdn Bhd
Images/Photos
ODE; IEN Consultants Sdn Bhd
---
RELATED: Commentary | The Sky as a Source of Cooling

The Sky as a Source of Cooling & Other Tropical Innovations | FuturArc
Do you know that it is possible to produce ice cubes in the tropics (not in the fridge)? Most people are surprised to learn that it is possible by designing with the climate. Last year, our consultancy firm came very close, measuring a temperature below 5 degrees Celsius inside our innovative sky co…

Previously Published Projects