Residential / Sep - Oct 2018
FGLA 2019 Merit: VH House
September 23, 2018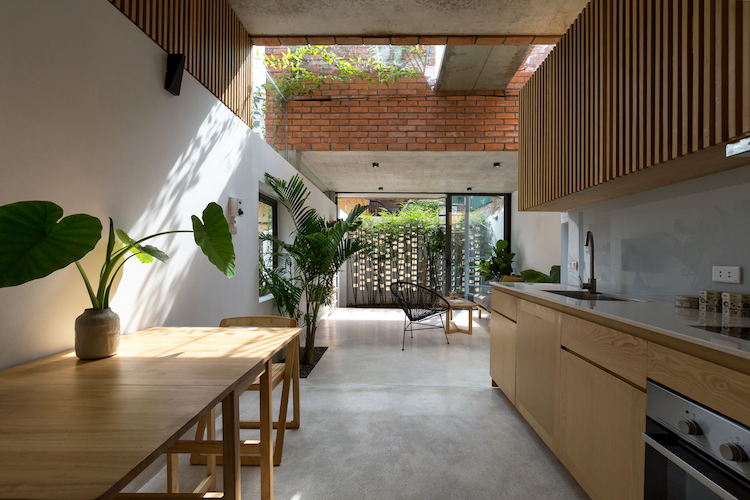 The plot of the house is relatively narrow, 16 metres (length) by 4.1 metres (width), a typical size for local houses. Hanoi's tube house floor plan is designed to maximise the number of rooms by using 100 per cent of the built-up area. Here, buildings are constructed next to each other, wall to wall, with only one open façade. This leads to poor quality dwellings that are completely lacking in natural light, air ventilation and spatial value.

Hence the main aim of the architects was to create a comfortable and enjoyable living space for a family with two children in a relatively small plot of 65 square metres—a small retreat in the middle of a hectic city. The original site had been used as a garden by the family. In order not to lose another precious area of greenery, the architects had integrated gardens as an open rooftop feature in the design, where the family may plant their own fruits and vegetables.

Greenery incorporated into architecture is an important aspect in dense cities like Hanoi, where a lack of green areas and public spaces for inhabitants has become a major problem. The plants provide shade, improve microclimate, work as a dust filter and bring about a relaxed ambience by connecting the residents to nature. The architects added that planting and harvesting their own produce is an educational opportunity for children, especially those living in cities.
HOUSING QUALITY IN VIETNAM
Intersected by a major transport node that generates noise, dust and pollution, VH house is surrounded by a dense yet scattered development in Hanoi, North Vietnam that lacks regulations and has inefficient infrastructure. The roads are often congested with heavy traffic, increasing the stress and anxiety in transportation. This uncontrolled development reflects the quality of life and architecture of the area. As most residents only have a small, narrow plot of land, they try not to waste it by fully utilising the entire area to build as many rooms as possible, resulting in cramped areas with little to no public spaces.

The architects shared that the common challenge for all architects in Vietnam tends to occur during the construction phase of the project: The construction company wants to save costs and therefore often changes the details without realising that it might affect the entire complexity of the project. Thus the quality of construction becomes compromised; finer details require highly skilled craftsmen and strict on-site supervising.

The architects hope that the design of the VH house could have an educational impact on its neighbours, who can learn a different approach to housing by incorporating natural air ventilation, daylighting and greenery.
PROJECT DATA
Project Name
VH House
Location
Hanoi, Vietnam
Completion Date
16 February 2018
Site Area
65 square meters
Gross Floor Area
121.5 square metres
Number of Rooms
4
Client/Owner
Tran Hung; Cam Van
Architectural Firm
ODDO architects
Principal Architect
Marek Obtulovic; Mai Lan Chi
Mechanical &Electrical Engineer
Vu Hai
Civil &Structural Engineer
Ngo Anh Tuan
Images/Photos
Hoang Le Photography, ODDO architects
Previously Published Projects