Commercial / Mar - Apr 2017
Tangshan Organic Farm
March 23, 2017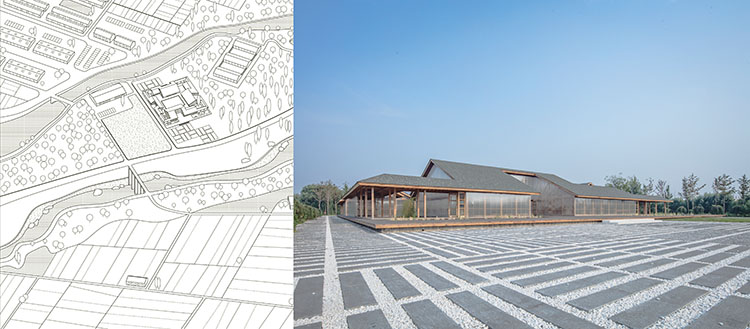 The project is a processing workshop for organic food. Raw materials that come from organic food producing areas across the country are collected, processed and packed here, and the finished products are then distributed to other places.
Sited on a rectangular flat area covering 6,000 square metres, it is surrounded by villages and farmhouses. Inspired by the traditional courtyard building, which is still the typical model in north China, the idea was to build a 'magnified' courtyard house with multiple courtyard spaces of different sizes—the central courtyard spans out around the blocks randomly, topographically forming myriad layers of yard spaces.
There is a strong visual connection between inside and outside, forming a corresponding relationship with the surrounding broad and flat fields. Open exterior verandas and various scales of landscape courtyards also provide people a place to rest and relax.
PROJECT DATA
Project Name
Tangshan Organic Farm
Location
Guye District, Tangshan City, Hebei Province, China
Completion Date
April 2016
Site Area
6,000 square meters
Gross Floor Area
1,720 square meters
Number of Rooms
10 rooms
Building Height
7 meters
Client/Owner
Zhonge Fengqing Agricutural Developement Co. Ltd
Architectural Firm
Arch Studio
Principal Architects
Han Wen-Xiang
Main Contractor
Beijing Xin Nan Sen Wood Structure Engineering Co. Ltd
Mechanical &Electrical Engineer
Zhonghe Fengqing Agricuultural Development Co. Ltd
Civil &Structural Engineer
Beijing Xin Nan Sen Wood Structure Engineering Co. Ltd
Images/Photos
Jin Wei-Qi; Arch Studio
Previously Published Projects