Commercial / Mar - Apr 2016
Taiwan High Speed Rail Changhua Station
March 22, 2016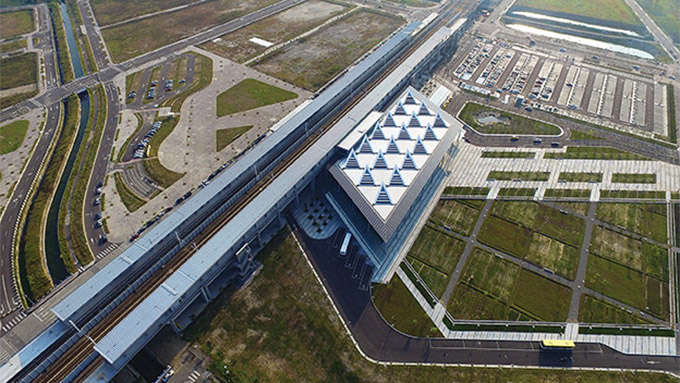 True to its name, the township of Tienchung (or Tianjhong)—which means "in the middle of rice fields"—is situated amidst Changhua County's rice-growing farmlands. It was lauded as one of eight scenic views in Changhua, and is surrounded by golden rice fields during the harvest seasons. In recent years, competition among flower growers has turned it into the centre of a burgeoning floriculture industry where annual flower festivals are held. The design of Taiwan High Speed Rail (THSR) Changhua Station takes this into account, making it a landmark and gateway for the region by highlighting its distinctive features and local spirit.
DESIGN

The main design feature is the large, petal-like steel columns in the high ceiling lobby and maintenance area of the concourse floor slab, which are inspired by the shape of a calla lily. The skylights at the top of the pillars, which protrude out of the roof, funnel natural light from the outside to the inside. The columns reflect the indirect light to illuminate the lobby and allow natural breezes into the station. Building information modelling (BIM) technology— incorporated throughout the planning and construction stages—was utilised to integrate the curvatures of the columns in the early design phase1.
The overall planning of the station's landscaping creates an interwoven scene of flowers, vegetation, water and paving—both at a human scale and from a bird's eye perspective. Floral imagery is utilised on the outside and extends to the interior of the building. Large panes of low-emissivity glass preserve uninterrupted lines of sight, and the greenhouse-like façade allows for views of the natural vistas and the setting sun from within. The lithe structural aesthetic of the station, which incorporates the elegance of flowers, ensures structural safety while also giving the building a graceful bearing.
PROJECT DATA
Project Name
Taiwan High Speed Rail Changhua Station
Location
Changhua, Taiwan
Completion Date
November 2015
Site Area
78,100 square metres
Gross Floor Area
22,174 square metres
Building Height
18 metres
Clients/Owners
Taiwan High Speed Rail Corporation
Architecture Firm
KRIS YAO | ARTECH
Architect
Kris Yao
Main Contractor
TECO & TC-JV
Mechanical & Electrical Engineer
Parsons Brinckerhoff International, Inc., Taiwan Branch
Civil & Structural Engineer
Federal Engineering Consultants, Ltd.
Images/Photos
Jeffrey Cheng; Yueh-Lun Tsai; David Chen; KRIS YAO | ARTECH
Previously Published Projects