Commercial / Nov - Dec 2018
Surat Diamond Bourse
November 7, 2018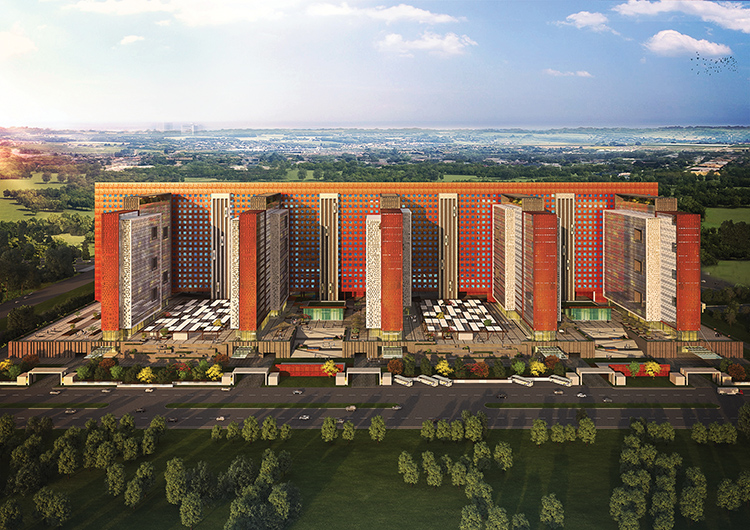 India gives shine to 85 per cent of the rough diamonds sold globally, with Surat being the capital of this trade. Today, more than 92 per cent of the world's diamonds manufactured in Surat are traded in Mumbai and exported to countries across the globe. However, due to inadequate suitable office spaces and supporting infrastructure in the Bharat Diamond Bourse (Mumbai), traders are forced to travel every day from Surat to Mumbai. Thus the upcoming Surat Diamond Bourse—set to be the world's largest single office building—will accommodate over 4,500 offices of diamond traders, as it seeks to become the centre of the international diamond trade, ensuring that all activities of cutting, polishing and trading take place under one roof.
Situated on the national highway amidst the Diamond Research and Mercantile (or DREAM) City—an upcoming business district comprising offices, residential areas and allied facilities—the bourse aims to reduce the daily commute and be less disruptive to the social structure of the Saurashtra Patel community that comprises the majority of the traders. Forming the heart of the central business district, this project is not only an investment in the trade, but also in community dynamics. The project, once completed, hopes to provide employment opportunities and generate tourism in the area.
SPATIAL SCHEME

Given the scale of the development, the biggest challenge was to navigate large volumes of people within the trading time constraints. Functional proximities were governed by optimising travel distances from the site entrance till the farthest possible office module within seven minutes. The strength of the design strategy lies in ensuring that the building is truly unified both on the horizontal and vertical planes, through the ease of proximity to vertical circulation nodes. The approach employed is similar to an airport terminal, resulting in walkable corridors across 15 floors.
PROJECT DATA
| | |
| --- | --- |
| Project Name | Surat Diamond Bourse |
| Location | Surat, Gujarat, India |
| Completion Date | 2021 |
| Status | Under Construction |
| Site Area | 35.5 acres |
| Gross Floor Area | 6,500,000 square feet |
| Building Height | 81.9 metres |
| Client/Owner | Surat Diamond Bourse |
| Architectural Firm | Morphogenesis |
| Principal Architect | Manit Rastogi; Sonali Rastogi |
| MEP | AECOM, Mumbai |
| Civil &Structural Engineer | JW Consultants LLP |
| PMC | Masters |
| Vertical Transport | TAK Consulting Pvt Ltd |
| Traffic | TTEC |
| Cost | Gleeds Hooloomann Consulting (India) Pvt Ltd |
| Images/Photos | Morphogenesis |
Previously Published Projects