Residential / 2nd Quarter 2019
Stepping Park House | FGLA 2019 Merit
May 14, 2019
The opportunity to design a house located next to greenery is rare in Ho Chi Minh City. Thus, taking advantage of this chance, the house was designed to become a living extension of its surroundings. The greenery of the park seems to 'grow into' the house as it gently steps back on each level to create a large central void connecting different spaces and activities throughout.
The spaces inside are stacked in such a way that it creates a large volume stepping up to the roof, linking all the activities and making sure natural light penetrates all the way. Ivy wrapped around the façade, along with the layering of glazed sliding doors, further diffuses the harsh sunlight and helps in filtering out air pollution.
The trees and plants around the façade and terrace offer other organisms such as birds and insects to coexist and be part of the same fabric—the house gives back and becomes part of the natural landscape. The fenestrations and the central volume ensure a steady flow of wind movement from the park throughout the spaces. The vegetation used indoors helps in reducing heat gain internally and moderating the breeze from the outdoor spaces. With these strategies, the house integrates harmoniously with the surroundings, bringing the green space inwards and optimises the client's budget.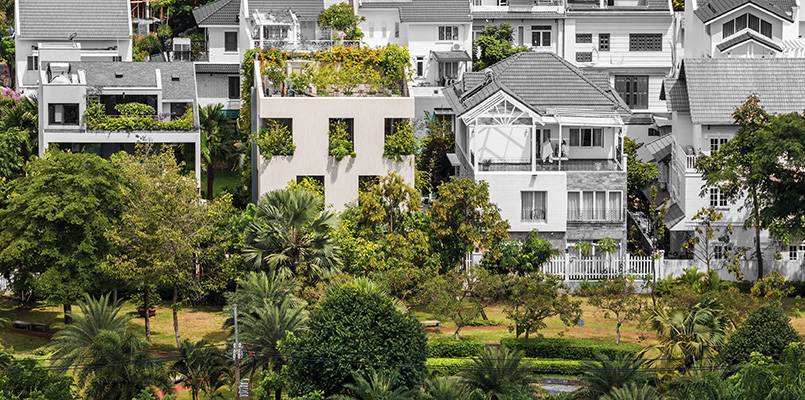 PROJECT DATA
| | |
| --- | --- |
| Project Name | Stepping Park House |
| Location | Ho Chi Minh City, Vietnam |
| Completion Date | 2018 |
| Site Area | 252 square metres |
| Gross Floor Area | 475 square metres |
| Number of Rooms | Common space; 3 bedrooms |
| Building Height | 12.7 metres |
| Architecture Firm | Vo Trong Nghia Architects |
| Principal Architects | Vo Trong Nghia; Hidetoshi Sawa |
| Main Contractor | Wind and Water House JSC |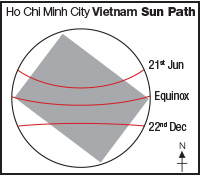 Previously Published Projects