Institutional / Jan - Feb 2017
Sentia School
January 7, 2017
Sentia School will offer a primary, secondary and high school curriculum. Open corridors will connect all three main blocks of the school, and the five-storey building will be divided according to grades and utilisation. The first block will only be used for primary school students and the following block for secondary school in the lower levels and high school in the upper levels.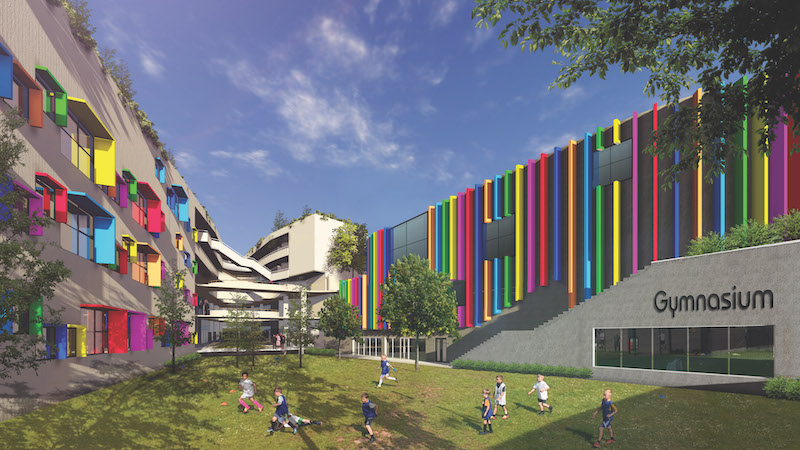 To create a fun and vibrant façade, colourful sunshades will be used for each window. The arrangement and size of the windows may seem random but they will be installed according to use. The building will be in neutral white and brown colours.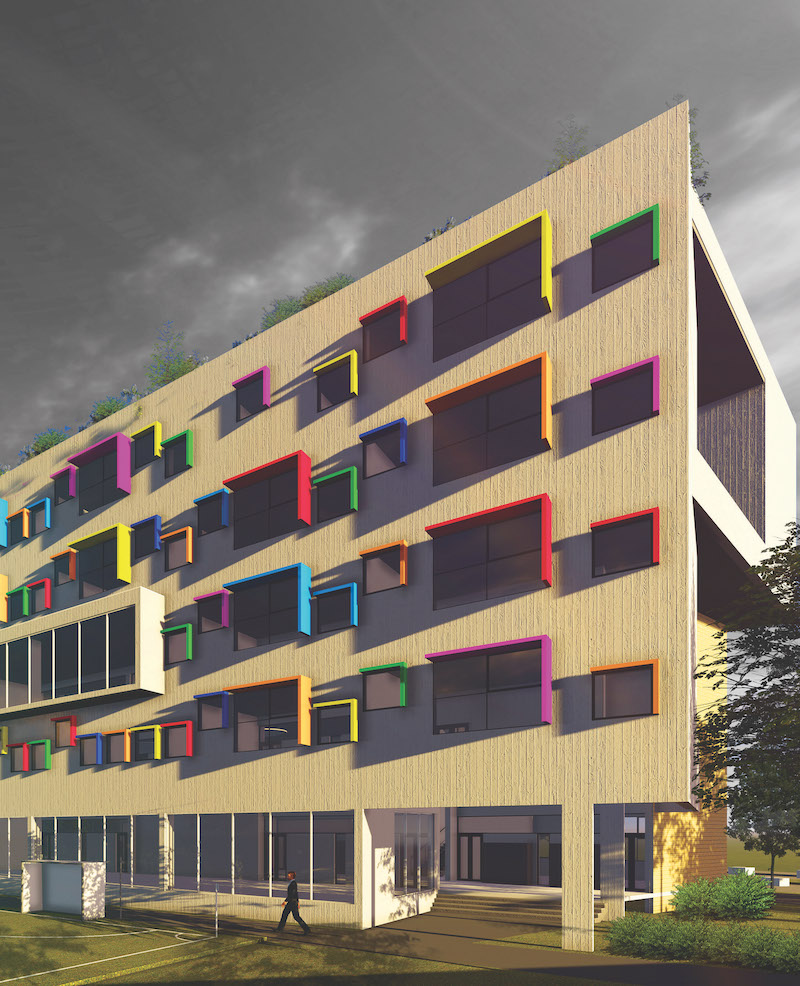 With an asymmetrical site surrounded by tower blocks, the classrooms will run in a zigzag form in a north-south direction. With this layout, the architects were able to create pockets of space where separate age-appropriate playgrounds will be constructed.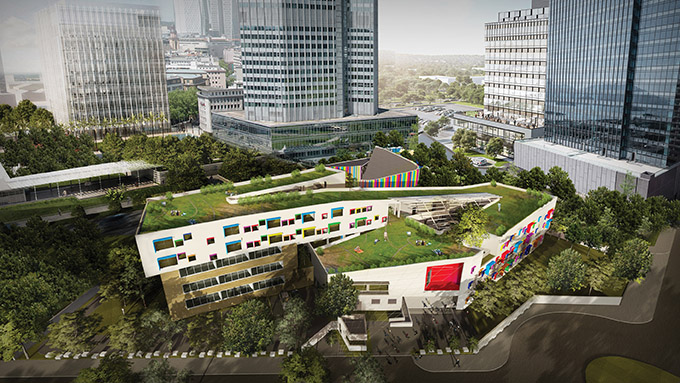 A main playground will also be available for everyone. The playgrounds and green spaces in between the blocks will enjoy plenty of daylight and natural air. Additionally, they will serve as a noise buffer.
Besides the school's zigzag form, the green roof is the most distinctive characteristic of the project. This rooftop garden will cultivate different plants to promote the pupils' interests and broaden their knowledge in agriculture and biology. In addition to the green roof, other flexible spaces have been allocated in the school for learning and play.

Taking wind directions into consideration, the architects designed the placement of the rooms to promote cross ventilation. The canteen, sports hall and gymnasium will be located at the northern end of the building to reduce noise as well as to channel airflow and odour away from the classrooms located in the south. A lamella roof will be constructed for the multipurpose sports hall and the canteen, with openings in the middle for natural ventilation.
Sentia School was shortlisted as a finalist under the Education – Future Projects category in the World Architecture Festival Awards 2016.
PROJECT DATA
PROJECT NAME
Sentia School
Location
Trung Van Commune, Tu Liem District, Hanoi City, Vietnam
Status
Under construction
Expected Completion
2017
Site Area
9,625.2 square metres
Gross Floor Area
10,938.5 square metres
Number of Rooms
50 classrooms
Architecture Firm
1+1>2 International Architectural JSC
Principal Architects
Hoang Thuc Hao; Do Minh Duc
Images/Photos
Son Vu; 1+1>2 International Architectural JSC
Previously Published Projects