Institutional / 1st Quarter 2021
Reaching Energy Targets
by Y-Jean Mun-Delsalle
April 20, 2021
The Singapore Institute of Technology (SIT) and The Joyce Centre for Partnership & Innovation in Canada are two applied learning educational establishments showcasing environmental sustainability, where the buildings themselves act as teaching tools, giving students real-world experience to work on solving real problems and ensuring that the industry has the highly skilled workers it needs.

SINGAPORE INSTITUTE OF TECHNOLOGY (SIT)
The future SIT campus in the Punggol Digital District (PDD) will have 10,000 square metres of rooftop solar panels campus-wide, harnessing renewable energy to power Plot 1's Multi-Energy Micro-Grid (MEMG), making it Southeast Asia's first university to have such a network, which will supplement the campus' power supply. This will therefore decrease overall reliance on the main utility grid and contribute to its aim of self-sustainability in the long run. The estimated energy generated is 1,200 MWh annually. The MEMG will eventually integrate gas, electricity and thermal energy into a unified smart energy network that can operate independently from the national grid in emergencies.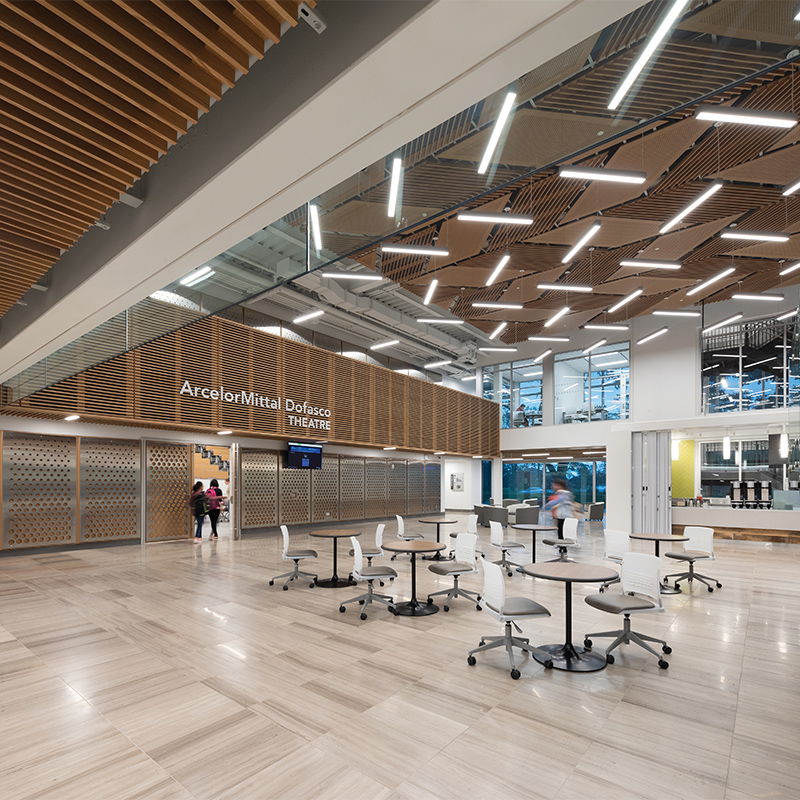 THE JOYCE CENTRE FOR PARTNERSHIP & INNOVATION
The Joyce Centre, Mohawk College's net-zero energy and zero-carbon building, proves that adopting extreme efficiency and renewable energy technologies that significantly reduce annual energy consumption and greenhouse gas emissions is technically and economically feasible, and aligned with creating liveable, healthy spaces, even for large-scale edifices of demanding typologies with high energy loads. Designed for students, faculty, researchers and industry to verify the performance of this state-of-the-art facility, it communicates the principles of engineering by transparently demonstrating them. In every way, the workings of this sustainable institution are put on display and used as an opportunity to learn and engage.
Previously Published Projects