Commercial / 2nd Quarter 2023
Rajbagh Silk Factory
June 19, 2023
The Rajbagh Silk Factory is one of the state government-owned properties that was severely affected by the floods that ravaged the northern Indian state of Jammu and Kashmir in 2014.
The facility was flooded with up to 17 feet of water, submerging all the machinery for 27 days. After the waters receded, cleaning of machinery and equipment was carried out and factory operations resumed in October 2016. However, during this period, many workers were deputed to other departments while others quit or retired, which reduced the workforce significantly. The factory, which once provided significant employment and generated revenue for the state economy, was made almost defunct and in disrepair after the floods.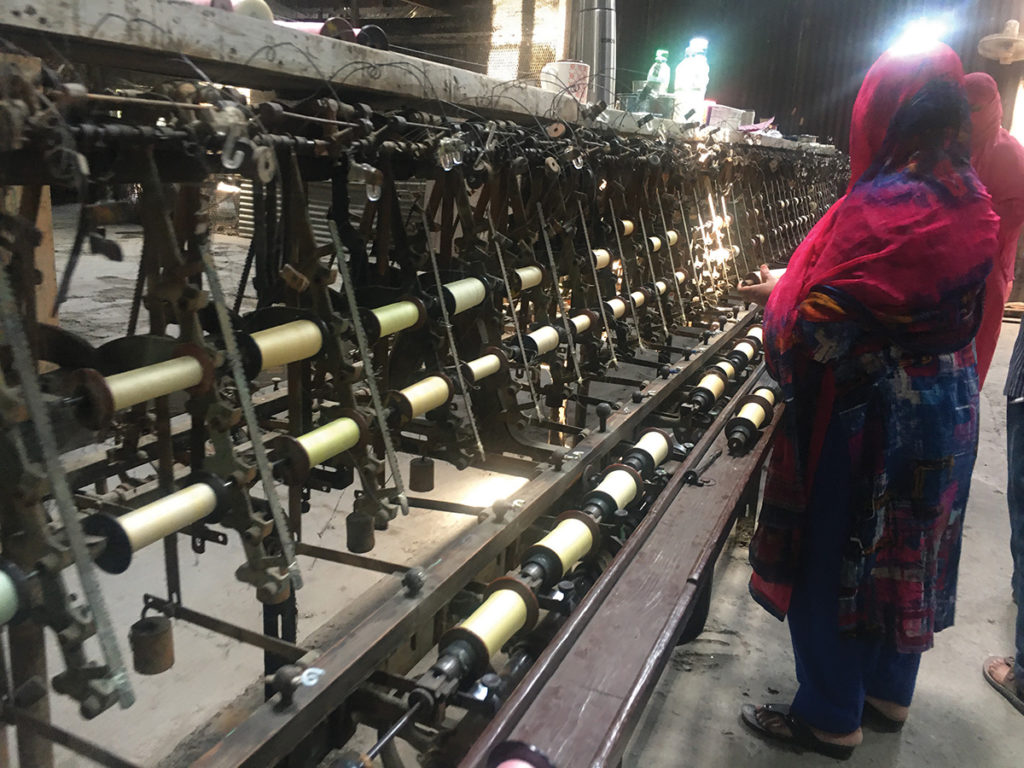 The Rajbagh Silk Factory is at the centre of an intangible and tangible silk heritage of Kashmir. Therefore, the project needed to be considered as an ensemble of processes, from rearing and reeling to weaving and distribution, which is linked to the entire value chain of production of mulberry silk in Kashmir.
The conservation interventions for the silk factory site hence emerged from concerns to protect lives, ensure business continuity, conserve industrial heritage as well as to preserve the tangible and intangible heritage value of the factory. Mapping of the building fabric was undertaken, followed by non-destructive testing to determine the accurate morphology of the masonry; connections between masonry and roofing systems; mortar compositions; location of reinforcement for retrofitting in the past; depths; as well as documenting sectional details and construction typologies of the foundation of exterior walls and pillars.
Interventions for seismic responsive structural retrofitting have been proposed. Structural cracks between brick quoins and rubble masonry that encircle almost all window openings in Block B are due to the impact of the 2005 earthquake. These are proposed to be stitched and corrected for the loss in alignment, bulged or out of plumb masonry. A continuous seismic band in the form of a timber ladder is proposed under the beams to improve the seismic responsiveness of the building.
[This is an excerpt. Subscribe to the digital edition or hardcopy to read the complete article.]
---
PROJECT DATA
Project Name
Conservation/Restoration and Adaptive Reuse of Government Silk Factory Rajbagh
Location
Srinagar
Status
Completed preparation of the conservation and reuse plan with all its construction details supported by tender document; the client is required to appoint the contractor for implementation
Expected Completion
2025
Site Area
14,866 square metres
Gross Floor Area
4,411 square metres
Number of Rooms
30
Building Height
8.215 metres
Client/Owner
Jammu and Kashmir Industries, Government of Jammu and Kashmir, India
Architecture Firm
CRCI India Pvt Ltd in JV with andblack design studio
Principal Architects
Gurmeet S. Rai; Jwalant Mahadevwala
Mechanical & Electrical Engineers
Shishir Sharma; SS Consultants
Civil & Structural Engineers
Shashank Mehendale; SMC
Images/Photos
Gurmeet S. Rai
---
Related stories:
In Conversation with Gurmeet S. Rai

In Conversation with Gurmeet S. Rai | FuturArc
Gurmeet S. Rai is a conservation architect who can be credited with the conservation of some of the most famous built heritage projects in India. There, she started the Cultural Resource Conservation Initiative in 1996, a conservation consultancy firm that works on cultural heritage conservation and…
Read more stories from FuturArc 2Q 2023: Old is Gold!

Previously Published Projects