Commercial / Nov - Dec 2018
Paris Courthouse
November 7, 2018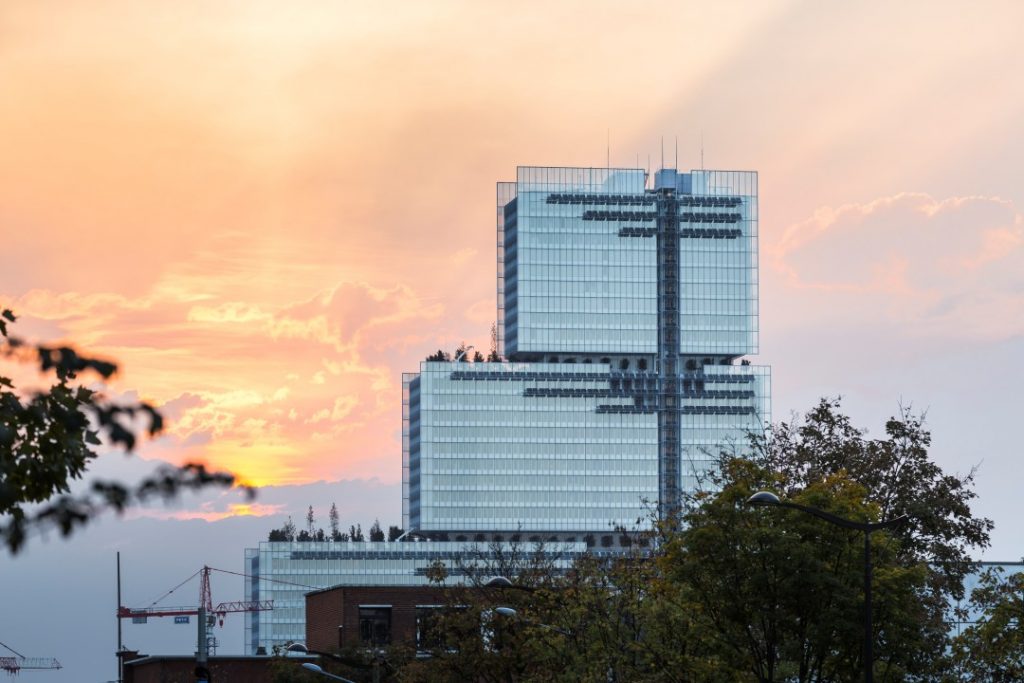 Europe's largest law complex, the 160-metre-tall Paris Courthouse skyscraper by Renzo Piano Building Workshop (RPBW) that opened last April, has reunited the various activities of the French capital's judiciary system under one roof. They had previously been dispersed throughout the city due to a shortage of space in its historic seat on Île de la Cité (which continues to accommodate the Criminal Court, Court of Appeals and Supreme Court).
Bringing together the regional court, police court, public prosecution courts and district courts of each arrondissement, its location on a L-shaped site beside the Martin Luther King Park and the ring road in the Clichy-Batignolles urban development zone on Paris' northwestern edge (in what was formerly an abandoned railway area) places it at the crossroads of the city's administrative districts and suburbs. It is part of a new eco-district currently under construction, which will comprise housing, offices, shops as well as a metro and tram station.
The French government had initially proposed splitting the law courts into two distinct buildings—the first to house public functions such as courtrooms, and the second, offices—but RPBW chose a single integrated edifice, welcoming up to 8,800 people daily including 2,000 employees, which through its size and status would come to symbolise the point of departure for the rehabilitation and redevelopment of the Porte de Clichy neighbourhood.
Having won the competition in 2011, the architects wished to set a new benchmark for energy consumption in a tall building and to lessen the visual impact of the tower against the skyline. They did this by designing a series of four stacked glass volumes that diminish in size as they rise upwards to form a steplike profile. From the park, the courthouse blends into its surroundings as it has a slim profile, with the smallest façade oriented to the south to reduce the solar factor, while giving users the best views of Paris: the Eiffel Tower for those on the east side and Montmartre for those on the west. Every office has a window with unobstructed views, as the immediate area is free of high-rise developments.
PROJECT DATA
| | |
| --- | --- |
| Project Name | Paris Courthouse |
| Location | Paris, France |
| Completion Date | July 2017 |
| Site Area | 17,500 square metres |
| Gross Floor Area | 142,000 square metres |
| Number of Rooms | 90 courtrooms; 1,300 offices; 3 restaurants/cafeterias |
| Building Height | 160 metres |
| Client/Owner | Etablissement Public du Palais de Justice de Paris; Bouygues Bâtiment |
| Architectural Firm | Renzo Piano Building Workshop (RPBW) |
| Principal Architect | Bernard Plattner |
| Main Contractor | Bouygues Construction |
| Mechanical &Electrical Engineer | SETEC Bâtiment; Berim |
| Sustainable Engineer | Ove Arup & Partners Hong Kong Ltd |
| Civil &Structural Engineer | SETEC TPI |
| Images/Photos | RPBW (all drawings); Sergio Grazia; Michel Denancé; Florent Michel; Maxime Laurent; Francesca Avanzinelli |
Previously Published Projects