Commercial / 3rd Quarter 2019
Office for Communique
September 27, 2019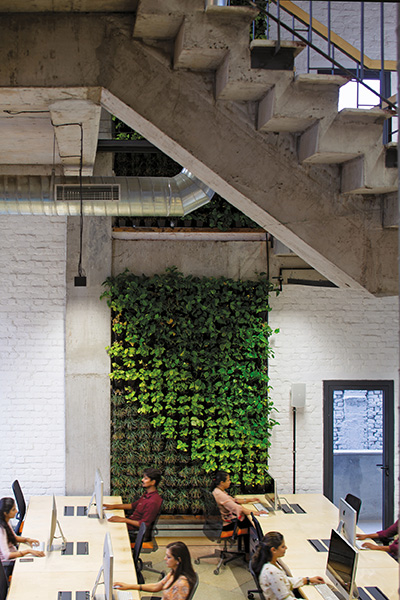 The design of this office project seeks to prioritise comfort, health and well-being to its users.
SPATIAL SCHEME
The upper floors house the workspaces within a seamless two-floor volume, accommodating a diverse mix of functions. In order to optimise the infiltration of glare-free daylight, its northern and southern edges are designed to be porous; the fenestration scheme was designed via a metric-based daylight analysis.

To reduce heat admission into the building, the western edge—which forms its primary façade—is completely covered with a massive wall and an added layer of insulation. Along the southern edge, informal, semi-open meeting areas are created at both ends of the volume to provide intimate spaces for discussions and conversations. All services are housed at one end of the floor plate to facilitate maintenance operations and easy circulation.
PROJECT DATA
| | |
| --- | --- |
| Project Name | Office for Communique |
| Location | Gurugram, Haryana, India |
| Completion Date | April 2018 |
| Site Area | 450 square metres |
| Gross Floor Area | 1,225 square metres |
| Building Height | 15 |
| Client/Owner: | Communique Marketing Solutions Pvt. Ltd. |
| Architecture Firm | group DCA |
| Principal Architect | Amit Aurora |
| Main Contractor | Ram Swaroop and company |
| Mechanical & Electrical Engineer | Weather Comfort (mechanical); Design Matrix (electrical) |
| Civil & Structural Engineer | S. V. Damle |
| Images/Photos | A00 Architecture; Nacasa & Partners |
Project Name: Office for Communique
Location: Gurugram, Haryana, India
Completion Date: April 2018
Site Area: 450 square metres
Gross Floor Area: 1,225 square metres
Building Height: 15 metres
Client/Owner: Communique Marketing Solutions Pvt. Ltd.
Architecture Firm: group DCA
Principal Architect: Amit Aurora
Main Contractor: Ram Swaroop and company
Mechanical & Electrical Engineer: Weather Comfort (mechanical); Design Matrix (electrical)
Civil & Structural Engineer: S. V. Damle
Images/Photos: Andre J Fanthome; group DCA
Previously Published Projects