Institutional / 1st Quarter 2022
'Minna no Mori' Gifu Media Cosmos
March 16, 2022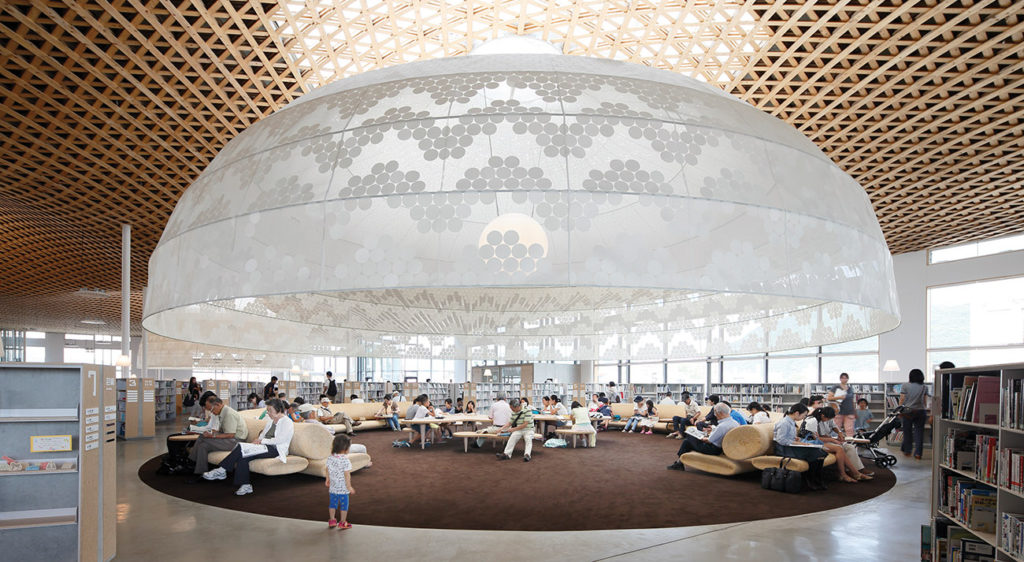 'Minna no Mori' Gifu Media Cosmos is a library complex that opened in July 2015. The site has a symbolic view of the city: Mount Kinka with Gifu Castle on its top. It is located 2 kilometres north from JR Gifu Station and has abundant subsoil water from Nagara River. In order to create a new cultural centre to activate the city, there was a design competition for a complex and plaza around it.
The building is made up of two storeys, about 80 metres by 90 metres in dimension. The first floor has a glass book archive that accommodates 600,000 books, located in the middle of the large plan within the most stabilised environment. An exhibition gallery, a multipurpose hall as well as a civic activity and exchange centre are placed consecutively around the archive.
The second floor is one large reading area without walls and has shelves for 300,000 books and various kinds of browsing seats (910 seats in total). Large translucent umbrellas called Globes—made of polyester fabric and each shaped like an inversed funnel—hang above the circular reading spaces and the reception counter. Eleven Globes measuring 8 to 14 metres in diameter create gentle air movements and soft diffused light from above, providing a comfortable indoor environment.

With the Globes channelling natural light and warmth into the building, the utilisation of underground water as a heat source to generate radiant floor heating and cooling, as well as the use of solar panels on the roof, all become combined into a balanced mechanism.
With all these features, the building is expected to reduce the primary energy usage by at least 50 per cent, compared to a building of the same size if it were in the 1990s. Instead of clearly dividing or concealing spaces to reduce consumption of energy, this library offers a comfortable, energy-saving environment while in pursuit of a connection with nature, a theme that has long existed in Japan, allowing people to feel alive and be nurtured within the space.
[This is an excerpt. Subscribe to the digital edition or hardcopy to read the complete article.]
RELATED: The FuturArc Interview | Toyo Ito

Toyo Ito | FuturArc
For someone as highly acclaimed and awarded as Toyo Ito—who is the recipient of The Royal Gold Medal from The Royal Institute of British Architects; The 22nd Praemium Imperiale in Honor of Prince Takamatsu; The Pritzker Architecture Prize; The UIA Gold Medal, to name a few—one would think he might b…
---
PROJECT DATA
Project Name
'Minna no Mori' Gifu Media Cosmos
Location
Gifu City, Gifu Prefecture, Japan
Design Period
February 2011 to March 2012
Construction Period
July 2013 to February 2015
Principal Uses
Library; citizen's activity interchange centre; gallery
Structural Engineer
ARUP
M&E Consultants
ES Associates; Ohtaki E&M Consulting Office
Acoustic Engineer
Nagata Acoustics
Lighting Design
Lighting Planners Associates (LPA)
Landscape Design
Mikiko Ishikawa (Professor, The University of Tokyo, School of Engineering)
Constructor
Toda Dainippon Ichikawa Hinaya JV
Structure
Reinforced concrete; steel frame; wood frame (beam)
Scale
2 storeys; 1 basement
Site Area
14,848.34 square metres
Building Area
7,530.56 square metres
Total Floor Area
15,444.23 square metres
---

Previously Published Projects