Commercial / Mar - Apr 2017
Method South Side Soapbox
March 23, 2017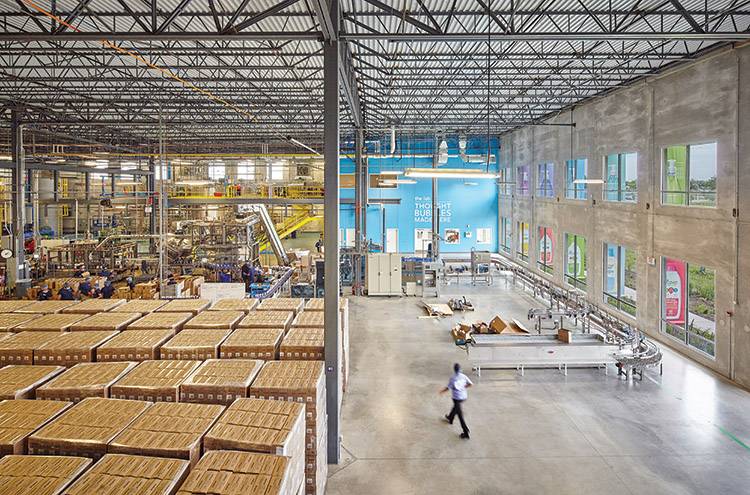 PROJECT DATA
Industrial precincts traditionally conjure images of smokestacks—gritty, hardened buildings spewing effluents and breeding squalor in their wake. The Method Manufacturing Facility in the historic industrial town of Pullman, Chicago represents an effort to break this stereotype and construct a new, clean industrial model.
"With Method's factory, we wanted to become native to an urban community and create an example of what manufacturing can look like in the 21st century," said Adam Lowry, owner of the Method Manufacturing Facility.
Method's production facility, constructed in partnership with William McDonough + Partners, represents the realisation of a dream, as Lowry puts it, that was based on a foundation of values instead of metrics.
A large hoarding proclaiming the Method motto "made by and for people against dirty" welcomes visitors into the South Side Soapbox—a witty play on the sustainable soap manufacturer's efforts at staying 'clean'. The state-of-the-art manufacturing home was honoured with a LEED Platinum Certification in 2015 in recognition of its meticulous efforts at achieving comprehensive environmental sustainability.
| | |
| --- | --- |
| Project Name | Method South Side Soapbox |
| Location | Chicago, Illnois, USA |
| Expected Completion | October 2013 (building); November 2015 (soft landscape works) |
| Completion Date | 28 April 2015 |
| Site Area | 21.2 acres |
| Gross Floor Area (occupied by Method) | 157,660 square meters |
| Gross Floor Area (rooftop greenhouses) | 75,000 square meters |
| Number of Rooms | Apporximately 30 rooms; most of the floor plan is a large open warehouse |
| Building Height | 57 feet (to top of the greenhouses) |
| Client Owner | Method |
| Greenhouse Operator | Gotham Greens |
| Design Architect | William McDonough + Partners |
| Executive Architect | Heitman Architects Inc |
| Main Contractor | Summit Design + Build |
| Mechanical &Electrical Engineer | KJWW Engineering Consultants |
| Civil &Stuctural Engineer | Spaceco Inc. (Civil); KJWW rengineering Consultnatns (Structural) |
| Landscape Architect | Norris Design |
| Renewable Energy Consultant | Buro Happold |
| Commisioning Consultant | Sieben Energy Associates |
| Healthy Materials Consultant | Cradle to Cradle Products Innovation institute, MBDC |
| Images/Photos | Partsy McEnroe Photography; Zach Mortice; William MCDonough + Partners |
Previously Published Projects