Infrastructure / 1st Quarter 2023
Jiaxing Train Station by MAD Architects
by Y-Jean Mun-Delsalle
March 20, 2023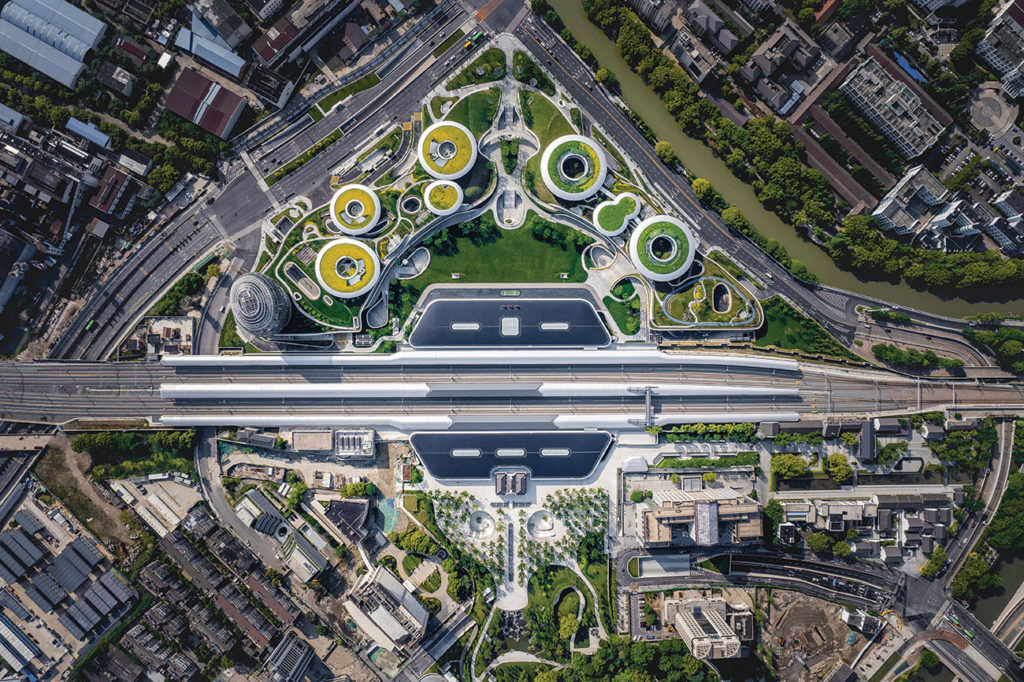 Competing to outdo one another, China's train stations tower over its cities like grand palaces, surrounded by large main roads, imposing viaducts and often empty plazas. But instead of pursuing monumental architecture, Beijing-based MAD Architects asks if it is possible for urban train stations to be constructed at a more comfortable, human scale; to be more than a stopover for travellers, but also an open, green public space that both inhabitants and tourists can enjoy and would want to spend time in.
On a 35.4-hectare site in a city of 5.4 million people southwest of Shanghai, MAD Architects rebuilt Jiaxing's historic early 20th-century train station based on archival studies, replacing an outdated, ageing, noisy, chaotic and undersized facility, whilst simultaneously constructing a new futuristic train station mainly hidden underground—with just one floor above so as not to eclipse the old station building.
It lies beneath a vast green roof resembling rolling green hills, yet is flooded with natural light pouring in through a ground-level glass curtain wall and skylights. Shared between Jiaxing's citizens and travellers, the ground-floor space is given back to Nature, transforming into a "train station in the forest".

[This is an excerpt. Subscribe to the digital edition or hardcopy to read the complete article.]
---
PROJECT DATA
Project Name
Jiaxing Train Station
Location
Jiaxing, Zhejiang Province, China
Completion Date
Spring 2022
Site Area
354,000 square metres
Gross Floor Area
330,000 square metres
Building Height
New train station: 8 metres; historic train station: 12 metres
Client/Owner
Jiaxing Modernservice Industry Development & Investment (Group) Co., Ltd.
Architecture Firm
MAD Architects
Principal Architects
Ma Yansong; Dang Qun; Yosuke Hayano
Main Contractors
China Railway Construction Engineering Group; China Tiesiju Civil Engineering Group; China Construction Eighth Engineering Division Corp. Ltd.
Structural Engineer
LERA Consulting Structural Engineers
Images/Photos
AC; Laoyang; CreatAR; Xia Zhi; Aogvision
---
Related story:
Regeneration of Disused Transport Infrastructure

Regeneration of Disused Transport Infrastructure | FuturArc
Rather than demolishing and building anew, the revitalisation and greening of deserted transit infrastructure is becoming increasingly commonplace in dense, fast-growing cities. Jiaxing Train Station in China by MAD Architects and Taichung Green Corridor in Taiwan by Mecanoo are two examples of reus…

Previously Published Projects