Institutional / Jan - Feb 2017
Institute of Integrated Learning in Management Campus
January 23, 2017
Contextually responding to its harsh local microclimate, the project was conceived to fortify itself from the external environment and create a relevant oasis-like internal environment. This resulted in the inward-looking morphology, with a high thermal mass on the outer faces that blocks out the hot winds predominant in the region.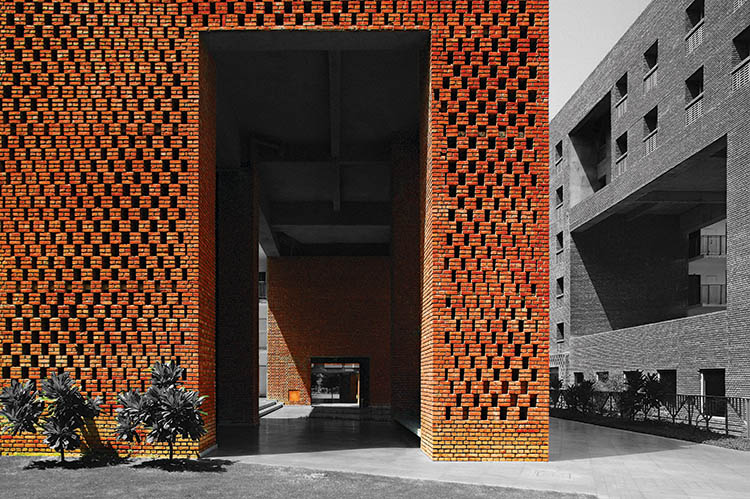 This building provides student accommodation and support facilities within an existing educational campus. Students are housed predominantly in an apartment format where units are placed along the external periphery for maximum daylight, opening to an internal central corridor system.
The project is designed to have a low wall-to-window ratio; furthermore to thermally buffering each unit and reducing solar gain from the façade of the building, toilet shafts are moved to the exterior faces of each unit. Deep recessed windows provide shade and help in controlling optimum daylighting.
Spatial planning was done in order to engage the students, generating various interactive conglomerate spaces, each having its own identity within the overall community yet satisfying institutional/residential requirements.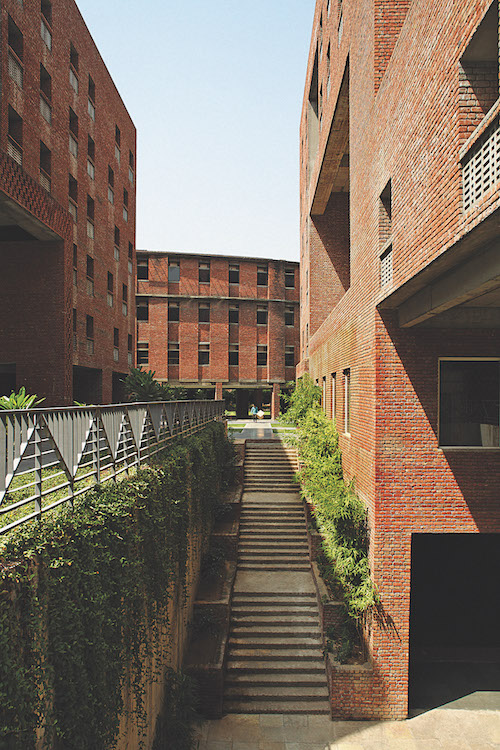 The campus is designed in a multi-building format with a street pattern on a grid to generate the built volumes. Courtyards are introduced and cores are identified by carving out voids at different levels to create a multitude of open spaces in the form of terrace gardens and courtyards of diverse scales and configurations for multilevel interactions, creating a miniature urbanscape. The buildings are oriented in a manner such that they open inwards while presenting a largely solid façade to the outside.
Each residential block is planned on a traditionally inspired community living format of a chawl (a large residential building of typically four to five storeys with many separate tenements that share a common balcony; a usual tenement in a chawl consists of one all-purpose room that functions both as a living and sleeping space, and a kitchen that also serves as a dining room). The courtyards and terraces encourage interaction among neighbours and the visual connection with the street creates a vibrant community atmosphere.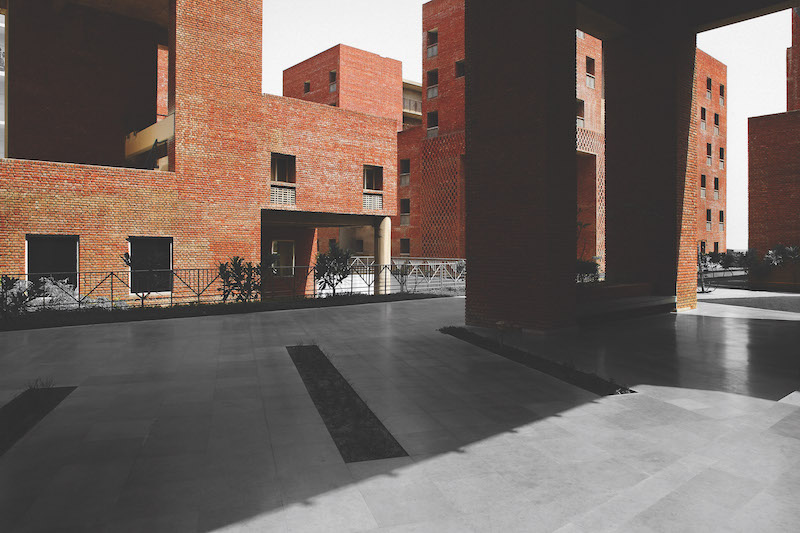 Project Name
Institute of Integrated Learning in Management Campus
Location
Greater Noida, Uttar Pradesh, India
Completion Date
Early 2014
Site Area
8 acres
Gross Floor Area
175,000 square meters
Building Height
26 metres
Client/Owner
Institute of Integrated Learning in Management
Architectural Firm
Morphogenesis
Principal Architect
Sonali Rastogi
Main Contractor
Ahluwalia Contracts
Mechanical & Electrical Engineer
Apostle Design Studio
Civil & Structural Engineer
BMSF Design Consultants
Images/Photos
Jatinder Marwaha; Morphogenesis
Previously Published Projects