Commercial / Sep - Oct 2016
Homefood
by Carissa Kwok
September 7, 2016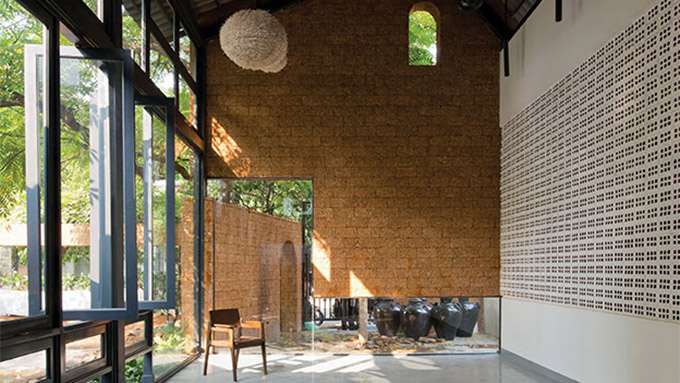 The Vietnamese restaurant HOMEFOOD is a local project that has been refurbished from an old building built in the 1980s. With the aim of having a clear and light design, the architects used vernacular materials and building techniques in a modern manner to integrate the project into the surroundings.
The laterite walls have been constructed with strategically placed openings, which are either fitted with glass or left open as a skylight for daylighting. This gives the building an open and spacious effect while still maintaining privacy for customers. Locally sourced white bricks make up the walls and were laid out in such a way that highlights their porosity, which allows for ventilation. Large glass windows that span from the ground to the ceiling also provide natural ventilation and ample sunlight. The use of steel linking the walls and windows to the roof gives a sense of lightness to the space.
The main volumes of the former building are kept intact, with small spaces and skylights introduced to maintain an airy flow within the structure. At the main entrance of the restaurant, an opening has been deliberately left in the brick wall to reveal the establishment beyond. This offers visitors a glimpse of a small garden with palm trees that provide shading for an entrance terrace made from reinforced concrete, and facilitate natural airflow to maintain a cool atmosphere.
PROJECT DATA
Project Name
HOMEFOOD
Location
19 Truc Khe, Dong Da, Hanoi, Vietnam
Completion Date
November 2015
Site Area
350 square metres
Gross Floor Area
240 square metres
Number of Rooms
9
Building Height
8.5 meters
Client/Owner
Homefood company
Architecture Firm
Landmak Architecture, JSC
Principal Architects
Ta Tien Vinh; Truong Tuan Chung
Design Team
Pham Dinh Hanh; Vu Nam Son; Le Minh Hoang; Do Tho Ha; Tran Viet Phu; Bui Huy Toan
Project Managers
Cao Son Hai; Doan Van Khang
Images/Photos
Le Anh Duc; Landmak Architecture, JSC
Previously Published Projects