Landscape, Online Exclusive Feature / 2023
Garden of Peace at Choa Chu Kang Cemetery Complex
September 14, 2023
In line with our ongoing design competition FuturArc Prize (FAP) 2024: Architecture for Life After, we are highlighting projects along the theme for your inspiration. Click here to learn more about the brief!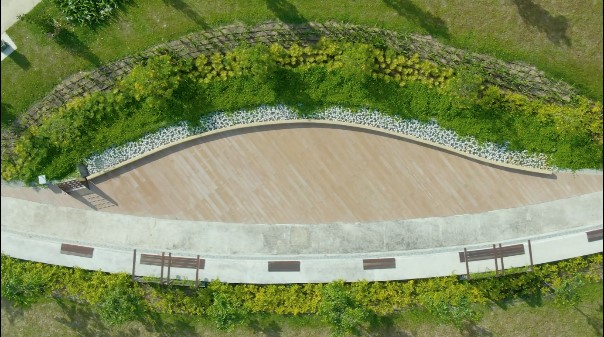 In land-scarce Singapore, there are limited burial options for the deceased. Ground burials in a public cemetery are generally reserved for those of Muslim faith, and currently Choa Chu Kang (CCK) is the only cemetery left that offers burials. A policy introduced in 1998 limits burial to 15 years—once this time has passed, the graves will be exhumed and the remains either cremated or re-interred in smaller plots.
To address land limitation, the National Environment Agency (NEA) as the operator of CCK also introduced a crypt burial system in 2007. The deceased are buried in plots of land that are demarcated by concrete grids without a base, directly touching the soil beneath.
Cremation remains the most common method for the majority of Singaporeans. After cremation, families then can decide to keep the ashes in a niche at a columbarium, scatter them at sea through a government-run service, or bury them in a private cemetery plot.
Thus, the ash scattering garden at the CCK Cemetery Complex, also called Garden of Peace, was established as an additional inland option for Singaporeans to manage cremated human remains. This facility was developed following engagements with religious groups, the funerary industry and other stakeholder groups.

The consensus among stakeholders was that the experience at the facility should be respectful, dignified and secular—open to all religious faiths. A tranquil, garden-like atmosphere was also desired so that the deceased's relatives and friends could have a private experience while scattering ashes. To streamline the service, an online booking system could offer convenience.
Completed and operated since May 2021, the Garden of Peace is equipped with walkways and specified ash scattering lanes. To soften boundaries, shrubs and vegetation were used to demarcate the garden area while also providing sufficient privacy.
Ash scattering lanes have been designed to allow ashes to naturally percolate into the soil underneath. Landscaping and greenery create a serene setting, providing a dignified and respectful environment for paying respects to the deceased.
User-friendly features, such as wheelchair access and seating areas, are provided for families to gather, view, and participate in the ash scattering process. A nearby prayer facility offers space for visitors or next-of-kin to conduct simple rites.
The ash scattering garden received close to 2,000 applications by late 2022—around seven per cent of Singapore's annual mortality. NEA foresees more demand for such facilities in the future, considering that the number of deaths is about to double by 2040 due to the ageing population trend. A new ash scattering garden is under development at the government-run Mandai Crematorium Complex, expected to be operational in 2024.
---

---
References:
https://www.nea.gov.sg/media/news/news/index/nea-s-new-garden-of-peace-cck-will-provide-an-additional-option-for-management-of-cremated-human-remains-in-singapore
https://www.nea.gov.sg/our-services/after-death/crypt-burial-system
https://www.channelnewsasia.com/singapore/inland-ash-scattering-garden-choa-chu-kang-applications-mandai-crematorium-serenity-nea-after-death-service-2973056
Previously Published Projects