Residential / 2nd Quarter 2020
FGLA 2020 Award: Thang House
June 1, 2020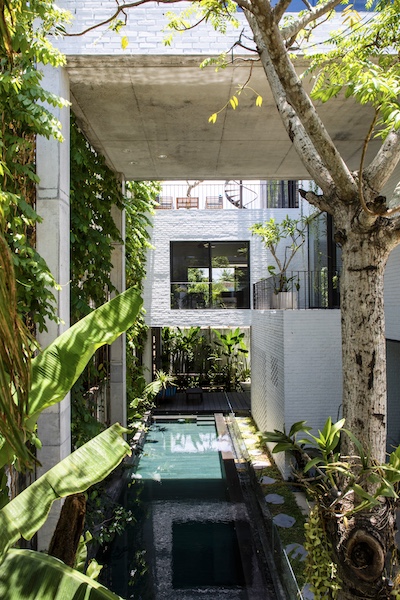 The site for the house is divided into two parts—one containing the living spaces and the other is a void conceived as a green lung that faces the living spaces. It provides filtered air, diffused light and greenery/nature.
The integration of greenery as well as careful sequential planning and arrangement of spaces ensure a steady flow of clean air throughout the house and its surroundings. It filters out pollutants and diffuses the harsh sunlight before it reaches the interiors. The roof garden and fish pond allow for biodiversity to thrive with the different species of fish, birds and insects coexisting under the same roof. In a way, the house gives nature back to the urban landscape.
JURORS' COMMENTS
Dr Nirmal Kishnani: This charming house in Da Nang, Vietnam, is remarkable for the way it manipulates solids/voids to create an inner oasis in a dense city. The semi-outdoor spaces in between are the social spaces for the family. These are vegetated to create a comfortable biophilic environment. This is a simple form that is clean-lined, modern and elegant.
Prof Herbert Dreiseitl: The Thang House works with the typical Vietnamese small plot of land, but using it very intelligently by structuring cubes of spaces, which serve to provide air ventilation and sound buffer to the busy streets of Da Nang. The jury likes the intelligent composition of functions and spaces: combining planting boxes with fruit trees on the rooftop allows cooler air and filtered light to enter, using the water tank as a spine to cross the property from one site to the other, and the open outdoor corridors with natural air ventilation. This is an example that is inviting to visit and spend a day to rest and work at home.
Prof Chrisna du Plessis: Making optimal use of a narrow site and a matrix of solids and voids, this project creates a serene oasis of greenery, fresh air and calm in an otherwise dusty and polluted environment. Strategies like rainwater harvesting, rooftop urban agriculture and green terracing merge the nostalgic childhood memories of the client with current environmental concerns to generate wellbeing benefits, not just for the occupants, but also for other species and the neighbourhood ecosystem.
PROJECT DATA
Project Name: Thang House
Location: Da Nang, Vietnam
Completion Date: 2019
Site Area: 250 square metres
Gross Floor Area: 250 square metres
Number of Rooms: 4
Building Height: 11.5 square metres
Client/Owner: Le Van Thang
Architecture Firm: Vo Trong Nghia Architects (VTN Architects)
Principal Architect: Vo Trong Nghia
Main Contractor: Le Van Thang
Mechanical & Electrical Engineer: Giai Phap Thiet Ke Co Dien Co.
Civil & Structural Engineer: Trung Son Co.
Landscape Architect: Vo Trong Nghia Architects (VTN Architects)
Images/Photos: Hiroyuki Oki (photos); Vo Trong Nghia Architects (VTN Architects) (drawings)
Previously Published Projects