Institutional / 2nd Quarter 2020
FGLA 2020 Award: Krushi Bhawan
June 1, 2020
Krushi Bhawan is located in Bhubaneshwar, the state capital of Odisha, where it is home to multiple agrarian communities. It is a facility developed for the Department of Agriculture & Farmers' Empowerment, an administrative centre designed as an office for a team of nearly 600 people, in addition to accommodating spaces for community engagement and learning.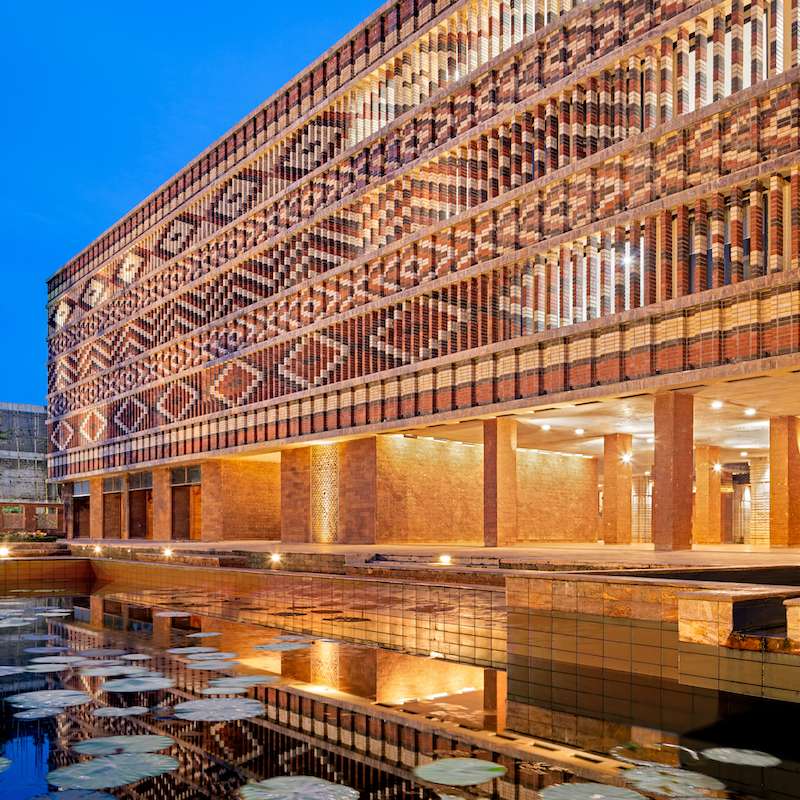 As befitting the region's climatic conditions, the design scheme for Krushi Bhawan consists of a central courtyard that opens through a series of colonnades into the public plaza. The plaza consists of a garden with native flora, featuring an informal amphitheatre and a pond that cools the forecourt. The primary entrance pathway is lined with laterite lattices and trees, and performs multiple functions—from a common area for employees to congregate in and eat together during lunch hour to a place for hosting small gatherings. The ground floor, thus, functions as a public node that turns the traditionally austere image of government facilities into one that is welcoming, inclusive and collectively owned.
JURORS' COMMENTS
Dr Nirmal Kishnani: Brick as art. Brick is used to create an exuberant double-skin façade, reminiscent of Laurie Baker. The building behind the façade has linear courtyards that ventilate an otherwise deep plan. What is also impressive is that the building is lifted off the ground in some areas and this space is returned to the public.
Prof Herbert Dreiseitl: How do we bring Asians' rich culture and beautiful design history into our time and even give perspective and hope for the next generation? In this submission, we see an impressive example that is not only beautifully designed, but also very well executed. In this entry, the artwork is not an add-on, but fully integrated into the functionality and DNA of this complex landscape and building.
Prof Chrisna du Plessis: Apart from its striking visual identity, the true power of this project lies in the example it sets for the creation of an inclusive architecture: "for the people, built by the people, and expressive of their collective cultural identity". While its mostly passive design solutions resulted in a high-performing building, its most striking feature is the way it allows a government building to also be a public space while integrating many local craft traditions, thus supporting the craftsmen and women and lending status to these traditional crafts.
PROJECT DATA
Project Name: Krushi Bhawan
Location: Bhubaneshwar, Odisha, India
Completion Date: 20 September 2018
Site Area: 2 acres
Gross Floor Area: 140,000 square feet
Number of Rooms: 120
Building Height: 17.5 metres
Client/Owner: State Government of Odisha (Department of Agriculture & Farmers' Empowerment)
Architecture Firm: Studio Lotus
Images/Photos: Studio Lotus
Principal Architects: Ambrish Arora; Sidhartha Talwar; Raman Vig, Sachin Dabas Environmental Consultant Psi Energy Pvt. Ltd.
Civil Contractors: M/S AVR Infratech Pvt Limited
Consultants (Mechanical, Electrical and Plumbing): Sterling India Consulting Engineers
Landscape Architects: ROHA Landscape Architects
PMC Consultants: Odisha Industrial Infrastructure Development Corporation
PMC Contractors: IDCO
Façade Contractors: M/S AVR Infratech Pvt Limited
Contractors (Mechanical, Electrical and Plumbing: M/S AVR Infratech Pvt Limited
Arts and Artefacts: Collective Craft (crafted jaalis & folk art)
Previously Published Projects