Commercial, Online Exclusive Feature / 2023
Else Kuala Lumpur: Transforming a 90-year-old landmark
August 21, 2023
Built in 1932, this building was once Kuala Lumpur's tallest, designed by Booty Edwards & Partners (now BEP Akitek). It has taken on multiple roles—most known as being the headquarters for the Lee Rubber Company in the 1930s and also housing a tin smelting company during this period, to serving as the Japanese Secret Police Headquarters during the 2nd World War. In the mid-2000s it housed offices, a tuition centre, a popular bookstore and a lifestyle concept store. For over 90 years, this robust and resilient Art Deco building remains a prominent landmark in the historic Chinatown district, with a 45-degree angled frontage facing a strategic crossroad.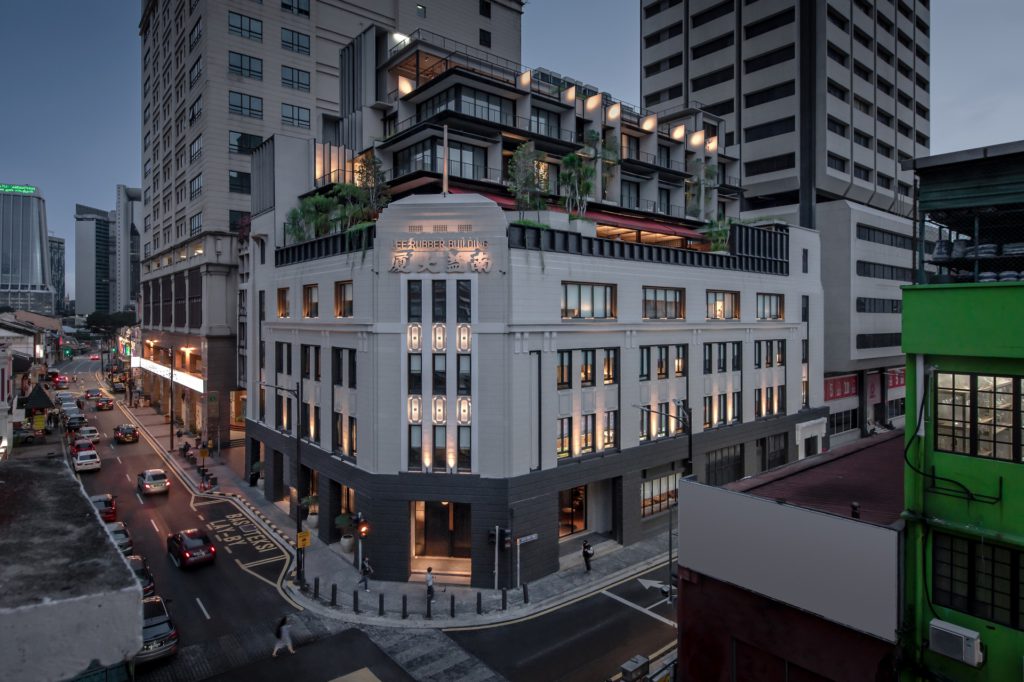 Years of being taken over by various businesses involved some modifications to the original layout, such as the introduction of an escalator to access the upper floor retail spaces. However, the main structure remained solid, and most features such as ceiling cornices and column flourishes were intact, having been well-maintained by the previous owners—descendants of the family who ran the Lee Rubber Company. Between March 2019 and July 2022, it underwent its current evolution into Else Retreats.
The existing four-storey building was listed as a Category 3 heritage building within the secondary heritage zone of Kuala Lumpur. The main restrictions for its redevelopment were firstly, to retain the façade, and secondly, to implement additional 3-metre setbacks from the façade for every 6 metres of height extension onto the existing building. Due to these requirements and the wish to design around existing fenestrations to offer more generous, curated spaces, the scheme settled to develop a 49-room design hotel.
"There are so many abandoned buildings or buildings with expired functions that can be repurposed and redesigned to suit new stakeholders with renewed interest and ideas," shared the design consultant, Studio Bikin, about their experience in this adaptive reuse project. "Transforming this building with salient existing features, instead of tearing it down, is the most impactful environmentally by way of reducing the carbon footprint/emissions of a new build alone."
---
Climate-responsive features, old and new
The building's windows have been set in deep reveals, providing shading from direct sunlight. Thick, 450-millimetre walls helped insulate heat away from the interior space. Originally, all the windows were operable to enable natural ventilation, but they were changed at some point in time, from what could have been pressed steel windows to aluminium-framed windows. All these features of the old building have been retained.
The key architectural intervention served to heighten the spatial experience and introduce a key passive design feature to increase natural light and ventilation into the deepest floor areas. "The original building had a deep plan of 41 by 24 metres, as it was designed to be an office. As it only had three facades available for windows, there were areas that did not get much natural light," said Studio Bikin.

The hotel rooms were arranged to fit existing column grids along the periphery of the building. This enabled all existing windows to be utilised, while the party-wall side was used for common facilities such as the lift lobby, reception, library, gym and the multi-faith gratitude space.
Staggered voids were cut into the central space between existing grid lines, allowing for natural light and ventilation in the open-air, 'liberated' corridors while lending indirect light into common areas. The light changes throughout the day, providing a sense of time and connecting visitors with the immediate environment outside. This surgical removal of selected floor plates also introduced a sequence of viewpoints as one traverses vertically and horizontally through the hotel, activating a new experience of the space.
The cross-ventilation of corridors from the first to third floors are assisted by a series of ceiling fans at the overhang. In total, the area that is naturally ventilated amounts to some 2,460 cubic metres. Two square grids within the central zones, spanning the first and second floors, were cast as planters. This indoor landscaping feature helps reduce and balance carbon dioxide levels while retaining a lower temperature level of the common areas.
Above the fourth floor, a new 2-storey extension rises via concrete-filled circular steel columns, hovering over the mass of the existing building. It stands in contrast to the existing building whilst respecting the architecture, clearly differentiated through vertical fins that cast shade and lend privacy to the rooms. By straddling over the voids and introducing additional awnings, this helps protect the indoor spaces against rain.
---
Subtle translations of locality and history
Drawing from the rich multi-cultural environment of urban Kuala Lumpur, the project challenges literal translations of local culture into contemporary design by using subtle yet carefully curated elements to complement its interior.

Some of these include hand-woven bedheads for the first to third floor rooms were sourced from Sarawak's Bidayuh and Penan tribe weavers, while custom-designed rugs by a Malaysian designer were commissioned for the ground floor concierge, lobby and fifth to sixth floor rooms. The team worked with a local brick manufacturer in Johor to create customised brick paving for the ground floors and pool deck areas, and most artworks inside the rooms are by Malaysian artists.
Reused materials were also incorporated, such as the dining table which is a 100-year-old, 16-feet solid piece of Merbau tropical hardwood, found hidden in a carpenter's workshop in Penang. The ground floor bar is framed by a series of carved antique timber columns, salvaged from Armenian mansions in India by a collector in Penang. Old terrazzo benches, engraved with the Lee Rubber Building logo, form part of the furniture on the fourth floor concourse leading up to the pool area.
The design team had persuaded against the client's urge to paint over existing reinforced concrete beams that showed its sliced edges, as evidence of the building's process and narrative of transformation. This is kept as the only part of the building that was left untouched, a monument to its history within the present utilisation.
Watch the video | Else Kuala Lumpur by Studio Bikin & Faizah Architect: Transforming a 90-year-old building
---


---
PROJECT DATA
Project Name
Else Kuala Lumpur
Location
Jalan Tun HS Lee, Kuala Lumpur
Status
Completed
Completion Date
July 2022
Site Area
10,634 square feet
Gross Floor Area
55,228 square feet
Number of Rooms
49
Client/Owner
GF Land Sdn Bhd (GF Land Pte Ltd)
Architecture Firm
Faizah Architect
Design Consultant (Architecture & Interiors)
Studio Bikin Sdn Bhd
Principal Architect
Faizah Isa
Main Contractor
Focus Industrial Systems Sdn Bhd
Mechanical & Electrical Engineer
CHT International Consulting Engineers
Civil & Structural Engineer
Projurutek Consultancy
Photos
David Yeow Photography
---
Read more stories from FuturArc 2Q 2023: Old is Gold!

Previously Published Projects