Residential / May - Jun 2016
Cornwall Gardens
May 22, 2016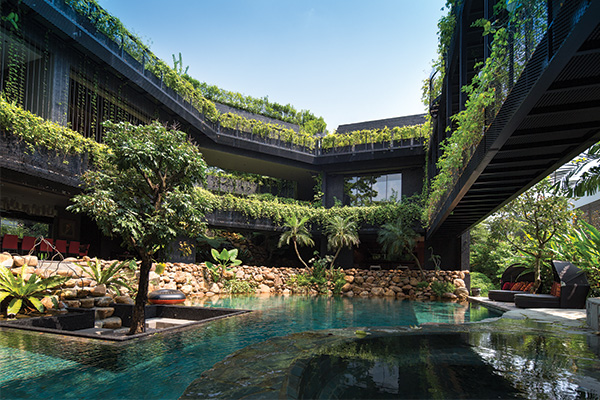 During the early days in Singapore, it was common for extended families to be housed under one roof, whereby grandparents were a source of support and care for the grandchildren, and to foster a stronger bond amongst family members. The owner, who grew up in a rubber plantation near a lake, wanted a house where they would be greeted by nature—a tropical paradise for their parents, their children, and their families. As such, the homeowners wanted to optimise the 1,494-square-metre site for their parents' retirement.
Responding to the brief and the site context, the original L-shaped plan was extended to become a U-shaped one, with interconnected social spaces reorganised to meet the family's needs. The objective was to allow for privacy amongst the different generations and between the neighbours, while developing a sense of cohesion amongst the family members.
The site plan enabled a series of voids and crevices to be carved out on the structure, breaking down the building mass for daylight penetrations, ventilation, tropical undergrowth and aquatic lives. The front of the house reveals layers of greenery, merging and blending with the plants and trees on the street. The front façade is cladded with charcoal for solar insulation, absorption of air pollutants and the cultivation of wild orchids.
PROJECT DATA
Project Name
Cornwall Gardens
Location
Cornwall Gardens, Singapore
Completion Date
August 2014
Site Area
1.494.7 square metres
Gross Floor Area
1,378.62 square meters
Number of Rooms
12 (7 bedrooms; living room; dining area; family room; library: entertainment room)
Building Height
8 meters
Client/Owner
Choo family
Architecture Firm
CHANG Architects
Principal Architects
Chang Yong
Landscape Architect
Hawai Lands Pte Ltd
Civil & Structural Engineer
City-Tech Associates
Main Contractor
Klan Huat Decoration Construction Pte. Ltd.
Quantity Surveyor
LCH Quantity Surveying Consultant
Carpenter
East Interior Re. Ltd.
Water Specialist
The Water Consultant Group
Lighting Specialist
Specitez Enterprise
IT Specialist
Speclitez Enterprise Enterprise LLP
Images/Photos
Albert Lim K.S; CHANG Architects
Previously Published Projects