Construction, Online Exclusive Feature / 2023
Promoting active ageing with Cosy Contours
January 27, 2023
In line with our ongoing design competition FuturArc Prize (FAP) 2023: Cross-Generational Architecture, we are highlighting projects along the theme for your inspiration. Click here to learn more about the brief!
⠀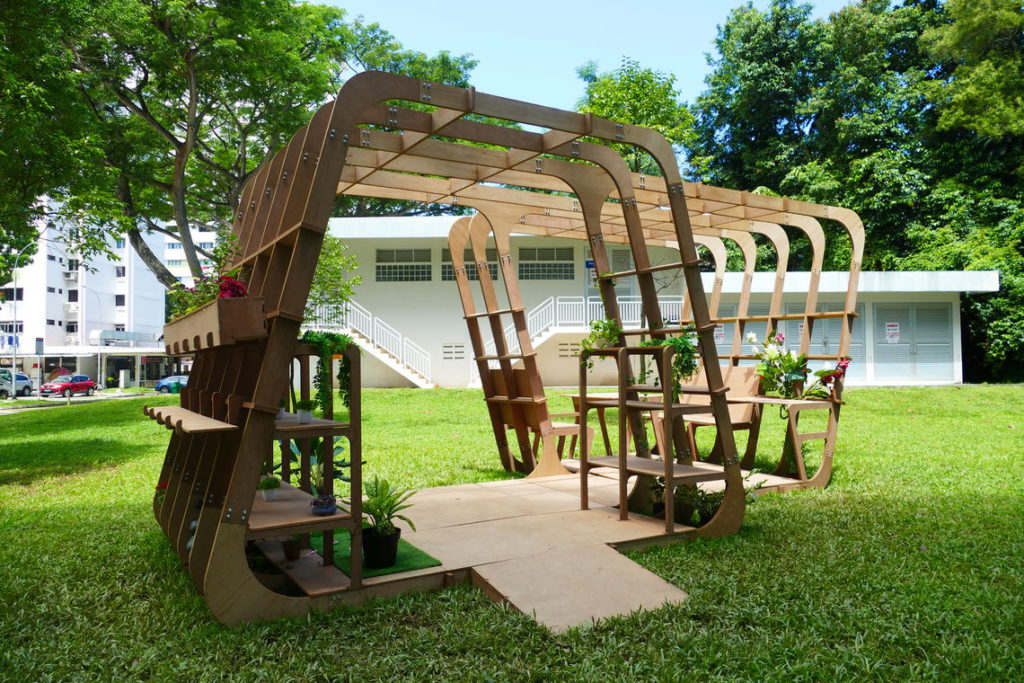 As populations age, what is the best model of care and empowerment for senior citizens?
In Singapore, where a quarter of citizens is projected to be over 65 years old by 2030, the government has espoused a philosophy of ageing in place to ensure wellness and maintain the quality of life. Ageing in place is defined as growing old in the home, community and environment that one is familiar with, with minimal change or disruption to one's life and activities.
Under the mentorship of Adjunct Assoc Prof Eugene Shum, Chief Community Development Officer at Changi General Hospital, a team of students looked at how architecture can enable seniors to healthily and actively age in place. This involves leveraging community spaces to allow residents to keep well physically, mentally and socially. Active involvement and participation of the residents throughout the project ensured the needs of the residents were identified and the designs are practical and appealing to the residents.
---
What do residents want?
In partnership with Changi General Hospital, Cosy Contours was created for, and together with, residents at the mature HDB estates of Bedok South Blocks 70 and 71, Siglap. The project, geared at promoting active ageing through communal spaces, materialised as a multi-purpose, expandable structure that was inspired by traditional market stalls. It serves as an open-air pavilion that can adapt to various neighbourhood activities, encouraging users to engage in gardening and interact with each other.

The team of students at Singapore University of Technology and Design (SUTD) engaged many elderly residents in the area through interviews, surveys, house visits and a workshop to gather ideas. They also sought insights from local grassroots leaders, Siglap Community Club leaders, and the People's Association officials.
This process resulted in three resident-selected activity concepts: the learning space, the void deck garden, and the flea market.
---
Design exploration
The team wanted to design a modular space comprising of a kit of configurable parts, and broke down each activity concept into its functional components. They adopted the concept of a 'tessellating host' that can host different programmes. This design also allows for future expansion and aggregation, much like a seed that can blossom.
Natural materials, such as marine plywood, were chosen to evoke a sense of comfort and familiarity. The team also experimented with a variety of solar-powered lighting systems to illuminate the structure.
Given the elderly demographic, age-friendly features were implemented for the users' safety and to facilitate accessibility. This included a wheelchair ramp, adding markers to demarcate steps, and ensuring suitable heights for furniture and display shelves.
At the opening showcase, residents brought their own plants to decorate the structure, interacting with each other and the team—enlivening the potential of the space.
---
PROJECT DATA
Project Name
Cosy Contours
Location
Bedok South Blk 70, Singapore
Completion Date
5 August 2022
Site Area
465 sqm
Gross Floor Area
8 square metres
Building Height
2.75 metres
Client/Owner
Changi General Hospital
Project Sponsor
Changi General Hospital
Mentor
Adjunct Assoc Prof Eugene Shum, Chief Community Development Officer, Changi General Hospital
Project Team
Singapore University Technology and Design (SUTD) students as their final year Capstone Project:
Ian Chung Enzhi; Janus Wayne Enclona Lim; Rachel Cheah Jiawen; Chung Kai Hern David; Gerald Wong Chian Hao; Jaryl Lim Yu-Herng; Tan Yunyi
Images/Photos
Cosy Contours
---

Previously Published Projects