Online Exclusive Feature, Urban Design / 2022
A 'citizen co-creation' model for Uchisaiwaicho 1-Chome District Development
June 13, 2022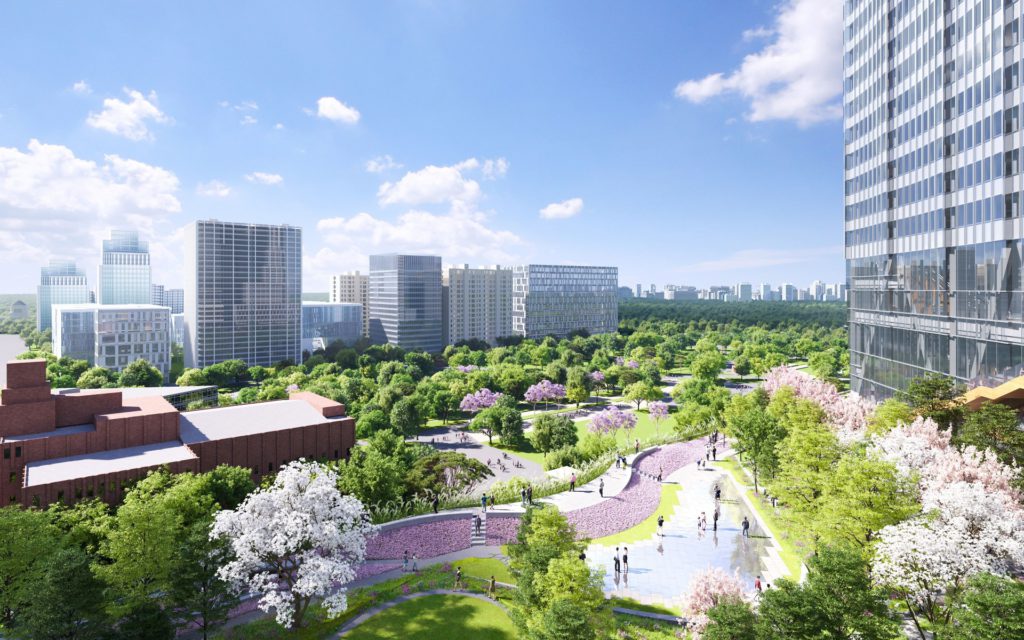 Located in the heart of Tokyo, the Uchisaiwaicho 1-Chome district is seen as a significant area of the city, one that provides key infrastructural services and is home to a hotel seen as the nation's state guesthouse. Plans for its development have been underway since 2011 when the Tokyo Metropolitan Government, Chiyoda City and the local stakeholders published the fundamental planning framework for Hibiya and the Uchisaiwai-cho area.
The project aims to transform the district into a more accessible, attractive and resilient area that connects to nature and functions in tandem with the surroundings. There will also be a total of 1.2 hectares of evacuation space, which can accommodate up to 7,000 people for three days—this is especially for those who may be unable to return home in the event of serious emergencies such as earthquakes.
---
Technology
Currently, the construction of smart cities in Japan is limited to a 'second-generation' typology, where systems are 'technology enabled but city led'. The Uchisaiwaicho 1-Chome District Development aims to be a 'third-generation' smart city, which uses a 'citizen co-creation' model and relies on a cross-disciplinary system that takes into account all aspects of the city.
As such, the project will implement advanced Urban OS, where the development's functions will be reproduced in cyberspace through digital twins, and the multiple digital twins will be chained together to predict future needs by utilising real-world city data and feeding back suggestions for use that will create new value. It combines information on weather conditions, calendars, people flow, cameras, etc., and simulate this data in a cross-sectional manner. Through this, the system can predict things such as store visits, purchases and future stock levels or bookings. The system is aimed to reduce waste and enable a personalised experience for individuals.
While such third-gen technologies could help create a more responsive city, but the issues of privacy and related regulations should be seriously considered as well. This technology is currently being reviewed and tested for implementation.
By supporting the city with digital twin computing, the development hopes to create a new experience that supports each user's happiness and well-being while solving wider urban and societal issues. The spatial planning of the district will include the flexibility to install future data collection and ICT equipment, enabling it to evolve with the needs of the city as it develops.
---
Ecological connectivity
The project will enable people to walk through the 6.5-hectare district through a series of walking routes, including pedestrian park bridges that connect to Hibiya Park, a north-south axis and a large-scale public plaza. Increasing the walkability and openness of the district is a large attractor for people. To support this, there will be extensive green spaces and water to enhance people's connection to nature, quality of life, sociability and well-being.
---
Environmental impact & performance
The project aims to be carbon neutral upon completion and carbon negative in the future. Some examples of potential initiatives include the construction of energy-efficient buildings, the acquisition of non-fossil fuel certificates, and use electric energy where possible to sustainably fuel future development. Through these initiatives, the district will support the companies and people to achieve key environmental goals such as SDGs and RE100. The development will work to reduce the use of fossil fuels and maximise opportunities to use renewable energy. As part of this, a ground-source heat pump will be used to cater to heating demands, including hot water supply. A highly efficient energy system will be implemented, which will include waste heat recovery.
In addition to large-capacity heat-storage tanks, the development will also introduce Japan's largest storage batteries to be installed in mixed-use buildings in an urban area. Initiatives such as entering the regulated market and contributing to future energy storage strategies will be promoted. Smart technologies that can analyse and predict the movement of people can also be used to limit the spread of infections through controlling airflow in ventilation systems. This same system will provide an environment where comfort and energy savings are balanced. Through these efforts, each building will aim to acquire certifications such as ZEB and LEED.
The project will be developed in phases to ensure that the area can continue to provide key services that are also updated during the reconstruction.
For more stories on the topic of digital advancements and technology, stay tuned for FuturArc 2Q 2022: New & Re-Emerging Architecture, which will be coming out very soon this June!
---
PROJECT DATA
Project Name
Uchisaiwaicho 1-Chome District Development
Location
Uchisaiwaicho 1-Chome district, Tokyo, Japan
Status
Under construction
Expected Completion
Phase 1 to complete in 2030; fully completed by 2037
Site Area
6.5 hectares
Gross Floor Area
Approx. 1.1 million square metres
Building Height
Approx. 230 metres for the North, Central and South towers
Clients/Owners
10 stakeholders: Mitsui Fudosan; Nippon Telegraph and Telephone Urban Solutions; Kokyo Tatemono; The Dai-ichi Life Insurance Company; Chuo-Nittochi; Imperial Hotel; Tokyo Century Corporation; TEPCO Power Grid; Nippon Telegraph and Telephone Corporation; Nippon Telegraph and Telephone East Corporation
Architecture Firms
PLP Architecture: Uchisaiwaicho 1-Chome district master plan and two towers
ATTA: Imperial Hotel
Nikken Sekkei: One tower
Lead Architect
Midori Ainoura (Partner at PLP Architecture)
Images/Photos
Nikken Sekkei
Previously Published Projects