Commercial / 3rd Quarter 2019
Office for Communique
The design of this office project seeks to prioritise comfort, health and well-being to its users.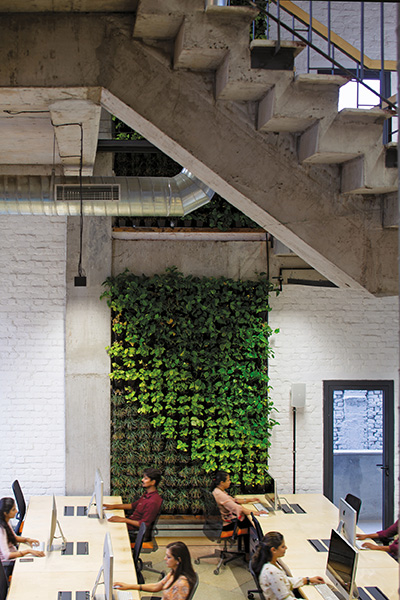 SPATIAL SCHEME
The upper floors house the workspaces within a seamless two-floor volume, accommodating a diverse mix of functions. In order to optimise the infiltration of glare-free daylight, its northern and southern edges are designed to be porous; the fenestration scheme was designed via a metric-based daylight analysis. To reduce heat admission into the building, the western edge—which forms its primary façade—is completely covered with a massive wall and an added layer of insulation. Along the southern edge, informal, semi-open meeting areas are created at both ends of the volume to provide intimate spaces for discussions and conversations. All services are housed at one end of the floor plate to facilitate maintenance operations and easy circulation.
BIOPHILIC DESIGN
The larger biophilic design strategy endeavours to enhance the workers' connection with nature to promote happiness, good health and well-being. In addition, vertical green walls run along the entire two-floor length of the volume along its eastern and western edges, and treated fresh air is brought in to improve indoor air quality. This strategy ties in with the attempt to optimise the building's thermal performance too. Large windows, lined with planters, are installed along the northern and southern edges of the floor-plates; they open to views of the surrounding greenery while ensuring daylight ingress.
ENERGY PERFORMANCE
All of the windows are double-glazed, while glass wool is used as an insulating material on the western façade. Acoustical treatments—poly-fibre wall and ceiling panels—were integrated within the design from the beginning of the process to reduce indoor noise levels. The use of modern technology extends to artificial lighting design as well, where a simple yet intelligent system is chosen to augment natural daylight, creating optimal working conditions throughout the day.
Previously Published Projects