Social / Jul - Aug 2016
Towada Civic Center Plaza
July 7, 2016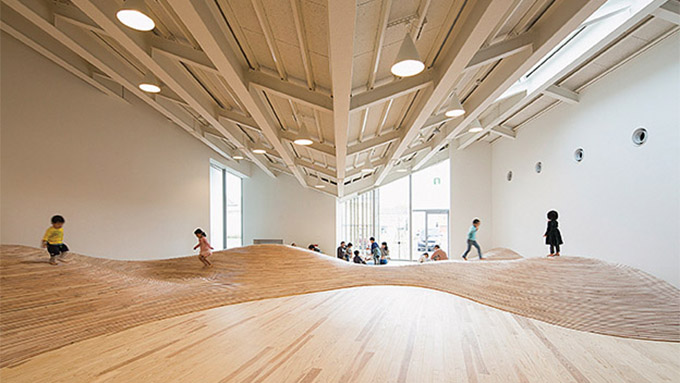 Located in Towada city in Japan's Aomori Prefecture, this timber-framed building was built as a community centre for people to gather, particularly during the harsh winter weather. The architects created an indoor landscape that imitates the outdoors, effectively bringing the external environment inside, to provide a safe and sheltered public space for all. For example, the playroom and nursery room have an undulating flooring, which emulates a 'hilly' terrain that children can use for play. The spacious centre houses a variety of other rooms such as offices with workstations, meeting rooms, a cooking studio, kiln room and tatami rooms, making it an ideal meeting and leisure place for the public.
SHARED SPACES

Facing a shopping district in the city centre, the goal of the project is to improve communication amongst the citizens, and to become a vibrant centre for interaction, which is integral to the city's development. As a place for social exchange, the design firm was able to create shared spaces by integrating different function rooms where the community can engage in various activities together.
The site incorporates a street in front of the building that extends into the interior, making it easy for the public to pass through the centre. It has been given the name Michi-no-Hiroba, which means plaza for the street. There is also an exhibition space on the street where events can be held. This place will feature an art gallery, which will showcase work produced by local and international artists. At first, the architects wanted to establish this street as a semi-open-air space; but the climate in the area is too severe during winter—coupled with heavy snow and strong wind—which made such a plan unsuitable.
PROJECT DATA
Project Name
Towada Civic Center Plaza
Location
Towada, Aomori, Japan
Completion Date
14 October 2014
Site Area
5,774.16 square metres
Gross Floor Area
1,486.97 square metres
Number of Rooms
50
Building Height
6.795 metres (maximum height)
Client/Owner
Towada City
Architecture Firm
Kengo Kuma & Associates
Main Contractor
Towada City
Mechanical & Electrical Engineer
Kankyo Engineering Ltd
Structural Engineer
Jun Sato Structural Engineers Co. Ltd
Equipment
Kankyo Engineering Ltd
Textile Design Firms
Kengo Kuma & Associates; Yoko Ando Design
Images/Photos
Kenta Hasegawa; Kengo Kuma & Associates
Previously Published Projects