Landscape / Mar - Apr 2016
Seoul Skygarden
March 22, 2016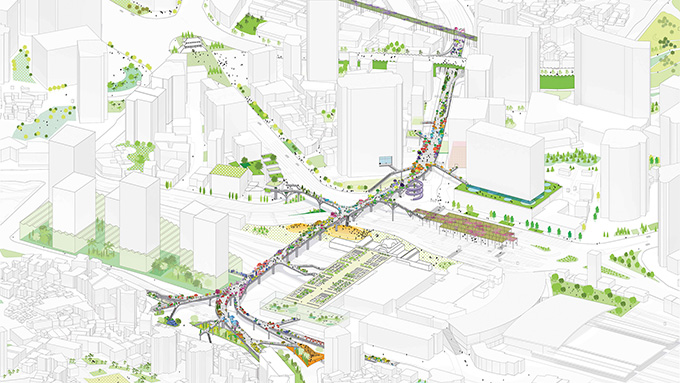 An increasing number of cities in Asia are engaging in efforts to develop and integrate water networks and Green infrastructure as urban planning strategies that also provide for public spaces. This can be achieved through the protection of natural habitats within urban landscapes, while providing adaptive measures that are responsive to the climate. As such, design strategies used to develop Green and blue spaces can help generate environmental, socio-cultural and economic benefits for the surrounding areas and the community. Here are three projects that illustrate how these concepts have been implemented.
YANWEIZHOU PARK
Yanweizhou is a natural riparian wetland located where the Wuyi River and the Yiwu River converge to form the Jinhua River in the urban heart of Jinhua, a city with a population of over 1 million. Before the Yanweizhou Park project was implemented, the three rivers, each of which is over 100 metres wide, divided the densely populated communities in the region. As a result of this inaccessibility, cultural facilities, including an opera house, and the green spaces adjacent to Yanweizhou were underutilised. The remaining 50-acre (20-hectare) riparian wetland was fragmented or destroyed by sand quarries.
FORGING A RESILIENT LANDSCAPE THROUGH ADAPTIVE DESIGN STRATEGIES

Adaptive design strategies were employed to resolve problems posed by site conditions and to achieve a resilient landscape. The river currents, the flow of people, and the gravity of objects are all woven together to form a dynamic concord. This is achieved through the meandering vegetated terraces, curvilinear paths, a serpentine bridge, circular bioswales and planting beds, and curved benches.
PROJECT DATA
Project Name
Seoul Skygarden
Location
Seoul, South Korea
Status
Under construction
Expected Completion
2017
Site Area
938-metre section of elevated highway (9.661 square metres)
Client/Owner
Seoul Metropolitan Government
Architecture Firms
MVRDV
Principal Architect
Winy Maas; Jacob van Rijs; Nathalie de Vries
Landscape Designer
Ben Kuipers
Local Architect
DMP
Civil & Structural Engineer
Saman Engineering; Cross
Local Landscape Designer
Korea Engineering Consultants Corporation (KECC)
Sustainability Consultant
EAN
Industrial Designer
Studio Makkink & Bey
MEP Consultant
Samsin
Traffic Engineer
Song Hyun R&D
Lighting Designers
Viabizzuno; Nanam Ald
App Designer
nhtv
Cost Engineer
Myong Gun
Images/Photos
MVRDV
Previously Published Projects