Commercial / May - Jun 2016
Ng Teng Fong General Hospital and Jurong Community Hospital
May 7, 2016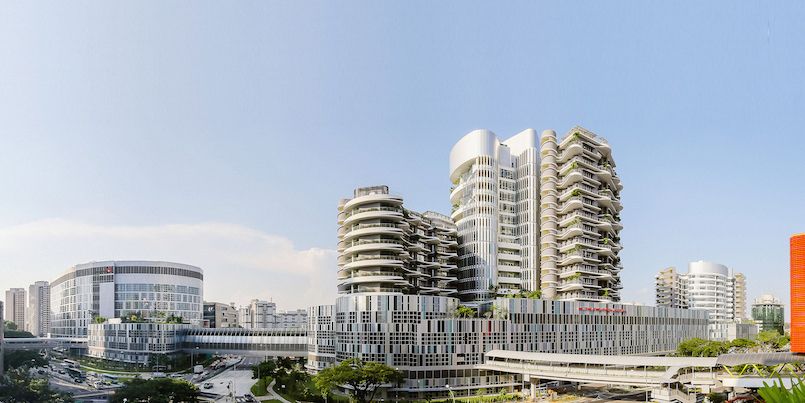 Ng Teng Fong General Hospital and Jurong Community Hospital comprise a regional hospital, a community hospital as well as specialist outpatient clinics. The two hospitals operate symbiotically, with the regional hospital providing advanced medical and general support services to the community hospital and the latter receiving the former's stabilised, recovering patients for stepdown care.
WELLNESS: CLIMATE, COMFORT AND THE GREEN CONNECTION
To reduce the need for mechanical ventilation in Singapore's tropical weather, the building is oriented in a northwest-southeast direction to maximise exposure to prevailing winds for natural ventilation, and to minimise direct solar heat. With an individual window for every patient next to each angled bed module, planters are aligned and positioned to be viewed by every patient—this not only creates a distinctive façade, but also provides shading in the form of external gardens and planters.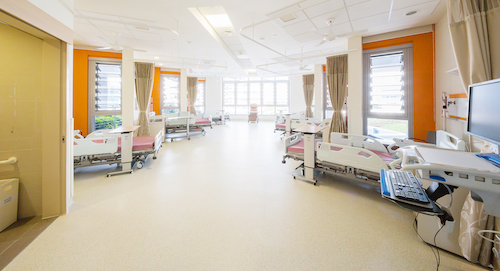 All three blocks are designed with architectural features that carve spaces for natural lighting and landscaping within the buildings—high-rise gardens and balconies at the wards, and internal courtyards and skylights in offices seek to offer both patients and employees quality healing and comfortable working experience respectively.
The design team used computer-aided software to analyse the insolation, sun shading and ventilation in comparison with typical rectangular-shaped wards. They discovered that the herringbone design of the position of the wards increases views from all occupied spaces, including the staff zones, which promotes greater connectivity with the external environment.
Oriented diagonally away from the roads to maximise views, this layout also allows for better natural ventilation (average wind velocity 0.61 metre per second) and passive cooling for 70 per cent of the total bed capacity. The presence of a four-storey podium attenuates the street noise, and the undulating surface of the curved ward towers further reduces traffic noise. The naturally ventilated wards utilise a centralised air filtration system to mitigate air pollution during seasonal haze periods. The mechanisms are integrated with the fully automated jalousie systems installed at the wards. In order to supplement better indoor air quality, the hospital interiors were constructed using products with low volatile organic compounds that are certified by the Singapore Green Labelling Scheme.
The façade's shading system has been optimised to achieve at least 60 per cent shading for the sides facing the east and west and 40 per cent for the other façades. An optimised window-wall ratio of 0.37 and an overall envelope thermal transfer value of 36.64 W/m2 is achieved. Double glazing with low-E coating is used to reduce solar heat gain with a shading coefficient of less than or equal to 0.29. Daylight is maximised with at least 45 per cent visual light transmission. There are three levels of protective shading for the façade. Primary shading consists of exterior shading devices above the windows and projected slab edges to protect against solar heat gain and help to direct storm water run-off. Secondary shading consists of horizontal louvres in selected glazed areas to protect against the low angle morning and evening sun. Plants provide tertiary shading against the overhead and low angle sun.
"With the greenery at the ward planters and purpose-built gardens for patients and staff, the campus has achieved a Greenery Provision value of 4.72."
EFFICACY: ENERGY AND WATER EFFICIENCY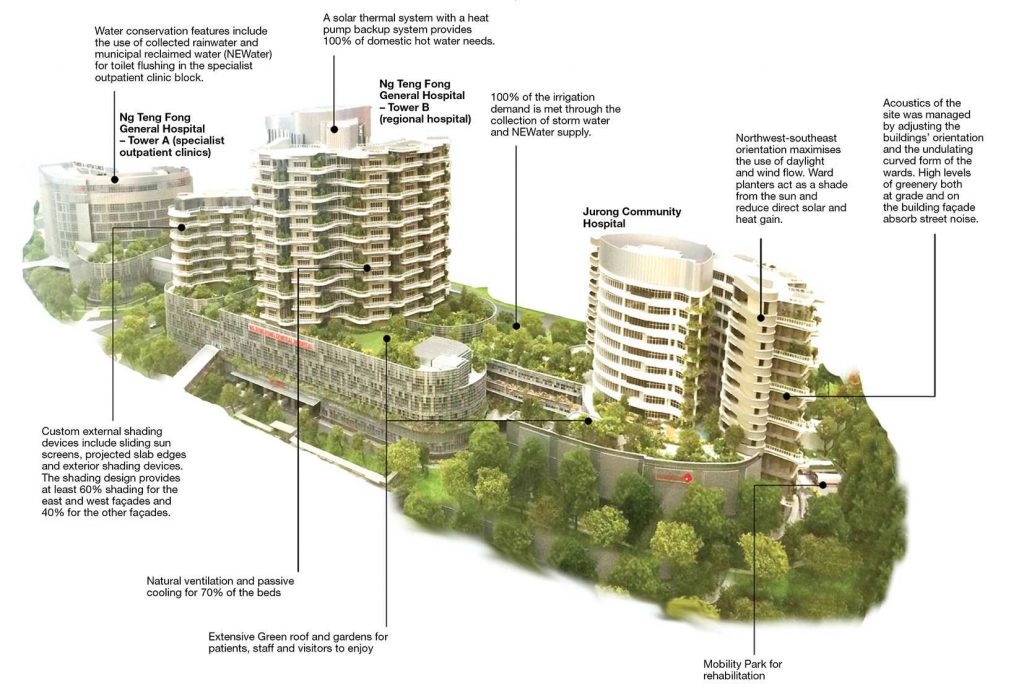 Total building performance has been taken into account for the delivery of this project—the strategies adopted provide efficiency in energy, water and resources, with reduced operational costs and enhanced user comfort. This has resulted in an overall energy savings of 30.67 per cent, and a simulated Energy Efficiency Index of 274 kWh/m2/year. The solar thermal system (with a heat pump backup system) can fully cater for the hot water needs of the campus. A grid-connected solar photovoltaic system of 100 kWp reduces peak electrical demands by offsetting the energy required for landscape lighting.
The system for the air-conditioning and mechanical ventilation has a system efficiency of less than or equal to 0.623 kilowatt per ton—a 25.8-per-cent improvement from the baseline reference efficiency. This also translates to a 23.4-per-cent improvement in air distribution systems and a 5-per-cent improvement in mechanical ventilation. Mechanical systems are incorporated, which include heat exchangers with run-around coils for heat recovery being installed in 24-hour air-conditioned zones like the operation theatres. The air handling and fan-coil units come with non-corrosive coating to improve efficiency and reduce the need for maintenance. The fresh air is pre-cooled after being regulated by carbon dioxide sensors. There is a measurement and verification system to monitor the performance of the chiller plant. The hospital kitchen uses a ventilated ceiling instead of a conventional ducted ventilation system.
With the use of fluorescent T5 lighting, e-ballast for general lighting, LEDs for façade, and external lighting for areas of high usage, lighting efficiency has improved by 37.12 per cent from the reference system. Building management system (BMS) incorporates motion sensors and sleep-mode features for elevators and escalators, and monitoring and control systems for lighting and general equipment.
To maintain the greenery for the wards, 100 per cent of the irrigation demand is met through the collection of storm water and NEWater supply. Planters have drainage cells to maximise water retention in the soil, and NEWater is used for toilet flushing at the specialist outpatient clinic block. NEWater and at least 50 per cent of the air handling units' condensate water are used to supplement the needs of the cooling tower. Water metres linked to the BMS are installed for leakage detection and to monitor the usage.
The project has received the Green Mark Platinum Award for achieving 30 per cent reduction in energy consumption in comparison to a baseline hospital and more than 40 per cent savings from a minimum code compliant hospital.
DESIGN CHALLENGES OF THE URBAN SITE
Site access, wayfinding and pandemic planning are challenging tasks for hospital projects when segregating the patient traffic from the public—the configuration of the two hospitals proved to be an obstacle as much of the site lies along the 600-metre narrow parcel of land that is bifurcated by the new Jurong Gateway Road. The design team kept the linear disposition of the buildings by creating a series of separate entries and exits for each of the key components: the specialist outpatient clinics; the regional hospital; the community hospital; the ambulance bay; and the emergency department.
By zoning the individual areas within an open-concept campus, visitors have a direct and easy access to each component—both levels of the car park below the entry level run continuous for the entire length of the site. This makes wayfinding clearer, as each facility will have drop-off and pick-up points that are clearly marked along the way. It also allows multiple exits from the car park in the event of traffic congestion at any of the points.
CONNECTION WITH THE COMMUNITY
Being part of Jurong Lake District master plan, the elevated pedestrian network provides the campus with a direct, all-weather pedestrian connection between the Jurong East mass rapid transit (MRT) and other adjacent commercial developments as a way to engage the community at a social level.
— Edited by Carissa Kwok
PROJECT DATA
Project Name
Ng Teng Fong General Hospital and Jurong Community Hospital
Location
1 Jurong East Street 21, Singapore
Completion Date
31 May 2015
Site Area
53,983 square metres
Gross Floor Area
182,355.6 square metres
Number of Rooms
Ng Teng Fong General Hospital: 700 beds, 120 consultation rooms (specialist outpatient clinics); Jurong Community Hospital: 400 beds, 18 outpatient consultation rooms
Building Height
102 metres above mean sea level
Client/Owner
Ministry of Health; Jurong Health Services
Architecture Firm
CPG Consultants Pte. Ltd.
Principal Architect
Lim Lip Chuan
Main Contractor
GS Engineering & Construction Corporation
Design Consultant
Studio 505
Medical and Hospital Planner
HOK
Interior Designer
CPG Consultants Pte. Ltd.
Wayfinding and Signage Consultant
Design Objectives Pte. Ltd.
Civil & Structural Engineer
CPG Consultants Pte. Ltd.
Mechanical & Electrical Engineer
Parsons Brinckerhoff Pte. Ltd.
Quantity Surveyor
Langdon & Seah Pte. Ltd.
Project Manager
PM Link Pte. Ltd.
Landscape Consultant
VIA + Signature Pte. Ltd.
Total Building Performance & Acoustic Consultant
ZEB-Technology Pte. Ltd.
Catering & Logistics
io consultants Pte. Ltd.
Security Consultant
STET Homeland Security Services Pte. Ltd.
Images/Photos
GS Engineering & Construction Corporation; CPG Consultants Pte. Ltd.
Previously Published Projects